21 Fun Things to do on Okinawa
If you're in the midst of planning for a trip to the beautiful subtropical island of Okinawa, or simply fascinated with its history and culture, you'll want to know what fun things you can do there!
Located between Taiwan and the Japanese mainland, Okinawa prefecture comprises over 160 islands, including 49 inhabited islands, which are divided into three main groups: the Okinawa Islands, the Miyako Islands, and the Yaeyama Islands.
For the Japanese people, Okinawa is a popular summer vacation destination, with white sandy beaches, crystal-clear blue waters, and warm climate offering a different environment to many parts of the main islands.
But that's not all. Okinawa has a long-established traditional culture of its own, that is quite distinct from the rest of Japan. 
In this article, we will introduce 21 of the best things to do in Okinawa. If you're planning a visit soon, be sure to include these tourist attractions on your Okinawa Bucket List!
Top 21+ Attractions to Visit in Okinawa
1. Snorkelling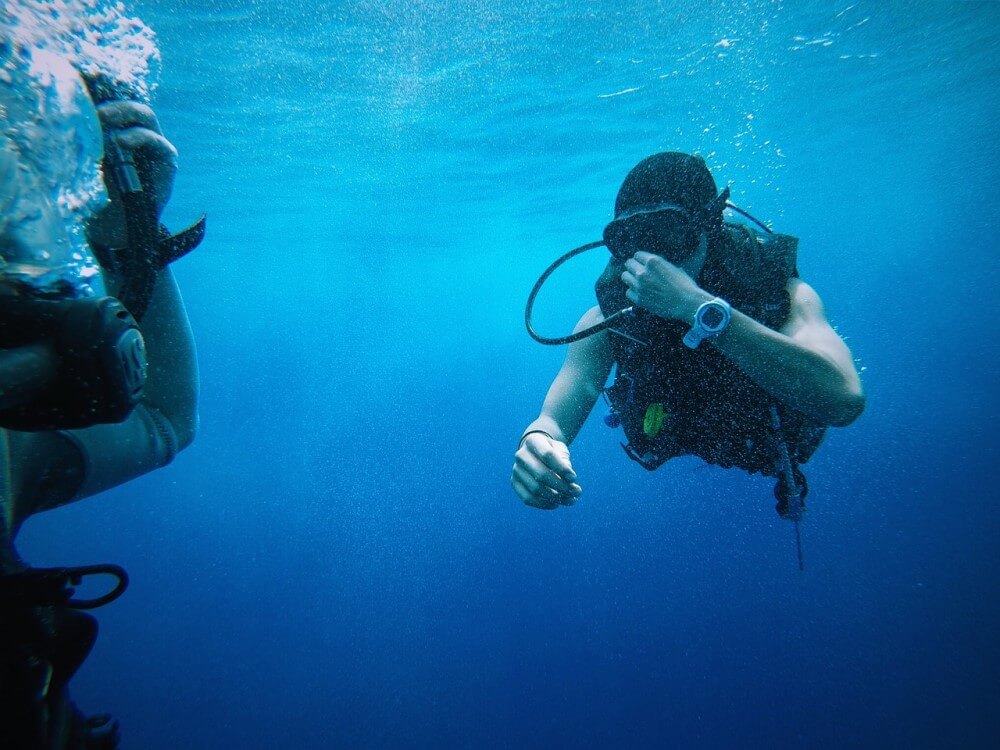 One of the many fun things to do during your stay in Okinawa is to go snorkeling. 
With crystal-blue seas and warm tropical waters, the island is perfect for dipping your head beneath the surface. After all, 200 of the world's 800 coral species can be found in the vicinity of Okinawa's islands.
Luckily, there is no shortage of places to don your snorkels. Many of the large and small islands that make up Okinawa have diving facilities and services for you to use.
For instance, try taking a banana boat out to Onna Seaside Civil Park, where you can ingratiate yourself with the local sealife with the help of a snorkelling tour guide. Or, take a trip to Miyako Island, southwest of Naha city, which offers diving and snorkeling services such as 24°NORTH.
Some other snorkeling attractions on Okinawa include Blue Cave, Kabira Bay, and Kerama Islands, each with its own selection of sea life and fauna for you to enjoy. 
Learn more about how to conduct yourself in and around the water in Okinawa with this handy guide to swimming in Japan. 
2. Surfing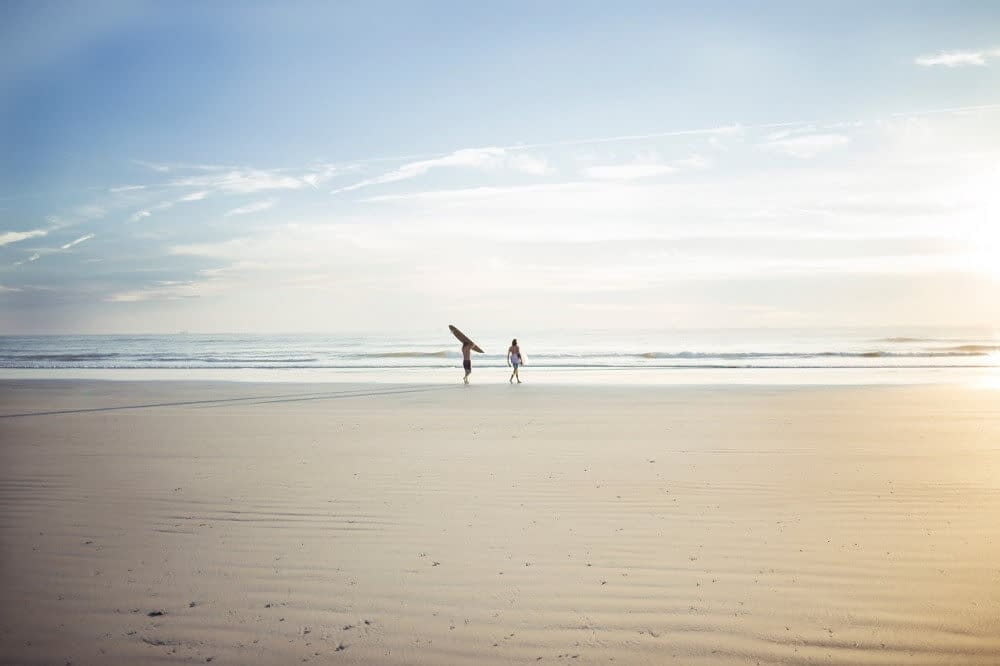 Anyone wanting to catch the surf in Okinawa is in luck! Although the waves are not always as reliable as some other surfing hotspots, the tropical weather and sharp coral reefs make the islands rife for wave-riding. 
However, in order to surf in Okinawa, you have to pick the right times. Spring is generally flat, whereas the period between August and October will see the best surfing conditions. Sometimes, during typhoons, waves can reach up to 12 feet high.
It's worth mentioning that, in the surfing season, the conditions are not ideal for novices, so if you are planning to surf, be sure you have the right level of experience for the area. 
Some of the best spots for surfing in Okinawa include Hedo Point, Ikei Island and Kudaka, which is an hour's ferry ride away from Baten Harbour. Finding a spot that is less crowded than the others may afford you better surfing conditions.
3. Okinawa World 
Located in the southern part of the main island, Okinawa World is a theme park that is focused around traditional Ryukyuan culture and values. 
There are a variety of activities that you can partake in at Okinawa World, including craft-making, glass blowing or shopping. As well as this, there are eisa drum performances to take in, and an 850-metre-long cave to walk in, named 'Gyokusendo'.
If that wasn't enough, there is also a snake museum! This is called Habu Park, and consists of a zoological garden with snakes on show and a snake 'performance' to match. It is named after the local Habu snake, which is notorious for the venom it carries. 
Taking a walk around Okinawa World will give you an insight like no other place into the culture and history of Okinawa.
If this sound like your type of activity, be sure to check out more amazing theme parks in Japan. 
4. War Memorials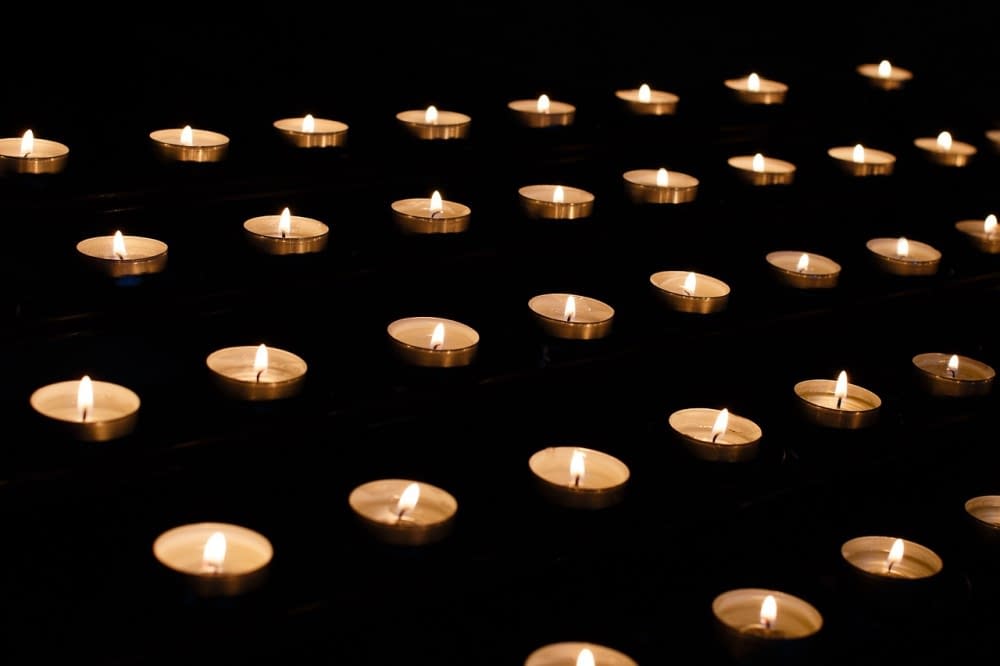 The Battle of Okinawa was one of the key battles of the Second World War in the Pacific – up to 200,000 soldiers and civilians lost their lives. To mark this historical event, there are many war memorials and landmarks across the island. 
Just some of these memorials include the Peace Memorial Park, the Himeyuri Monument, and the American National Park. 
In particular, the Peace Memorial Park is easy to get to, being right in the middle of Okinawa City. This features the Cornerstone of Peace monument, which lists every person who lost their lives as a result of the fighting.  
Meanwhile, in Itoman City, the Himeyuri Monument celebrates the Himeyuri students, who were high school students that died after being mobilized as nurses during the war. 
Or, for a closer look at the inner workings of the battle, explore the Japanese Imperial Army's Underground Headquarters in Naha City. Located in Shuri Castle Park, this was the headquarters used by the Imperial Army during the battle, and is a must-see!
While these memorial trips may be a more sobering experience than some other attractions on this list, they're still absolutely worth doing as a reminder of the cost of war. They will also give you a better insight into the culture and history of Okinawa as a whole.
5. Pineapple Park
Pineapple Park, as the name suggests, is an Okinawan theme park themed around — you guessed it — pineapples! From how they are cultivated to how they are promoted, everything you need to know about this tropical fruit you can find here. 
Don't worry, there is also a tasting experience on offer, meaning you can satisfy your taste buds as you learn!
The park also offers other attractions and events with a pineapple theme, including a pineapple maze, a pineapple-picking adventure, and a pineapple ice cream parlor. Families and those with a passion for farming and regional foods should definitely take a trip to Pineapple Park.
6. Shuri Castle
In Naha, the medieval Shuri Castle should be near the top of the list of Okinawan attractions. It has historical and cultural significance, as, for many centuries, it was the political and cultural hub of the Ryukyu Kingdom as well as its royal palace.
First constructed in the fourteenth century, it has been devastated numerous times in the decades since, most notably during World War II. However, it has recovered, and after being rebuilt in the 20th century, the castle now functions as a museum and cultural hub that presents the history and culture of the Ryukyu Kingdom.
As well as offering breathtaking views over Naha City and the surrounding area, Shuri Castle is renowned for its distinctive fusion of Okinawan and Chinese architectural styles. In 2000, the castle received the UNESCO World Heritage Site designation in recognition of its significance to Okinawan culture.
7. Whale Watching
Get away from the crowds and see the best of nature up close with Okinawa's range of whale-watching options. From January through to March, when humpback whales travel to the region's warm seas, you'll get the possibility of witnessing some of the world's largest mammals.
To do this, book yourself on a boat trip from one of the whale-watching hotspots on Okinawa. These include, but are not restricted to, the Kerama and the Tokashiki islands. 
You may even get to hear whales sing their songs, with the help of hydrophones on the boat. Some of the most common types of whales found off the Okinawan coast include sperm whales, Bryde's whales and even whale sharks. 
8. Ishigaki Island
Ishigaki Island, at the southwestern tip of Okinawa, is closer geographically to Taiwan than it is to the main Okinawa islands. However, it's still got plenty of its traditions and culture, as well as plenty of other amazing attractions to try. 
For example, it is particularly great for diving and snorkeling, with pristine beaches and clear tropical waters making for perfect conditions. Alongside this are traditional villages like Ishigaki Yaima Village, a traditional Ryukyu village with thatched-roof houses, a shrine, and a market street.
Besides these plus points, Ishigaki Island is also renowned for its fantastic cuisine – here, you can try a wide variety of fresh seafood and more traditional dishes. The latter may include champuru, soba noodles or goya. 
9. Okinawa City
If the hustle and bustle of big city life is more your speed, Okinawa City is worth visiting on your trip to 'the Hawaii of Japan'. It is the second-largest city of Okinawa following the capital Naha, and is situated in the middle part of the main archipelago.
Besides being the home of much of Okinawa's commercial and government infrastructure, Okinawa City also has plenty of historic and cultural sites to visit. These include Shuri Castle, the Okinawa Peace Memorial Park and the many parks within the city's boundaries. 
And just the rest of Okinawa, you can also find fantastic options for eating and drinking, with lots of restaurants and bars for you to explore. There is a strong American presence in Okinawa City due to there being a nearby US Army base, so you'll find plenty of familiar dietary options if you desire.
10. Tadake Falls
Renowned for its scenic beauty, Tadake Falls is one Okinawan tourist attraction that will make your trip a memorable one. Located in a beautiful forest setting, it is perfect for nature lovers. 
It's also great for hikers too, as getting to the waterfall itself forms part of a spectacular river trek that is hugely popular with tourists. At the bottom of the waterfall is a pool that is frequented by swimmers. You may even want to bring a picnic!
Although the waterfall is usually open all-year long, it's worth checking before you go whether it will be accessible, as heavy rains can sometimes make it a difficult journey. 
11. Okinawa Zoo
We doubt you'll be struggling to find fun things to do in Okinawa, but if you are, a trip to the zoo is always a safe bet! Located in Okinawa City, Okinawa Zoo has a huge range of reptiles, birds, primates, and mammals to look at and enjoy. 
As well as this, there's even a dolphin show, a sea lion show, and an African Savanna exhibit, where visitors can observe lions, zebras, and giraffes. And, should you want to get even closer to the animals, there's even a petting zoo, allowing you or your children to witness their beauty in a new light.
That's not all; there's also a stunning botanical garden at Okinawa Zoo which features an array of plants and trees from all corners of the globe. 
Okinawa Zoo is open all-year round, but summer may be the best time to visit, as it has extended opening hours during these months.
Keep an eye out for some of the 90,000 species of animal that are present on the Japanese islands. 
12. Diving
We've already touched on Okinawa's beautiful clear waters and tropical climate being a snorkelling paradise. Well, the same can be said for diving! This is because divers from all around the world have long travelled huge distances to enjoy all the islands have to offer.  
After all, it's not just pleasant to dive in Okinawa, there's also plenty to see beneath the waves. Among these sights are colourful coral reefs, tropical marine life, and numerous species of large marine mammals like dolphins or whales.
Some of the most popular dive sites around Okinawa include the Blue Cave, the Kerama Islands, and the Miyako Islands. These sites offer a wide variety of diving experiences, from shallow coral gardens to deep drop-offs and shipwrecks.
At the diving hotspots, there are many places that offer dive training and dive equipment for hire. This makes it perfect for beginners and seasoned veterans alike – so don't worry about your skill level. If you want to take things even further, you can even take a certified training course to become a certified diver.
As always with any diving activities, it's important to be mindful of where and when you partake. While Okinawa's waters are beautiful, strong currents and extreme typhoon conditions can make them hazardous, particularly during typhoon season which lasts between June and November. 
13. Kokusai Dori
Situated in the capital city of Okinawa, Naha, Kokusai Dori is a bustling street full of restaurants, bars and shops. It is also known as 'International Street', and for good reason – you can find commodities and cuisine from all around the world, as well as traditional Okinawan arts and crafts, among other things. 
Learn more about traditional Japanese culture from across the nation with our handy clothing and accessories in Japan guide. 
If this wasn't enough Kokusai Dori is also home to some of Okinawa's most esteemed museums, which include the Okinawa Prefectural Museum and the Okinawa Prefectural Art Museum. Luckily, due to how pedestrian-friendly the street is, it is easy to navigate between the two.
Put simply, walking along this street is an experience in itself. You may even be treated to a traditional Okinawan street performance or two as you stroll along its sidewalks. 
14. Nakijin Castle
First constructed in the fourteenth century, Nakijin Castle is one of the oldest tourist attractions that you'll want to visit in Okinawa. Originally the administrative center for the Hokuzan Kingdom, it was partially destroyed in 1609, but parts of the building have been restored.
Among the many impressive sights at Nakijin Castle, there are intricately designed walls and fortifications, as well as watchtowers and gates. The areas surrounding the castle are also an impressive sight, with lush greenery creating a stunning vista that leads all the way to the sea.
Its historical significance can easily be summarised by saying it has been designated as a UNESCO World Heritage Site.
15. Bird Watching
If bird watching is a hobby you are passionate about, then Okinawa should be high on your list of places to go! It plays host to both resident and migratory birds, with the tropical climate, forests and wetlands making it a perfect place for birds to reside.
Such resident birds include the native the Okinawa woodpecker, the Japanese wood pigeon, and the Ryukyu robin, which is endangered.  Meanwhile, the Chinese grosbeak and the Eurasian tree sparrow are two examples that you may see during the migration season. 
Among the many popular places to view birds include Cape Hedo, Ishigaki Island and Yanbaru Forest. When visiting these places, you are sure to find birdwatching guides and tours led by experienced locals who will help you find what you are looking for. Here, you'll be able to rent equipment such as binoculars.
16. Makishi Market
Located in central Naha, Makishi Market has everything you'd expect from a busy Japanese street market and more. Here, you can find fresh seafood, vegetables and other local delicacies, such as soba noodles.
Makishi market has been running for over 100 years, and is a staple of Naha's cultural heritage. It is easily reached by getting off at the Makishi monorail station, just North of the middle of Naha. 
Alongside the quality of its goods, the market is also renowned for its boisterous atmosphere, with sellers going above and beyond to look for trade. There is a restaurant on site, meaning that you can try as well as buy. 
17. Kayaking
Kayaking in Okinawa is one of the island's most popular activities. Taking part in one of the many kayak adventures on offer will provide scenic views of the island and its surrounding waters.
Some of the best kayaking spots on Okinawa are the Kerama Islands, known for their crystal-clear waters, and the Okinawa main island. Meanwhile, when kayaking at Yanbaru Forest, you may even observe amazing local wildlife such as the Ryukyu flying squirrel.
Kayaking tours are widely available and can be organized through local outfitters or tour operators. It's recommended to book in advance, especially during peak season, to ensure availability. 
18. Mihama American Village
With shops, restaurants, leisure facilities and more, Mihama American Village is a shopping and entertainment complex you'll want to explore! It is well-regarded both by locals and tourists, and is busy all-year round.
Take a ride on the huge Ferris wheel in the middle of Mihama American Village to fully take in the magnificent surroundings. Or, experience a show at the open-air theater, which hosts fantastic shows and events.
If that's not all, there is also a large food court which houses food from all over the world. And, it is easily reachable by public transportation or by car, meaning getting there will be a seamless experience.
19. Churaumi Aquarium
Situated in Ocean Expo Park, not far from the city of Nago, Churaumi Aquarium is a guaranteed fun thing to do in Okinawa. Here, you can witness some of the most spectacular marine life on planet Earth, including manta rays, whale sharks, and much more. 
The main attraction of the Churaumi Aquarium is the "Kuroshio Tank," which is one of the largest tanks in the world and houses a variety of marine life, including whale sharks. Visitors can also observe marine life in various other tanks and exhibits, as well as attend educational shows and presentations.
In addition to the aquarium, the Ocean Expo Park also features a botanical garden, a traditional Okinawan village, and various other attractions. The park is a popular destination for families and nature lovers, offering opportunities for learning and entertainment.
20. Okinawa Prefecture Karate Museum 
Karate is known worldwide as one of the most popular forms of martial arts. And, if you did not know already, it was invented in Okinawa! 
With this in mind, visit the Okinawa Prefecture Karate Museum, which lets you explore the history and cultural significance of the sport on the islands. With live performances and in-person tutorials alongside interactive exhibits, it's the best way to appreciate karate in its original form. 
As well as all of this, Okinawa Prefecture Karate Museum also features a research library devoted to the martial art. It is located in Uehara, a North Eastern suburb of Naha, close to Okinawa National Hospital.
21. Aka Island
Part of the Kerama Islands, Aka Island is renowned for its beaches, clear waters, and diving and snorkeling facilities. It is a relatively small island, but despite its size, there is a large number of shops, restaurants and other leisure activities to experience. 
It is easily accessible, with speedboats and ferries readily available to take you there from Okinawa's main island. The ferry usually takes about 90 minutes, with the speedboat taking about 50 minutes. 
Budding ocean scientists may especially enjoy the Sango Yuntaku Kan Visitor Center in the main village on Aka Island, which will guide you through all the different types of marine life present on the island.
The last word on fun things to do in Okinawa
We hope you have enjoyed our handy guide of 21+ fun things to do in Okinawa, and hope you agree that they are worth visiting the islands for! And, don't worry, there are plenty of other wonderful things to discover when you get to the island. 
Indeed, don't just stop at Okinawa! The whole of Japan has lots of amazing places to go and visit. 
If you'd like similar information about the rest of Japan, check out other guides to Japanese life and culture, from food, to entertainment, to public transportation.
Get in touch with us today for more help on Japanese social customs, careers and more.