25 Popular Japanese Snacks
Aside from its stunning tourist destinations and street food, Japan is well known for its highly-stocked convenience stores. Stores such as 7/11 provide you with a wide selection of meals and snacks for all your needs, from ramen and coffee to unique sweets and biscuits. Whether you are looking for indulgent, healthy, vegan or halal snacks – there are plenty to choose from. We have handpicked the best sweet and savoury treats to help you find your new favourites and have you shopping like a local in no time.
Why are Japanese snacks so popular?
Whether you are looking for a fun new flavour of a product you love, new menu items at Japanese McDonald's or a flavour you have never eaten before – there is a Japanese snack for everyone. You may even have seen an influencer try out a spicy flavour of ramen for a challenge, or bring back a range of treats from Japan to try. Similarly, you may have seen your favourite character from a popular anime eating something and wanted to give it a try.
What are the most popular Japanese snacks?
We know it can be hard to cut through the noise of the 1000s of snacks available; that is why we have compiled this guide to the most popular snacks. We have even sought out some that have halal, gluten-free and healthy alternatives.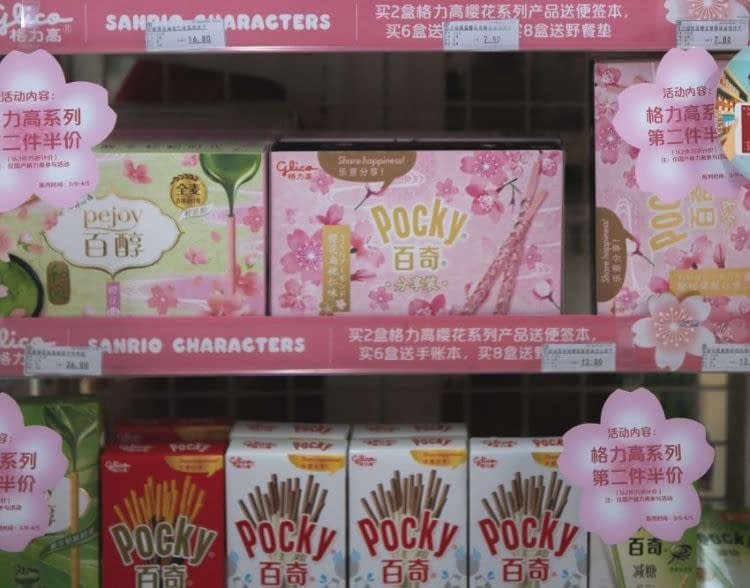 1. Pocky
Pocky is one of the most popular Japanese snacks; it combines a crunchy biscuit with chocolate. Aside from milk chocolate, there are a variety of flavours to try, such as green tea, cookies and cream and strawberry.
2. Kinoko no Yama
Like pocky, these mushroom-shaped snacks combine the crunch of a biscuit with a strawberry white chocolate and chocolate cap. They are both tasty and great to look at, as well as give as a gift.
3. Caramel Corn Chips
Tohato Caramel Corn is a unique Japanese snack that has been a popular staple in childhoods across Japan since 1971. It can be used as an alternative to popcorn on movie nights, or trips to the cinema.
4. Hi-Chew
For those with a sweet tooth, Hi-Chew gives you fresh fruit flavours with a smooth, chewy texture.
5. Matcha Kit Kat
Lovers of the original Kit Kat might find a new favourite flavour in one of the foods that put Japan on the snack map – the matcha Kit Kat. For avid Japanese snack fans, this is a must-try!
6. Ramune Soda Candy
If you have tried the beloved Ramune Soda drink, why not try it in candy form? Similar to the nostalgic action of popping the marble into the drink, the candy gives a splash of flavour. It is perfect for those who love sour sweets.
7. Kaju Gummy
Kaju Gummies are another staple when it comes to Japanese candy – combining a soft chewy texture with a nostalgic flavour.
8. Jagariko Sticks
One of the more unique snacks on this list, Jagariko sticks are the perfect savoury alternative to your average bag of chips. This crunchy snack comes in a variety of flavours, including butter, cheese and salad.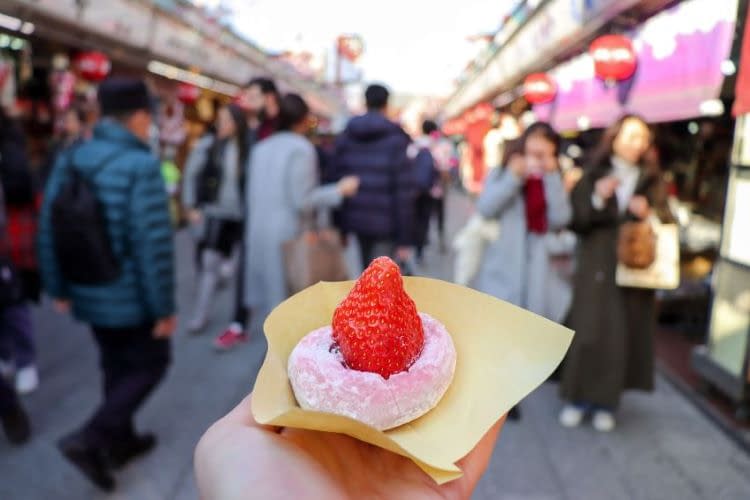 9. Daifuku (Halal)
Daifuku is a type of mochi, which you may have heard of from the viral craze surrounding little moons, which are filled with ice cream. Unlike traditional mochi, which is filled with red bean paste, Daifuku comes in a variety of flavours and is filled with cream and marshmallows.
10. Konpeito Sugar Candy (Gluten-free available)
Eaten by the soot sprites in the Studio Ghibli film Spirited Away, these brightly-coloured sweet treats are made from refined sugar. Konpeito can either be chewed or sucked on as they slowly melt in your mouth.
11. Bakauke Senbei Rice Crackers
If you are more of a savoury snack lover, these banana-shaped crackers come in five flavours: curry, corn soup, cheese, soy sauce and sesame, and soy sauce with aonori seaweed. They are incredibly popular, so we recommend that you try them yourself so that you can see why!
12. Calbee Seaweed Potato Chips
Similarly, if you like crispy snacks and also seaweed, these Calbee potato chips are a great choice for you. They use the best seaweed in Japan to provide you with the richest possible flavour.
13. Kasugai Peach Gummy
If you are looking for an authentic white peach juice flavour, then Kasugai Peach Gummies are the perfect option. Their softness and fresh flavour make them a great light snack throughout the day.
14. Meltykiss
Whether you are looking for a gift or your new favourite winter chocolate, Meltykiss are velvety smooth chocolate truffles that melt in your mouth. They come in a number of flavours, including strawberry and milk chocolate, and are completely irresistible.
15. Choco Pie
Choco Pies consist of a cake covered in chocolate and filled with marshmallows; they make a great afternoon snack alongside a cup of tea. Also, they are ideal for a quick boost when you are on the go.
16. Alfort Mini Chocolates
A twist on the classic digestive biscuit, these chocolate-covered treats are not to be missed. As well as being delicious, they also have a portrait of a sailing ship pressed into the chocolate to make them unique.
17. Apollo Strawberry Chocolate
A favourite amongst Japanese children, these retro Apollo strawberry and chocolate-flavoured treats are as tasty as they are eye-catching.
18. Kaki no Tane Rice Crackers
Another one for savoury treat lovers, these crescent moon-shaped rice crackers are the perfect midday snack. As well as the soy-flavoured crackers, the snack pack even contains peanuts, adding a great balance of crunch and texture.
19. Natori Just Pack Fish almonds
This unusual fish snack contains tiny dried sardines and sesame seed-coated almonds; the whole pack is coated in sugar. Even though it may sound unappealing, it is one of the most popular beer snacks in the country, so why not give it a try?
20. Umaibo Corn Snacks
From their packaging alone, these are one of the most fun snacks on this list. Alongside their friendly cartoon exterior, Umaibo corn snacks come in many different flavours, from pizza and cheese to teriyaki burgers and even chocolate!
21. Aerial Cheese Corn Snack
With a great balance of crunch and cheese, these light cheese snacks are the perfect option for a night in or at the cinema. Once you have tried these moreish Japanese snacks, you will reach for them again and again!
Will I be able to find snacks if I have dietary requirements?
Absolutely! Specific dietary requirements do not necessarily have to get in the way of you sampling the treats Japan has to offer; you will just have to be a little more observant in your search. You can even find vegan and vegetarian snacks in our handy guide.
How to find Gluten-Intolerant Snacks
If you are gluten intolerant, this does not mean you have to miss out on all the fun! When you are looking through the shelves in your local conbini, useful gluten-related phrases to watch out for include:
小麦, komugi (wheat)

全粒小麦, zen-ryu komugi (whole wheat)

麦, mugi or 大麦,oo-mugi (barley)
麩 (fu), aka wheat gluten (similar to seitan)
Some of the snacks above have gluten-free variations, but be sure to always check the label to make sure you are not eating anything that you cannot have.
How to find Halal Japanese Snacks
Much like in other countries, foods will be marked with a sticker if they are Halal. Halal treats include:
Kokuto Candy (brown sugar candy) 

Momiji Manju (a maple leaf bun filled with bean paste) 

Okinawa Beni-imo Tart (sweet potato tarts) 

Tokyo Arare (traditional rice cracker)
Some of the snacks above also have halal options, but you should always read the label before eating them just in case.
How to find Healthy Japanese Snacks
If you are looking for lighter treats, there is no shortage of them in your local Japanese Convenience Store. Low-calorie or healthy does not mean that they are not delicious; potential healthy snack options include:
Morinaga cookies (105kcal per bag).

Asahi Cream Genmai Bran Bites.

Calbee Calbits (bite-sized granola clusters at 118kcal per bag). 

Plum flavour Dried Kombu Seaweed (just 29kcal a pack).

Dried Ichijiku (figs) at 147kcal a bag.
Ultimately, regardless of your go-to type of snack, we are sure you will find your new favourite in one of our choices. 
Get in touch with us today for more help on Japanese social customs, careers and more.