The 20 Best Things To Do In Fukuoka
As the sixth-largest city in Japan, Fukuoka serves as the perfect location to experience a wide range of fun and exciting activities that are deeply rooted in the history and culture of Japan.
In this article, our team has highlighted the 20 best things to do in Fukuoka, from ancient shrines to modern museums!
Let's dive in:
The 20 Best Things To Do In Fukuoka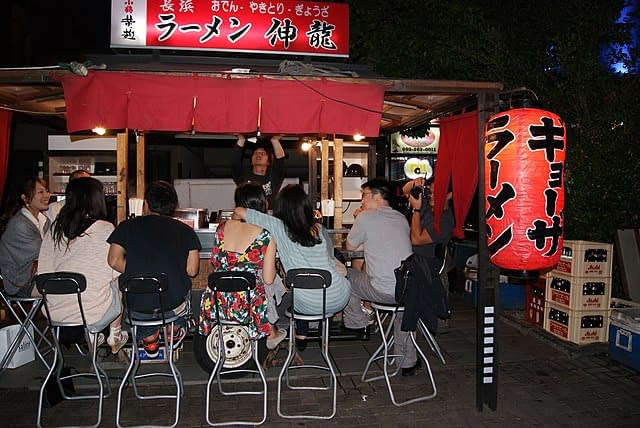 1. Yatai Food Stalls
Fukuoka's yatai serve as a well-known symbol of the city. Yatai are open-air food stands, serving simple and delicious food such as chicken skewers, ramen and hot pots.
Yatai stalls usually have approximately seven or eight seats situated around their perimeter. When visiting a stall, you will sit and eat shoulder to shoulder with the locals, making for a fantastic cultural experience.
It's customary to engage in conversation with others around the yatai stand, with many yatai discouraging the use of mobile phones to uphold this tradition. However, don't feel obliged to do this if you're unable to speak the language fluently!
Yatai are usually open between 06:00-02:00, though may close during adverse weather conditions. They can be found throughout the city centre and serve as an unmissable cultural experience when visiting Fukuoka.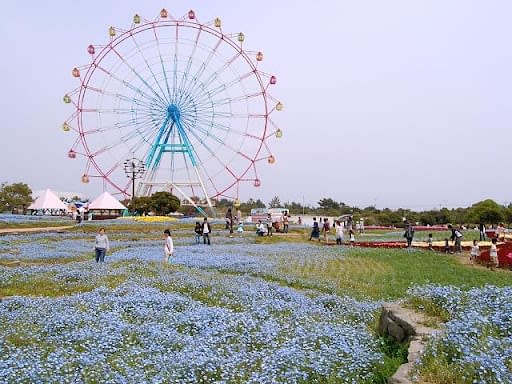 2. Uminonakamichi Park
If you're a fan of Japanese parks, Uminokamichi park is a great place to visit! It's packed with attractions and amenities, including a water park, zoo, flower gardens and playgrounds.
The park covers a very large area, measuring 4km from end to end. If you're keen to traverse the full breadth of the park, you might want to consider renting a bike at the park entrance.
If you visit between spring and autumn, there's also an efficient bus service that travels between the main areas and attractions of the park, making it easy to experience everything the park has to offer in a single day.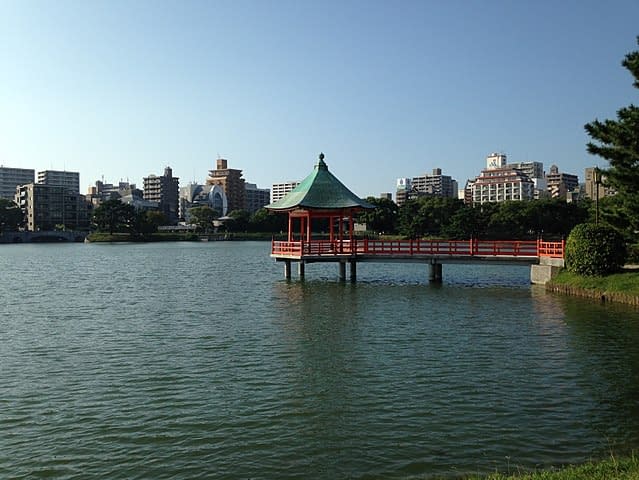 3. Ohori Park
Ohori Park is a stunning park located in central Fukuoka. "Ohori" means "moat" in Japanese, which references the large pond based in the centre of the park. The pond itself is surrounded by a 2km path that's popular for scenic running or walking.
If you're looking for a more tranquil day in Ohori Park, we'd recommend visiting one of the three stunning islands with bridges that extend out into the pond. These offer excellent views of both the park and the surrounding city of Fukuoka, making for a truly unforgettable experience.
There is also a beautiful traditional Japanese garden in Ohori Park, containing scenic landscapes and tea houses that aren't to be missed!


4. Shofukuji Temple
If you're looking to experience Japan's incredible history, look no further than Shofukuji Temple!
This stunning temple was founded in 1195 by Myōan Eisai; a Japanese Buddhist priest who was responsible for introducing Rinzai Zen Buddhism to Japan. It serves as the first Zen temple constructed in Japan, though the temple has been damaged and reconstructed many times throughout the ensuing centuries.
While you're not able to enter the temple itself, you'll be able to walk through the attractive grounds and observe all that the building and gardens have to offer, providing rich insight into the incredible history of Fukuoka.


5. Momochi Seaside Park
If you're looking for a beach day in Fukuoka, Momochi Seaside Park offers everything you need!
Located in the heart of the city – next to the Fukuoka tower – Momochi Seaside Park comprises three main beaches:
Momochi Beach
Jigyo Beach
Atago Beach
Each beach is man-made and protected by breakwaters, ensuring the sand remains golden and free of overly-intrusive waves. This makes the beach safe for swimming, while also offering a truly tranquil beachside experience.
Popular activities at each of the beaches include paddleboarding, windsurfing, jet skiing and volleyball. There's also a wide range of attractions surrounding the beaches, including the Fukuoka Tower, Paypay Dome and the Fukuoka City Museum, making it perfect for a family day out!
6. Canal City Hakata
Canal City Hakata serves as a large shopping centre and entertainment complex, boasting over 250 shops, eateries and entertainment facilities.
As a self-proclaimed "city within a city", this vast complex is famous for the large-scale canal that runs through its center, making for a scenic shopping experience.
Canal City's shops and eateries include well-known international chains among speciality shops and local businesses. On the entertainment side, the complex boasts cinemas, a theatre, a game centre and two well-furnished hotels.
On the shopping side, the complex features everything from independent specialist shops to large-scale chains, making it perfect for stocking up on essentials or buying souvenirs!
7. Ramen Stadium
Ramen Stadium is a large food court located on the fifth floor of Canal City, housing eight popular ramen eateries that each offer unique styles of ramen.
The types of ramen offered at Ramen Stadium include Kureme, Tokyo and hakata-style ramen. It serves as one of the most popular attractions in all of Canal City, offering the perfect opportunity to sample some fantastic local cuisine.
Fukuoka is proud to serve as the birthplace of tonkotsu ramen; a delicious style of ramen made by slow-boiling pork bones rather than chicken bones. Tonkotsu ramen was initially introduced due to the fact that pork bones were cheaper than chicken bones, though have since become a staple of Fukuoka.
If you're looking for an experience that's truly symbolic of Fukuoka, we'd recommend visiting the following stalls which specialize in tonkotsu ramen:
Ramen Jinanbo
Shodai Hie-Chan
Nagahama Number 1


8. Fukuoka Castle Ruins
If you're looking to explore more of Japan's detailed history and culture, the Fukuoka Castle Ruins – located in Marizuru Park – are a great opportunity to do so!
During Japan's Edo Period (1603-1867), Fukuoka Castle served as the largest castle on Kyushu, though it was destroyed during the infamous Meji Restoration.
The remains serve as a fantastic insight into a crucial period of Japanese history, with the ruined walls and a few turrets still standing. There are also parts of the guard towers and moat system still standing, allowing you to mentally reconstruct the grandeur of the castle from several hundred years ago.
9. Hakata Gion Yamakasa Festival
If you're visiting Fukuoka during the first half of July, you'd be remiss not to attend the renowned Hakata Gion Yamakasa Festival!
This is a large-scale festival held on the streets of Hakata, in which men in costume push decorated floats along a 5km course that runs through the city. It's immensely popular amongst both locals and tourists, attracting approximately a million attendees a year.
The floats themselves are lavishly decorated and stand up to 13 metres tall, often featuring anime characters or samurais. It's important to mention that the race starts at 4:59am – but despite the early start – it's not to be missed!
10. Yusentei Park
Originally built during Japan's Edo period, this stunning park boasts a large pond surrounded by picturesque trees.
The park itself is deeply rooted in the history of Fukuoka, having originally served as a second home for Kuroda Tsugutaka – the 6th lord of Fukuoka. Today, it's open to members of the public from 09:00-17:00 from Tuesday to Sunday.
Yusentei Park is famed for serving as a serene and tranquil escape from the busy nature of central Fukuoka, making it a popular destination amongst locals and tourists alike!
11. Hakozaki Shrine
Dating back to 923, Hakozaki Shrine serves as one of the three major shrines dedicated to Hachiman god, while also being dedicated to three ancient Japanese Emperors and Empresses (Emperor Oujin, Empress Jingu and Tamayorihime-no-mikoto).
Hakozaki Shrine serves as one of the three major shrines dedicated to Hachiman god, boasting beautiful flower displays as well as a large number of bo trees. Having been burned to the ground during the notorious Mongol invasion of 1284, the shrine has since been reconstructed and a calligraphic plaque installed to signify victory.
The shrine also hosts various festivals throughout the year, notably the Tamaseseri Festival as well as the Hojoya Festival, so it's well worth checking in advance to see what's on at the shrine!
12. ACROS Building
Located in the very heart of Fukuoka's financial district, the ACROS Building is a 14-floor municipal government building housing a mixture of public-facing entities as well as revenue-producing businesses.
This hallmark building includes a wide range of unmissable attractions during your visit to Fukuoka, including:
Tourist information centre
Craft gallery
Communication area
Fukuoka Music Hall
The building is famed for its full-height atrium, in which natural light shines through a vertically sliced glass cylinder. The building also offers a large-scale rooftop garden boasting large stretches of greenery, serving as a perfect respite from the busy nature of Fukuoka.
13. Fukuoka Tower
The Fukuoka Tower is one of the city's most noticeable landmarks, being clearly visible from many areas of Fukuoka itself. It serves as the tallest seaside tower within Japan, standing at 234 metres.
Upon entering the tower, you can purchase a ticket and take an elevator up to the top floor, which offers stunning views of Fukuoka, the beach and the distant mountains.
The tower itself is filled with an excellent array of amenities, including speciality shops and restaurants. We'd highly recommend a visit to Refuge Sky Café, which is located at the top of the tower and offers an excellent view of Fukuoka alongside fantastic food and drink!
14. Sumiyoshi Shrine
Sumiyoshi Shrine – located in Hakata-ku – has a history that spans over 1,800 years.
Built in dedication to the gods of Sokostusuo-no-kami, Nakatsutsuo-no-kami and Uwatsutsuo-no-kami, this shrine holds the purpose of ensuring safe travel by sea.
In ancient Japan, sailors bound to China and Korea would visit and pray at Sumiyoshi Shrine at the start of their journey, before visiting the remainder of the Sumoyoshi Shrines located along the Seto Inland Sea to ensure a safe trip.
Today, Sumiyoshi Shrine holds weddings, large-scale events and regular worship services, while also serving as a staple attraction of Fukuoka's rich history. With wonderful interior decor and rich, leafy surroundings, Sumiyoshi Shrine serves as the perfect way of spending a tranquil day in the city of Fukuoka.
15. Nokonoshima Island Park
Established in 1969 by 19-year-old Kubota Kosaku, Nokonoshima Island Park is a small island based in Hakata Bay.
It serves as a tranquil respite from the hustle and bustle of Fukuoka, featuring beautiful gardens, seasonal flowers and an array of amenities and food stalls.
The park is popular for outdoor and traditional Japanese activities, including walking, barbecuing, camping, pottery making and tea ceremonies. There's also a wide array of restaurants offering speciality dishes, including noodles, seafood and Noko cider.
The island is accessible by ferry, taking just 10 minutes to traverse from Meinohama port. With the island spanning approximately seven miles in diameter, it's easily navigated on foot, ensuring you'll be able to experience the breadth of all the island has to offer over the course of a single day.
Should you wish to camp on the island, you can do so within the dedicated camping grounds, which are open from May to September each year. This serves as an especially-memorable experience for outdoor enthusiasts, housing dedicated barbeque pits and well-stocked washroom facilities.
16. Atago Shrine
Dating all the way back to 72 A.D., Atago Shrine serves as the oldest shrine in Fukuoka and is one of three major shrines across Japan dedicated to the god of Atago.
It serves as an incredibly popular attraction due to its perceived healing powers. Each year, millions of residents and tourists visit the shrine to bring them good luck and fortune, as well as banish negative influences on their lives.
The shrine is situated atop a large hill, offering truly breathtaking views of the city of Fukuoka and the nearby Muromigawa River. The grounds of the shrine are also noted for featuring over 2,000 cherry blossom trees, making for a truly scenic and peaceful experience when visiting this historical landmark.
Atago Shrine holds regular events and festivals throughout the year, including a popular New Year's Festival in January and a Cherry Blossom Festival in April. We'd highly recommend checking the events schedule in advance to see if there's an event that piques your interest during your time in Fukuoka!
17. RoboSquare
One of the most notable things about the city of Fukuoka is the fact it serves as a leading city for the development of robotic technology. If you're keen to experience the robotic achievements Fukuoka is known for, be sure to visit RoboSquare!
RoboSquare is a state-of-the-art museum dedicated to some of the most innovative robots in Japan. With over 41 varieties of robot on display, the museum serves as one of the best ways to experience Fukuoka's robotic developments in a fun and interactive manner over the course of just a few hours.
We'd highly recommend aligning your visit with one of their regularly-scheduled robot shows, in which robots are programmed to perform entire scenes and dance routines as if they were human actors.
Serving as a hugely entertaining and informative experience for the entire family, RoboSquare serves as a truly unmissable attraction for your schedule when visiting Fukuoka.
18. Yanagibashi Rengo Market
With over 100 years of history, Yanagibashi Rengo Market serves as one of the most well-stocked and popular grocery markets in all of Fukuoka.
It's lovingly referred to as "Hakata's Kitchen" by the locals, namely due to the fact that many of the chefs from local restaurants use the market to shop for a large bulk of their produce.
The market specialises in a wide range of shops, namely fish shops, greengrocers, butchers shops and more! It's particularly-known for its wide selection of seafood, featuring everything from shellfish to whale meat.
There's no doubt that Yanagibashi Market serves as an excellent insight into everyday life as a citizen as Fukuoka, serving as a prime experience of Japan's wonderful culture during your visit.
19. Toto Museum
Opened in 2015, the Toto Museum highlights the achievements and innovations of Toto Ltd; the world's largest toilet manufacturer.
Toto Museum serves as one of the most popular museums in Japan, filled with fascinating insights into the history of plumbing and the vision of maintaining a healthy, cultural lifestyle within Japan and around the world.
The museum not only highlights the history of the modern-day toilet but also how Toto's product offering differs from country to country. For example; the European market tends to opt for a minimalistic and sleek design, whereas the Chinese market favours more gold colours within the product range.
Toto Museum also has no shortage of interesting exhibits, notably a motorbike that runs on animal waste. No matter what your prior knowledge of toilets may be, Toto Museum is bound to provide substantial enrichment on this fundamental item's history.
20. Kirin Brewery
If you're a beer aficionado, you'd be remiss not to take part in a guided tour of the Kirin Brewery!
The Kirin Company – established in 1885 – is responsible for brewing some of the most popular beers in Japan; Kirin Lager and Ichiban Shibori. The Fukuoka brewery offers enriching guided tours that offer insight into every stage of the Kirin brewing process, from the sourcing of the hops and barley to the final stages of production.
Each tour includes a tasting session, where you'll be able to sample a selection of Kirin beers and learn how to pour beer from a bottle or can to extract the best taste and aroma. There's also a selection of restaurants as well as a park nearby, making it a fantastic way to spend an entire afternoon.
Closing Thoughts
We hope you've come away from this list armed with a full itinerary for your upcoming trip to Fukuoka! Be sure to read our guide to Japanese cultural nuances next to ensure you're fully-prepared for your upcoming trip to Japan.