The 13 Best Torii Gates in Japan
Painted red to symbolise vitality, Torii gates are one of the most iconic images of Japan.
Passing through a torii gate represents passing from the sacred into the sacred world. Shinto shrines are thought to be home to the Shinto gods, and the gates appear at their entrances.
Here are the 13 best torii gates in Japan, from the big to the famous to the oddly placed!
1. Meiji Shrine, Tokyo
Shibuya's Harajuku district in Tokyo is known for its youth culture and fashion, but don't leave before visiting this peaceful Shinto shrine. Its two red torii gates are some of the largest in Japan – they stand at around 40 feet high and are made from 1,600-year-old cedar and copper.
The torii gates are famous for being some of the few structures to survive the Shibuya area's air raids in WW2, and were built in 1920. Don't forget to bow before passing through them.
Address: 1-1 Yoyogikamizonocho, Shibuya City, Tokyo 151-8557, Japan


2. Itsukushima Shrine, Hatsukaichi
An absolute must-visit place for tourists in Japan, this shrine is famous for its 'floating' torii gate. When the tide is high, the gate appears to float among the waves around Itsukushima.
Itsukushima is an island accessible by ferry, and the shrine also includes beautiful grounds and many interesting artefacts. Recognised as a UNESCO World Heritage Site, the shrine's torii gate has understandably had to have restoration work done after years of waves and weather.
Address: 1-1 Miyajimacho, Hatsukaichi, Hiroshima 739-0588, Japan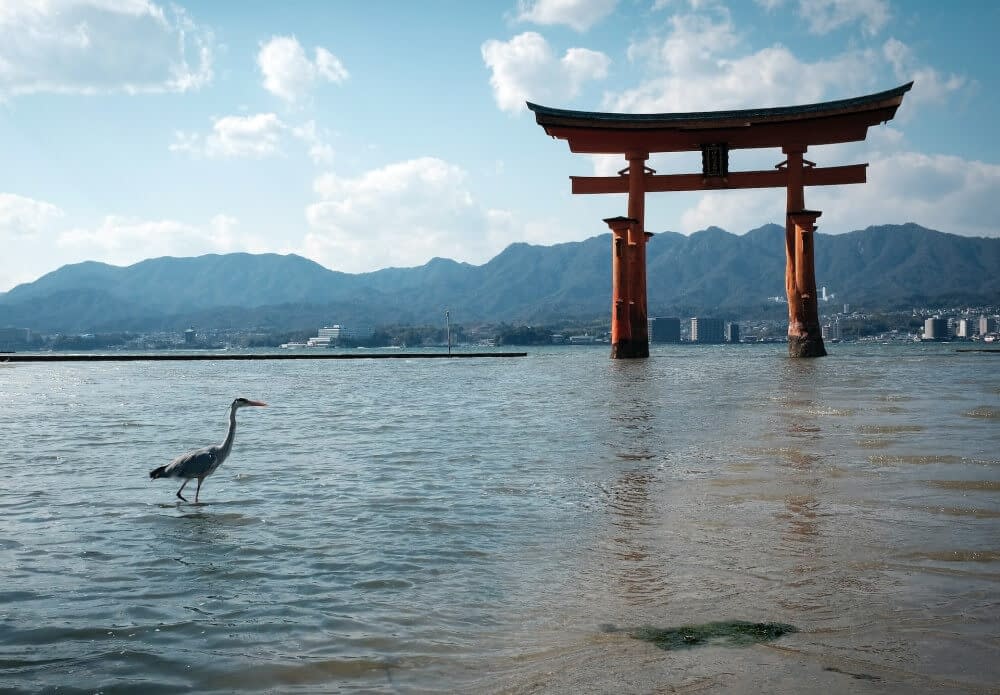 3. Hakone Shrine, Kanagawa
Surrounded by woodland and with beautiful views of Lake Ashi, this shrine is ideal for nature lovers visiting Japan. The view through its torii gate is one of the most photographed in Japan, and there's often a long line of people waiting to take photos, so try going very early or late.
The famous red 'Great Gate of Peace' is a 'floating' torii gate on the banks of Lake Ashi and was built in 1951 to mark the WW2 peace treaty. The main shrine itself was built around 757.
Address: 80-1 Motohakone, Hakone, Ashigarashimo District, Kanagawa 250-0522, Japan


4. Arakura Sengen Shrine, Yamanashi
Cherry blossom season is a big deal in Japan, and this torii gate is surrounded by hundreds of trees. The shrine sits at the foot of Arakurayama and has striking views towards Mt. Fuji.
The large red torii gate is decorated with a distinctive rope with tassels, and the view of Fuji through the gate makes a fantastic photograph. The scenic location of this shrine is hard to beat, particularly in spring when the cherry blossom is in full bloom – just be prepared for a climb.
Address: 2-Chome-4-1 Asama, Fujiyoshida, Yamanashi 403-0031, Japan
5. Fushimi Inari Shrine, Kyoto
Love torii gates? This famous shrine in Japan has thousands of them! The gates are densely packed together to create a network of tunnels, which is an amazing experience. Locals and tourists alike show ultimate respect to the wooden gates, and they're perfectly maintained.
As well as the torii gates, expect quite a hike up a mountain and bring your walking shoes. The shrine understandably gets quite crowded, so go very early if you want a more peaceful visit.
Address: 68 Fukakusa Yabunouchicho, Fushimi Ward, Kyoto, 612-0882, Japan


6. Amanoiwato Shrine, Miyazaki
This torii gate sits inside the most famous cave in Japan. Said to be the place where the sun goddess Amaterasu hid after a dispute with her brother, it draws thousands of tourists.
A rope with tassels – known as a 'shimenawa' – hangs across the cave entrance, and is a symbol of purification in the Shinto religion. The main shrine buildings sit nearby the cave, and there are multiple torii gates on the site. Look out for the 'power spot' of stacked stones.
Address: 1073-1 Iwato, Takachiho, Nishiusuki District, Miyazaki 882-1621, Japan
7. Kumano Hongū Taisha, Wakayama
A UNESCO World Heritage Site in the mountains of Wakayama, this shrine features the largest torii gate in the world. Its Japanese name is 'Otorii' which means 'Great Gate'. The steel gate was built in 2000 and weighs 172 tons, taking 6 months to make and another 6 to assemble.
One of the most famous torii gates in Japan, the huge structure stands 33.9 meters tall and 42 meters wide. The shrine's pavilions have unique architectural features and woodworking.
Address: 1110 Hongucho Hongu, Tanabe, Wakayama 647-1731, Japan
8. Motonosumi Shrine, Yamaguchi
This breathtaking site features 123 torii gates, connected together to create a tunnel-like experience. The winding path is over 100 meters long and is located near a rocky cliffside.
Listed as one of the most beautiful places in Japan, the torii gates were built over 10 years, starting in 1987. Despite their seaside location, the wooden gates are well maintained in striking red paint. The site can get very crowded, so try to avoid weekends or schedule extra time.
Address: 498 Yuyatsuo, Nagato, Yamaguchi 759-4712, Japan
9. Nezu Shrine, Tokyo
One of the oldest places of worship in the city, the Nezu shrine was built in 1705. Another shrine with hundreds of red torii gates, this site is famous for its stunning floral displays and gardens. The tunnel-like gates wind through the shrine's grounds and up pathways on the hillside.
If you love Japan's gardens, this is the place to visit. Every April, the shrine and its torii gates are hosts to the Bunkyo Azalea Festival. There are thousands of plants to enjoy, plus entertainment.
Address: 1 Chome-28-9 Nezu, Bunkyo City, Tokyo 113-0031, Japan


10. Shitenno-ji Temple, Osaka
While most torii gates only appear in Shinto shrines, this Buddhist temple has one of the oldest torii gates in Japan. This Shinto religious element gives the temple a unique hybrid feel.
The temple's torii gate is made of stone and hasn't changed much since the 1200s. It is one of the most famous torii gates in Japan and shows the syncretising of the two religions. However, most of the main buildings are modern reconstructions and have been rebuilt a few times.
Address: 1-11-18 Shitennoji, Tennoji Ward, Osaka, 543-0051, Japan
11. Futami Okitama, Mie
One of the most unique torii gates in Japan, this torii gate is located in the ocean. A shimenawa tasselled rope hangs between a small and large rock – known as the 'Wedded Rocks' – which serves as a torii gate. Visitors can offer prayers to the sunrise, and to a sacred rock offshore.
The two rocks represent the Shinto gods Izanagi and Izanami, and the shrine is particularly popular with couples wanting to pray for their marriage. There are also many frog statues.
Address: 575, Futamichoe, Ise-shi, Mie, 519-0602, Japan
12. Morito Shrine, Kanagawa
Another sea-surrounded torii gate standing on an island of rocks opposite a beachside shrine. Originally built to help the health of a child, the shrine has wonderful views across the bay.
The site is a perfect place to contemplate the beautiful surroundings and you can even see Mt Fuji on a clear day. The isolated red torii gate is a great subject for photographs, and there's a lovely seaside village nearby with restaurants and cafes. It doesn't get too crowded either.
Address: 1025 Horiuchi, Hayama-machi, Miura-gun 240-0112 Kanagawa Prefecture
13. Yaotomi Shrine, Aichi
A lovely torii gate to see on the move, this gate goes over a 387-metre bridge that connects Takeshima Island to Gamagori City. You can walk underneath the torii gate as you move between the city and the island – a symbol of the city and well worth a peaceful afternoon of exploring.
The unusual shrine in the middle of the island is dedicated to the god of good relationships, and it's traditional for couples to walk the bridge (and under the torii gate) together holding hands.
Address: 3-15 Takeshimacho, Gamagori, Aichi 443-0031, Japan
FAQs About Torii Gates
Now you know a little about the best torii gates in Japan, here's a little more about them.


Why are torii gates painted red?
In Japanese culture, the colour red represents protection against evil – it is considered a 'lucky' colour. Many Shinto shrines have torii gates painted in a shade of orangey-red called vermillion, which is traditionally made with mercury. This paint also helps protect and preserve the wood.
As you can see from our list, not all torii gates are made of red-painted wood. Before the introduction of red, torii gates were painted white, and some are made from unpainted stone.
Can you walk through a torii gate?
Torii gates are made to be walked through, but there are a few rules to follow. Walking through a torii gate represents moving from a secular to a sacred space, so it has to be done with respect.
It is customary to bow once before you pass through, and not to walk through the exact centre.
How many torii gates are in Japan?
Shinto shrines (and some Buddhist temples) can have multiple torii gates, and as there are around 100,000 shrines in Japan, the number of torii gates will be hundreds of thousands! Some shrines have thousands of torii gates, making tunnel-like structures and paths in the grounds.
Interested in seeing Japan's famous torii gates? Why not live, work and teach English in Japan with Interac – we recruit from all over the world and it's a wonderful way to explore the world.