Budgeting in Japan: 20 Money-Saving Tips
With Japan serving as one of the most scenic and forward-thinking countries in the world, it's a hugely popular destination for visitors. Thousands of people are drawn to this fascinating country each year to either live, work or travel.
However – like many densely-populated and tourist-heavy countries – things can get expensive.
Food, travel and living costs can quickly add up if you're not prepared or haven't set out a clear budget. Whether you're moving to Japan or simply planning a vacation, it's best to plan your financial budget before you arrive to avoid any nasty surprises.
In this article, we've compiled 20 expert tips for budgeting in Japan, ensuring you save as much money as possible without compromising on the quality of your time in this beautiful country.
Let's dive in!
20 Expert Tips For Budgeting In Japan
1. Have a budget ready before you arrive
Although this tip may seem obvious, it's key to ensure you have a plan of action in place to keep you from overspending.
Outlining a clear budget before you travel will enable you to limit unnecessary spending. Depending on the length of your trip or whether you are moving permanently, having a realistic budget is a surefire way to help you to save money in the long run.
If you're visiting Japan for a few weeks, split your budget up into the number of days you will be in the country for. Allocate enough money each day for food, travel and accommodation, plus a bit extra for daily outings or attractions.
If you're planning to stay longer or move to Japan permanently, then perhaps spilt your budget into weekly or monthly amounts instead. It's always a good idea to establish an emergency fund as well for those 'just in case' situations.
2. Use Kakeibo
Kakeibo is a renowned Japanese budgeting system that aims to offer control over your personal spending & shed light on your unique spending habits.
It was invented in 1904 by Japan's first female journalist – Hani Motoko – as a way for housewives to track their family finances. However, it remains ever-popular across the entire Japanese population today.
Kakeibo is compiled of four basic questions, which budgeters must answer in written form each month to better understand their spending habits:
How much money do you have available to spend?

How much money would you like to save?

How much money are you currently spending?

How can you improve next month?
Following this, your previous month of spending is then grouped into four categories:
Needs: Basic necessities, such as food and essential housing costs.

Wants: Items that aren't essential, but that you enjoy.

Culture: Expenses that aim to entertain or enrich you, such as trips to the cinema or the theatre.

Unexpected: Expenses you hadn't planned for in your budget, such as an emergency car repair.
Kakeibo aims to provide you with an all-encompassing overview of where your money is going each month, as well as prompting you to create an actionable plan to make better use of your monthly budget.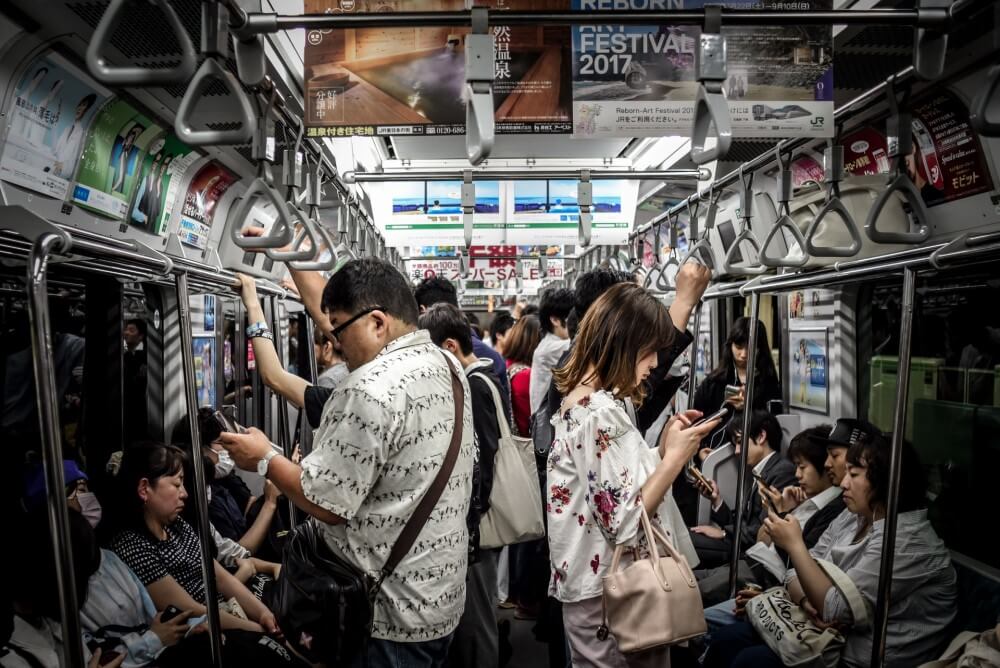 3. Budget for your travel
If you're visiting one of the major cities in Japan – like Toyko or Osaka – then you'll most likely be using public transport rather than hiring a car.
Japan has some of the most highly-praised rail and metro systems in the world, and it's easy to understand why:
Major cities in Japan have excellent transport systems, allowing users to catch a train or metro at virtually any time of the day, with short wait times and fast connections available. Even if you're travelling to smaller towns or cities, you'll easily find a suitable train to get you there quickly.
There are a variety of different passes you can obtain for public transport systems that can save you money in Japan, such as the Japan Rail Pass (JPR). Find out more about railways in Japan here.
The Japan Rail Pass is only available to tourists of Japan and can be used on a variety of different public transport networks, including bullet trains. This particular pass can last between 7-21 days and can cost between ¥29,650-60,450 for an adult.
For those living in Japan permanently, there are a wide choice of different train passes available. Each pass will save you money and provide consistent transport coverage throughout your time in Japan, serving as a much cheaper alternative than buying individual tickets for each journey.
It's best to research different travel passes before you arrive in Japan, as some require paperwork to be filled out and processed before you are granted a pass.
4. Make the most of Japan's cheap food
From street food stalls to Michelin star restaurants, Japan is famous for its mixture of traditional and contemporary cuisine.
Finding cheap food in Japan doesn't need to be a difficult task. If you're looking to eat out, Japan boasts a huge selection of small restaurants, vending machine cafes and street food stalls.
Tokyo in particular is known for its eclectic mix of vending machine restaurants, which keep costs down by eliminating the need for waiters.
Izakaya (pronounced iz-ee-ky-a) are popular small bars and restaurants that can only seat around 10 people at a time. They're hugely popular with locals, serving as an inexpensive way to grab a drink along with a few freshly grilled meats and ramen dishes.
Of course, the best way to live frugally in Japan is to cook most of your meals from scratch. Whether you're just visiting for a short period or living permanently in Japan, buying vegetables and meats to cook with in your own accommodation can help you save money.
Ramen is a popular cheap meal in Japan that's easy to prepare with little cooking equipment required. It's also a great cultural experience!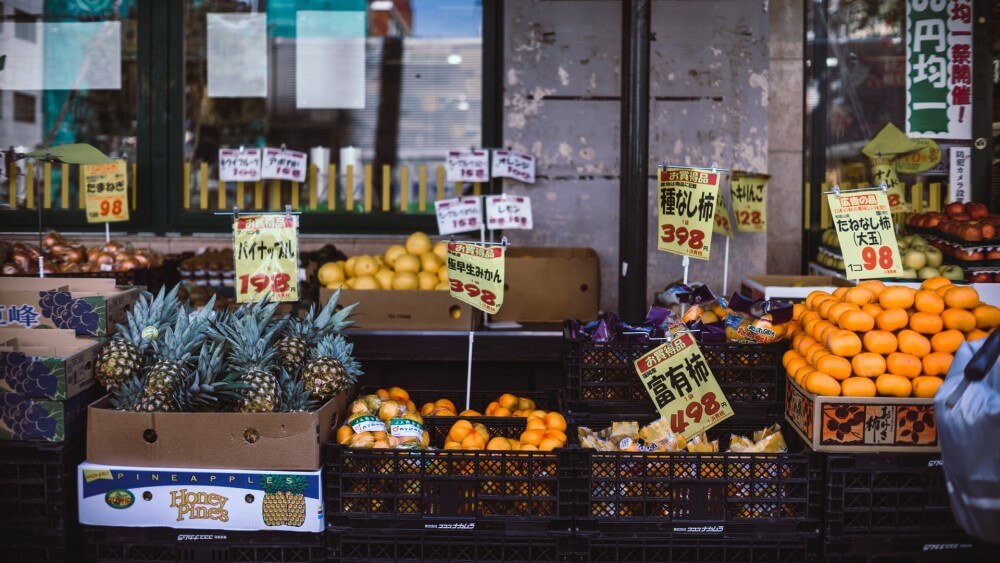 5. Avoid foreign imports
One of the best ways to save money in Japan is to avoid foreign imports:
With Japan being an island, importing certain items – notably food – can be expensive. For example, brands from Europe or America can be much more expensive than the Japanese alternative.
Certain types of meats and dairy products that aren't traditionally farmed in Japan can also carry expensive importation costs, which can significantly drive up the retail price. As a result, it's more budget-friendly to stick to traditional Japanese cuisine and food markets.
6. Travel in the off-peak season
If you're flexible when it comes to travelling around Japan, you should consider visiting in the off-peak season in order to save money.
Not only will air-fare be significantly cheaper, but attractions and tourist centres will be less crowded. Most major attractions offer discounted rates during the quieter seasons, which serves as a great way to visit Japan on a budget.
Japan's off-peak season usually spans between October and March, with the exception of the Christmas holiday period.
Whether you live in Japan and want to explore the rest of the country, or are planning a long-awaited vacation, choosing to travel in the off-peak season could help you to save a substantial amount of money. You'll also avoid those long lines and wait times for popular tourist attractions!
7. Make use of capsule hotels
Capsule hotels are a well-known accommodation option in Japan. Usually found in city centres, these 'hotels' are a great way to experience something uniquely Japanese without over-spending.
Traditionally aimed at Japanese businessmen who had missed their train home, capsule hotels provide a clean, comfortable place to sleep at a budget-friendly price. They're incredibly basic and small, but serve as a great way to save money when travelling around Japan.
They're more aimed at single travellers as each pod only sleeps one person, but they can cost as little as £20 per night. This makes them perfect for those on a strict budget.
8. Find free attractions & events
One of the best things about visiting Japan is that there are so many incredible activities to take part in that are completely free of charge.
From spending a day in a national park to visiting a weird and wonderful museum, there are plenty of fun activities to keep you busy that won't cut into your budget.
If you're visiting Japan in the summer, it's well worth taking part in one of the many traditional Japanese holidays and festivals that occur from July through to September.
Most festivals are free to enter, leaving you with plenty of extra spending money for street food and souvenirs.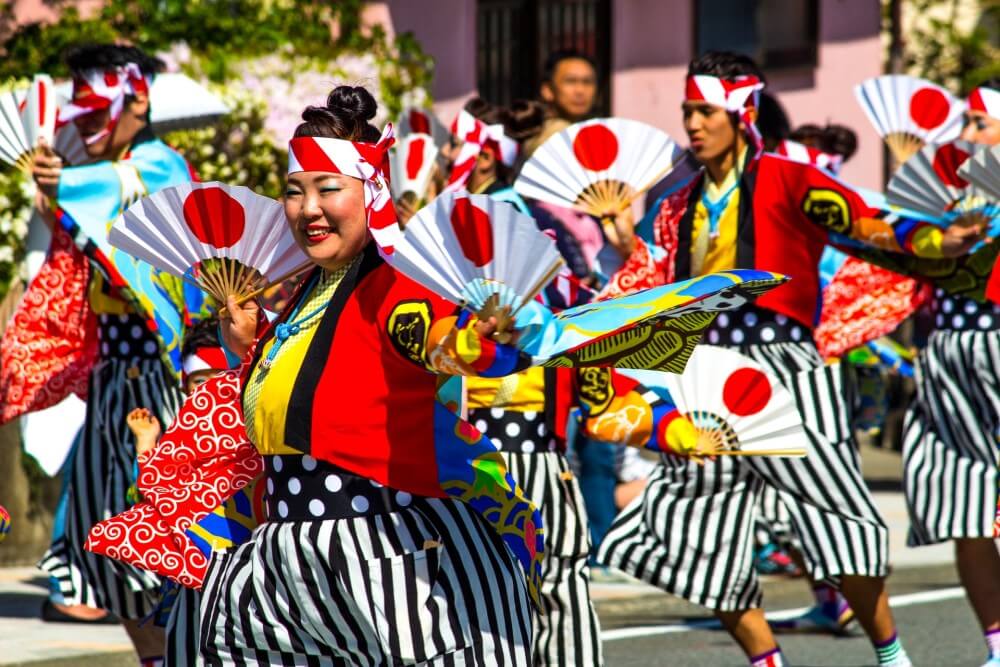 9. Avoid buying fresh fruit & vegetables
Although extremely healthy for you, buying fruit and veg in Japan can be incredibly unhealthy for your wallet.
Unlike many countries in the West, Japan's fruit and veg market is very expensive. Japanese fruit farmers take extra care and attention when growing their produce, often requiring specialist equipment in order to aid growth.
This – combined with Japanese consumers only wanting the best quality produce – can greatly impact the overal cost of certain fruits and vegetables in Japan.
To help put this into perspective, an average punnet of grapes in the UK will set you back around £2. However, in Japan, they typically cost the equivalent of £14.
10. Do your grocery shopping in the evenings
If you're really hankering for some fresh fruit and veg, be sure to save your grocery shopping for the evening to ensure a hefty discount!
Japanese supermarkets are legally required to get rid of their fresh food each day, meaning that they'll often discount any leftovers by up to 50% after 8PM. While you'll be a little more restricted on the choice of your fresh food, you're guaranteed a much lower price!
Interested in getting more veg in your diet? Check out these Japanese vegan and veggie dishes!
11. Consider housesharing
If you're planning on moving to Japan on a permanent basis, then you should consider entering a houseshare.
Rent for apartments in major cities like Tokyo or Kyoto can be incredibly high. Entering a houseshare – where rent is shared between a group of people – can easily keep costs down.
Many young professionals choose this method as it enables them to live in the best locations without compromising on costs. It's also worth noting that most shared housing costs include utilities, which can also help you to stick within budget.
12. Find a three-mat-apartment
If house-sharing isn't your thing, another way to keep costs down while living in Japan is to live in a micro-apartment.
Although incredibly small, these types of homes have become increasingly popular due to their functionality and low rent costs. For as low as ¥50,000 per month, you could have your own apartment in a prime location.
Usually, these types of micro-apartments have a loft-bedroom layout with a small living area below. Each apartment has its own bathroom and kitchen area – although don't let the description fool you – these apartments are usually 9 to 11 square metres in size.
Although these apartments aren't ideal for everyone, they're great for single, young professionals on a budget who want their own space.
13. Connect for less
Keeping connected whilst travelling or living in Japan can easily be done on a budget. If you're travelling in Japan for a few weeks, it may be worth switching to a different data package so that you're not overcharged for calls or mobile data whilst away.
If you're planning on staying longer in Japan, you can find portable Wi-Fi for around ¥5,000 per month. These are portable devices that connect to your phone or laptop to provide you with a Wi-Fi connection while on the move. Read our blog to find out whether your phone will still work in Japan.
14. Find your nearest 100 Yen Shop
100 Yen shops work in a similar fashion to dollar stores and pound shops.
They're incredibly popular discount stores in Japan and supply a wide range of different household goods. They're also useful for food, such as ramen packets and snacks.
Whether you're just visiting or living there full time, 100 yen shops are great for keeping stocked up on a tight budget.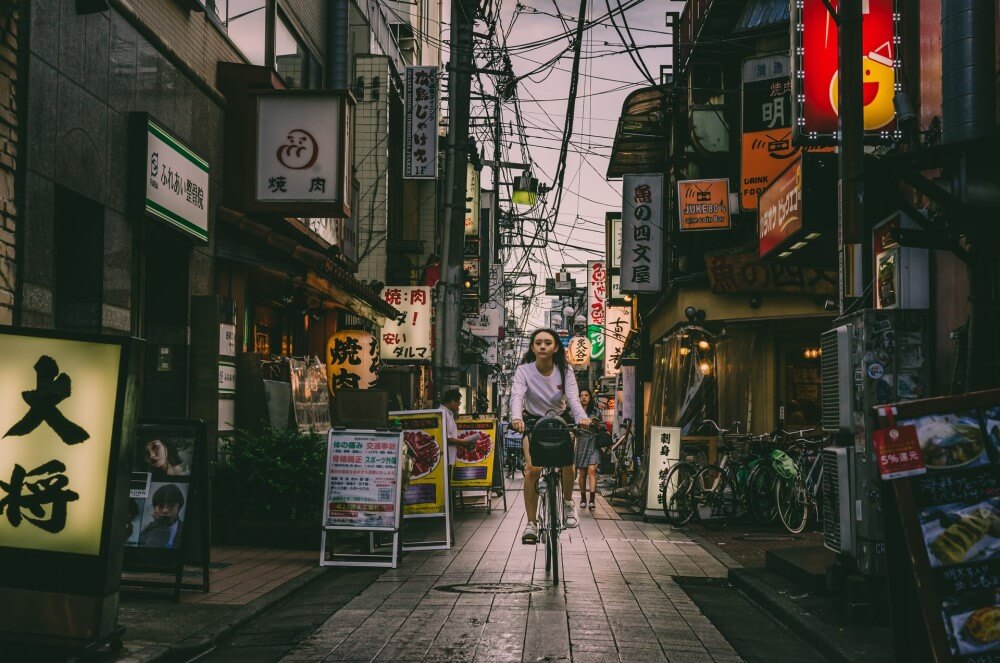 15. Get on your bike
If you're planning a longer trip to Japan – or are relocating there permanently – it might be worthwhile to invest in a bicycle.
Like other Asian countries, biking is a popular mode of transport. Japan's major cities have great cycle routes that are safe, making it easy to get around towns and cities.
Also – because Japan's crime rate is so low – bicycle theft is almost unheard of. What's more, it's completely free and will enable you to explore your local neighbourhood virtually free of charge.
16. Make The Most of Coin Laundromats
If you're staying in a hotel during a trip to Japan, it's likely that the hotel will have laundry facilities available on site.
However, these can be much more expensive than you might anticipate. Dry cleaning can be even more expensive than regular hotel laundry, with many dry cleaners in Japan charging around ¥1,000 per item.
Coin laundromats are a much more cost-effective way of doing laundry in Japan, where a single wash can cost as little as ¥200. Most coin laundromats in Japan are also open 24/7, meaning you won't have any issues finding a convenient time to wash your clothes.
An average wash takes just 20-40 minutes, meaning it shouldn't take up too much of your day if you're busy exploring.
Coin-operated washing machines accept ¥100 coins, so be sure to bring a stack of them with you when you visit the coin laundromat. Be sure to bring your own detergent as well!
17. Kickstart the new year with a lucky bag
If you're visiting Japan during the New Year, lucky bags can be a great way to pick up supplies from your favourite stores at a discounted rate!
Lucky bags – known as Fukubukuro – are a Japanese New Year tradition where shopowners fill gift bags with a range of merchandise and sell them at a heavily-discounted price over the first few days of the new year.
It's used to allow shop owners to clear out leftover merchandise, but serves a wildly popular tradition across Japan.
Lucky bags are provided on a first come first served basis, so be sure to visit your favourite stores early on New Year's Day if you're looking to pick up a lucky bag!
18. Make use of points cards
Points-style membership cards are especially popular in Japan, with virtually all major retailers participating in a points reward system.
Points are accumulated with every purchase you make; once you've racked up enough points, these can be redeemed against a purchase of your choice.
In the Western world, individual stores will generally have their own in-house points card system. However, in Japan, there are several major points cards that can be used across a variety of participating stores. Popular Japanese points cards include T-Point, Nanaco and Waon.
19. Be Smart With Your Travel Insurance
As with any other international trip, it's essential to secure suitable travel insurance in advance of your trip to Japan. However, it's all too easy to overspend on your travel insurance, especially if it's your first time visiting Japan.
If you're travelling as part of a group, it's often cheaper to opt for a group policy rather than insuring each person with an individual policy.
If you've recently taken a trip to another international destination, it's worth checking if your previous travel insurance policy will still cover you before you opt for a new policy.
When shopping for travel insurance, you can often find the best deal by using one of the popular comparison services available online. Just be sure to include all pre-existing medical conditions and planned activities to avoid your insurance being voided in the event of an emergency.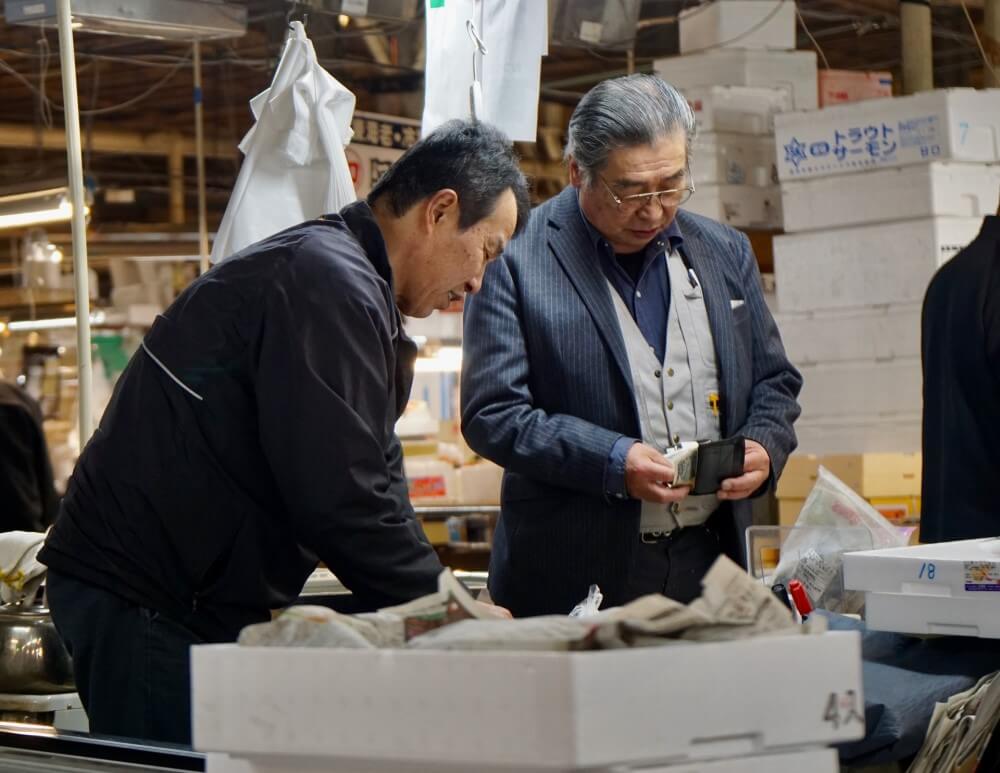 20. Make Use Of Local Flea Markets
Some Japanese cities – notably Tokyo and Kyoto – are known for being expensive shopping destinations. However, both of these cities are bustling with regular flea markets, offering top-tier merchandise at very reasonable prices!
Flea markets in Japan offer all types of merchandise, from toys and games to homeware. Tokyo in particular is known for its antique flea markets, which are perfect for buying a souvenir from your trip to Japan.
Standard opening hours for flea markets are between 09:00-15:00 on Saturdays and Sundays, so be sure to schedule a flea market visit one weekend if you're looking for bargain prices!
Closing Thoughts on Budgeting in Japan
And there you have it! 20 expert tips for budgeting in Japan.
Whether you're looking to move to Japan on a permanent basis or are simply taking a short vacation, we're sure these tips will come in handy.
If you enjoyed this article, be sure to read our all-encompassing guide to clothes shopping in Japan next.