Japan Tips

Life & Culture
Cheap Restaurants & Street Food in Osaka
Looking to enjoy food in Osaka on a budget? Japan's foodie capital is known as 'the nation's kitchen' and there are hundreds of restaurants to choose from. From seafood to curry, there's something for everyone!
Here's our guide to the best cheap food in Osaka, including restaurants, street food and markets.
Finding cheap food in Osaka
It's an in-joke in Japan that people in Tokyo spend all their money on shoes, people in Kyoto spend all their money on kimonos, and people in Osaka spend all their money on food. Restaurants in Osaka know that tourists expect amazing dishes. You'll find plenty of cheap and delicious eats at competitive prices.
Street food and markets are ideal for budget eats, or try one of our favourite restaurants below:
5 best Osaka restaurants on a budget
Yakumido – curry connoisseurs (£3 – £7)
With rave reviews on both TripAdvisor and HappyCow, Yakumido is a tiny restaurant located down a side street in Osaka. The cosy restaurant seats just a few people, and three dishes are served – beef curry, vegan curry, or a mix of the two. Customers praise the delicious recipe and the friendly owner's stories.
Address: 2-2-10 Haginochaya, Nishinari-Ku, Osaka 557-0004
Okonomiyaki Chitose – pancake paradise (£5 – £6)
Okonomiyaki is a type of savoury pancake and one of the most famous foods in Osaka. Made from a base of eggs, flour and cabbage, you can add seafood, pork and extra toppings to your freshly-made pancake. Okonomiyaki Chitose is popular with locals and tourists, and nearly everything is priced under 1000 yen.
Address: 1-11-10 Taishi, Nishinari-Ku, Osaka 557-0002
Traveler's Bar Tacos – a taste of home (£4 – £5)
Homesick? This great little bar is ideal for westerners missing their home comforts! With a cheap and tasty menu of Mexican tacos, tortillas and nachos, it's a guaranteed place to meet other foreigners. There are traditional and video games to play, a great playlist of music, and plenty of vegan and vegetarian options.
Address: 1-3-24 Taishi, Nishinari-Ku, Osaka 557-0002
Oretachi no Curry Ya Ramen – fast and tasty (£4 – £6)
Another delicious Osaka curry restaurant, this tiny hole-in-the-wall establishment offers a huge choice of cheap dishes. The turnaround is quick, there's a menu in English, and the owner is allergy-conscious. Simply order at the ticket machine, customise your curry dish with egg, meat or veggies, and enjoy.
Address: 14-13 Namba Sennichimae Kawanishi Dai3 Bldg. 1F, Chuo, Osaka 542-0075
Fukutaro Honten – dining for less (£10)
Want the atmosphere of a sit-down restaurant, without the huge price tag? This popular Osaka restaurant often has a queue outside, and the choice of dishes is as large as the portion sizes. From okonomiyaki to filling noodle dishes, Fukutaro Honten is a must if you're hungry for an authentic Japanese experience.
Address: 2-3-17, Sennichimae, Chuo, Osaka 542-0074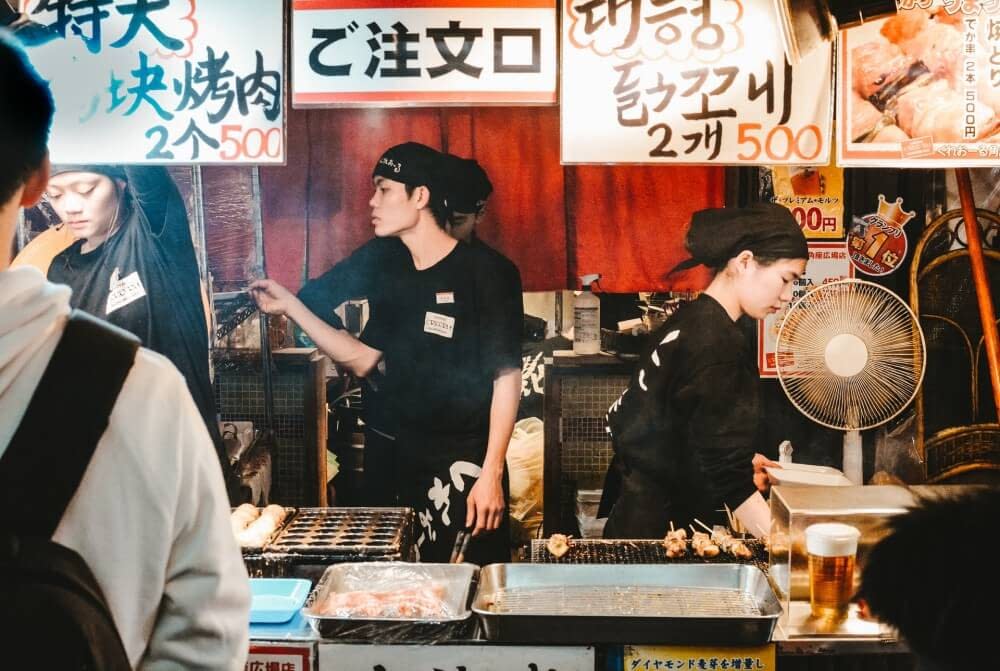 5 best Osaka street food dishes to try
Osaka has some of the best street food in Japan, if not the world! The neon-lit Dotonbori strip is a paradise for street food fans, boasting all types of sweet and savoury food vendors. Here are some of our faves.
Takoyaki – battered octopus balls
First created by a street food vendor in Osaka in 1935, these delicious balls can be found everywhere.
Made from a flour-based batter, diced octopus, pickled ginger, tempura crumbs and green onion, Takoyaki are crispy on the outside and creamy on the inside. Watch out for hot spillage when you bite into them!
Most 'yatai' food stalls let you add toppings, including Worcestershire sauce, mayo and even egg.
Kushikatsu – deep-fried skewers
These delicious bite-sized chunks of meat and vegetables are skewered, battered and deep-fried.
When eating from a food stall, remember not to 'double dip' your skewer in the communal sauce as it's unhygienic. If you want more, some stalls have cabbage as a side dish – you can spoon on more sauce!
Skewer ingredients can include octopus, shrimp and pork, along with a wide range of vegetables.
Negiyaki – green onion pancakes
A twist on the legendary okonomiyaki, these savoury pancakes use green onion instead of cabbage.
First served in a restaurant in 1965, the green onion pancake is an Osakan speciality served all over the city. Often prepared fresh before your very eyes, you can choose to add meat, seafood or vegetables.
Like Okonomiyaki, negiyaki are served with their own special sauce and toppings at street stalls.
Ramen – the best noodle soup
If you think you know ramen, you haven't tried Osaka's yet. It's some of the best ramen in the world.
Ramen – for those who haven't had the pleasure – is a type of noodle soup, eaten with chopsticks and a ladle for the generous amount of soup. It's especially comforting in winter but is served all year round.
Street food stalls in Osaka have their own take on ramen. You can even get it from vending machines.
Yakiniku – Japanese barbecue
Translated as 'grilled meat', Japan's answer to the western barbecue is popular with tourists and locals.
Japan is serious about meat, and you'll find a wide variety of different types and cuts on the street. You can watch your dish be cooked over a charcoal grill, just remember to ask how well done you like your dish.
As well as street food, there are many dedicated yakiniku restaurants in Osaka. It goes well with beer too!


5 best Osaka markets for cheap food
If you want the authentic Osaka dining experience, visiting a food market is a must. Expect unusual sights and smells, exciting regional dishes, and even food demonstrations. You'll find very cheap prices too.
From farmers selling their wares, to utensils and equipment, here are five Osaka food markets to visit.
Kuromon Ichiba Market
It's easy to see why Kuromon earned the nickname 'Osaka's kitchen'. This spacious covered market is a fantastic place to buy fresh meat, vegetables and fruit. Famous for its seafood, many Osaka chefs pick up their ingredients from here. You'll also find traditional sweets and street food among its 150+ stalls.
Address: 2 Chome-4-1 Nipponbashi, Chuo Ward, Osaka, 542-0073
Tenjinbashisuji Shopping Arcade
The longest covered shopping arcade in Japan, it takes around 40 minutes to walk from one end to the other. Inside are around 800 stores, which include many fantastic food stalls, delicatessens and cafes. Highlights include freshly-squeezed juice from grocers, tea served traditional style, and cheap sushi.
Address: 6 Chome Tenjinbashi, Kita Ward, Osaka, 530-0041
Sennichimae Doguya-Suji
Nicknamed 'Kitchenware Street', this 150-metre stretch sells everything a budding chef needs. If you're inspired by the street food and restaurants of Osaka, this covered market has all the ingredients and utensils to make your own. Perfect for foodie gifts, or stocking up if you're staying in Japan long-term.
Address: 14-5 Nanbasennichimae, Chuo Ward, Osaka, 542-0075
Nakanoshima Food Lover's Market
Admittedly not always the cheapest, this celebration of gourmet Osaka food happens once a month. Head to the Nakanoshima fishing port (a beautiful place to visit in itself) to pick up some of the most delicious dishes in the area. You'll find everything from oysters to octopus, with an emphasis on buying local.
Address: 2-9 Kawaguchi, Nishi-ku, Osaka, 550-8586
Ikuno Korea Town
Crazy about all things Korean? Osaka's Korea Town is a great place to pick up delicious Korean food like kimchi, hangover stew and sweet pancakes. You'll also find K-pop merchandise and cult beauty products. Many local residents are Koreans born in Japan, and the area has a unique atmosphere – check it out.
Address: 1-Chome Tsuruhashi, Ikuno-Ku, Osaka 544-0031
We hope our guide to Osaka street food, restaurants and markets has helped you feel ready to take on the nation's kitchen! Why not check out our guides to chopstick etiquette and vegan and veggie food in Japan?