Clothes Shopping in Japan: Handy Tips for Foreigners
It's well-known that Japanese people have their own distinct style. You'll see extremely colourful outfits full of frills and inspired by kawaii culture, but you'll also see the smart, preppy style heavily influenced by US collegiate clothing. There's a little bit of everything.
Buying clothing in Japan as a foreigner does present its challenges, though. Shopping for clothes in Japan can make you feel like a giant! Japanese clothing sizes are much smaller than UK or US sizing, with some of the most common US sizes deemed 'plus size' in Japan. Because of this, it can be much harder to find clothing that suits westerners.
In this guide, we'll help you to understand Japanese clothes sizes and how they match up to UK and US sizing. We'll include Japanese clothing size charts, as well as Japan sizes to US size clothing comparisons so you can make more accurate decisions when buying clothes in Japan. And, we've even put together a section on popular Japanese clothing stores and brands for you to keep an eye out for.
Japanese clothes sizes
If you've never been to Japan and you go clothes shopping, you're in for a surprise. Japanese clothes sizes start much smaller than they do in most other countries.
If we look at the raw numbers, it's easy to see how Japanese clothes sizes are smaller than those in Europe and the US. The average height of a Japanese man is 171 cm (5' 7") and the average height of a Japanese woman is (5' 2"). This is a disparity of about 5 inches when compared to the average height of men and women in Europe and the US, clearly highlighting this difference.
This is why you'll find that clothes sizes in Japan are slightly smaller than you're used to, and rightly so – you have to stock clothes that fit the majority of the population. However, if you are visiting Japan and are slightly smaller than average height in Europe or the US, you'll find yourself right at home when clothes shopping in Japan.
The opposite is also true. If you wear larger sizes, then you might struggle to find shoes and items of clothing in the size that you need in Japan. There are shops that make up for this though if you know where to look – Japan has some speciality clothes shops that stock larger sizes.
If you need a hand translating Japanese sizes into US and UK sizes, then read the section below to find our Japan size chart for men and women.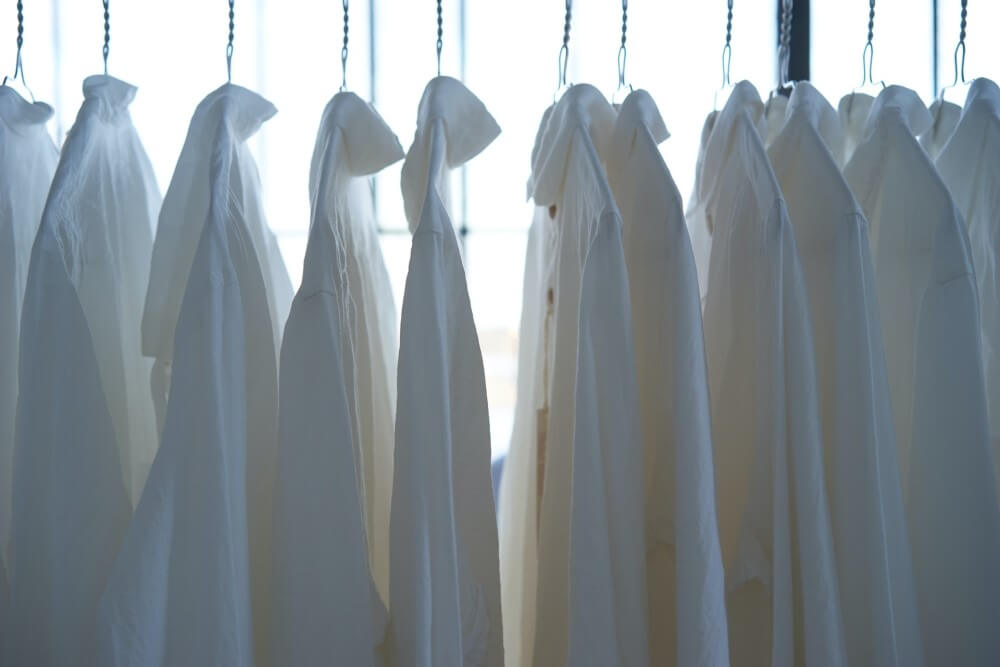 Japan men's size chart & Japan to US size clothing tips
Here we'll look at the differences in size between various types of men's clothing. We'll also compare the Japanese sizes to US size clothing so you can see the differences more clearly.
Men's shirts
For men's shirt and collar sizes, the US and UK use the same measurements. However, in Japan, for each US or UK half-size, the Japanese size goes up by one. So, for example, a US or UK shirt size 15 is a Japanese size 38.
Men's coat and suit sizes
Following a similar sizing pattern to men's shirts, men's coats and suit jackets are generally a size smaller in Japan than they are in most other countries. A Japanese size medium, for example, is the equivalent of an international size small, around 84-90cm in the chest.
Men's trousers
If you're a man looking to buy trousers in Japan, we recommend following these guidelines:
Size small trousers – waist is 68-75 cm
Medium trousers – waist is 76-84 cm
Large trousers – waist is 84-92 cm
Men's shoe sizing in Japan
In Japan, men's shoes are measured in centimetres, just like waist size. Unfortunately, if you're a UK size 9.5 (US size 10) or larger, you won't have much luck finding your size in most conventional Japanese shoe stores. You'll probably have to visit a specialist store or shop online for your size.
You can also read our separate blog post about shopping for and buying shoes in Japan.
Japan women's size chart & Japan size to US size women's clothing
Now it's time to look at women's clothing and how they size up in Japan compared to the US and the rest of the world. You'll find that the differences in Japanese and US and European sizes for men are similar for women. It's usually a case of choosing something slightly larger in Japanese women's clothing than you normally would. Let's get into more detail.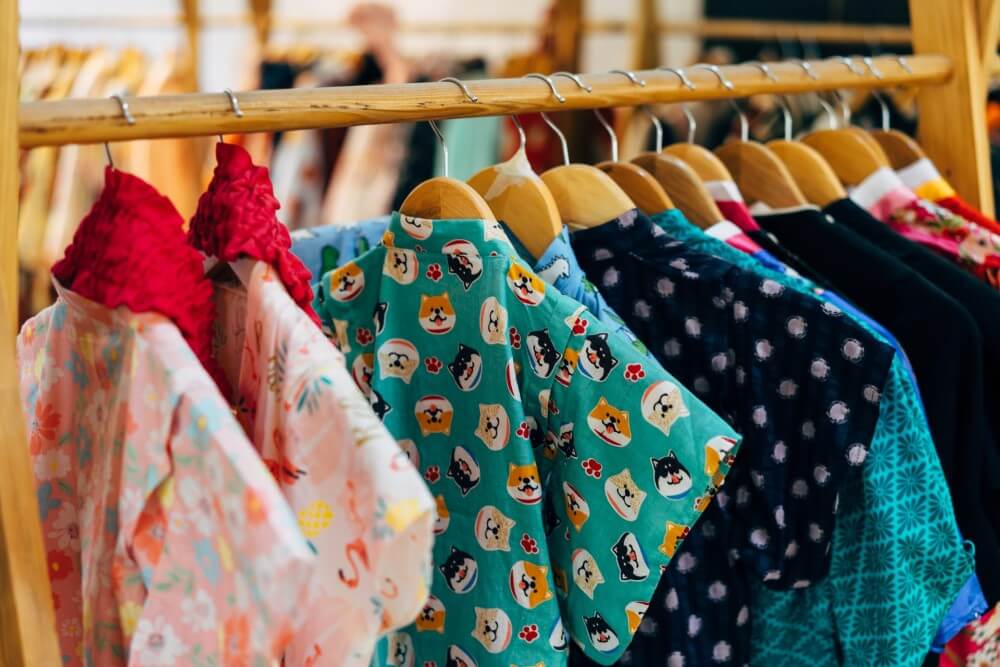 Women's clothing sizes in Japan
Women's clothing, including dresses, jackets, shirts, and t-shirts are a lot smaller in Japan. If you're used to US sizing, Japanese clothing is normally five sizes larger. For example, if you're a size 4 in US women's clothing, you're most likely a size 9 in Japan.
More familiar with UK clothing sizing? The jump in sizes isn't quite as great as with US women's clothing. We recommend going just one size up from your usual UK size when shopping for women's clothes in Japan. If you're a size 8, then a size 9 in Japan should fit best.
As with all of our advice, these are only guidelines. Different brands will fit differently and therefore might not fit our formula – trying clothes on when possible is always your best bet!
Japanese women's trousers sizes
Westerners are used to seeing trousers labelled with waist measurements in inches. However, in Japan, they use centimetres so you might have to get used to calculating what this is in inches. Some brands might include the measurements in inches though, so always look out for that.
Alternatively, you might see trousers labelled as small, medium and large. In this case, we would recommend going at least one size up in Japan.
Japanese bra sizes
Bras in Japan are measured in the same way as most countries – by cup and by band (underbust). Despite using the same measurements as Western countries, Japanese bra sizes do also come up smaller than in the US and the UK.
Because of this, we'd recommend going a size or two up from what you'd usually wear. If you'd usually wear a US B cup, you'd be better off going for a Japanese C cup.
For bra band sizes, it's similar to how they measure your waist for trousers in Japan – they use centimetres instead of inches. US and UK bra sizes go up in increments of two, but Japanese bra sizes go up in multiples of five. A Japanese 65 is the equivalent of a US and UK 30, a 70 is the same as a 32, and so on.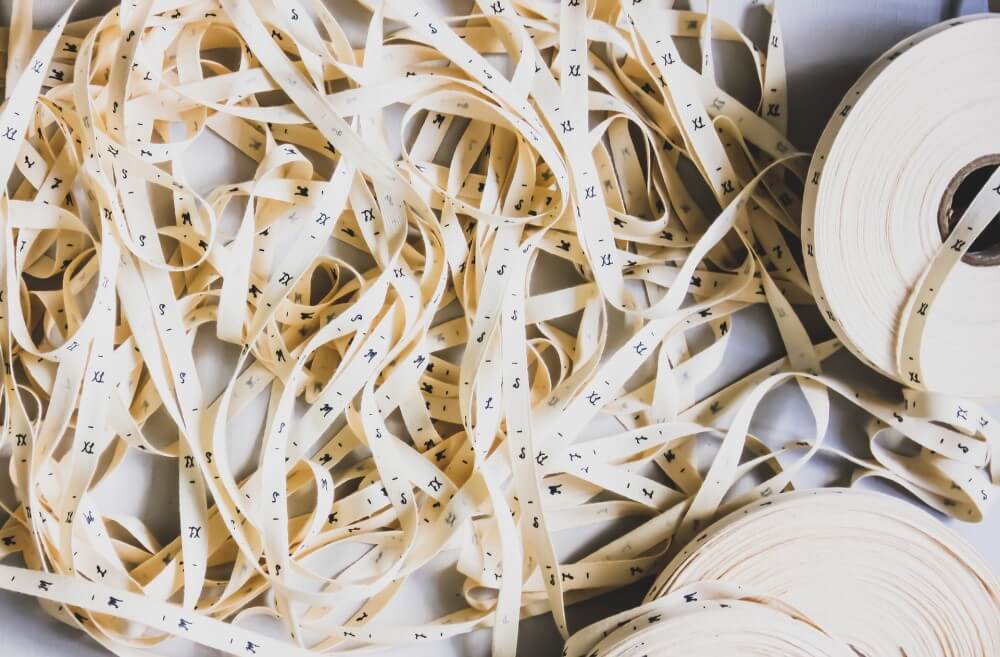 Plus size clothing in Japan
From what you've read already, it'd be safe to assume that plus size clothing is hard to come by in Japan. Well, while it was rare at one time, it's now become far more common. Many brands and stores in Japan, both online and on the high street, now stock plus size clothing for both men and women.
However, plus size doesn't mean exactly the same as it does in the West. In Japan, plus size is usually anything that's extra large or over, which isn't the case in the US and the UK. That being said, there are plenty of options if you're looking for these sort of sizes.
Uniqlo is a well-known Japanese brand that's popular all over the world – they stock sizes up to 2XL. You could also try visiting any Western brand clothing stores, such as H&M, GAP and Forever 21. If you know they stock larger sizes back home, then it's worth checking what they have in their Japanese stores.
Time to shop, shop, shop!
Now you've got a better idea of how different Japanese clothes size up compared to how they do in the UK and the US, it's time to go out and get shopping. Use our guidance to help you choose clothes in the right size for you. It might involve some trial and error at first, but we're confident you'll get the hang of it in no time.
Shopping for a job interview? Here's everything you need to know about ALT dress codes.