Japan Tips

Life & Culture
How to Give & Receive Gifts in Japan
Whether you're visiting Japan for the first time on business or looking to move to the country, you'll no doubt have an opportunity to experience Japan's wonderful gift-giving culture!
Gift-giving serves as a key component of building relationships and demonstrating hospitality to others. However – as a foreigner – it can be difficult to know where to start when it comes to gift-giving.
In this guide, our team have put together an all-encompassing guide to giving and receiving gifts in Japan, including proper etiquette, common gift-giving occasions and a selection of gift ideas!
Let's get this unwrapped:
Japanese Gift Etiquette
When giving and receiving gifts in Japan, there's stringent etiquette you'll need to follow to ensure you don't cause offence or give off a sense of greed.
Here are the most common rules of etiquette you'll need to follow when giving and receiving gifts:
Etiquette For Giving Gifts
Avoid sets of 4 or 9
Gifts that come in sets of either 4 or 9 are considered to be very unlucky in Japan. This is because "shi" (the Japanese word for "four") also means "death", while "ku" (the Japanese word for "nine") also means "suffering".
Conversely, gift items offered in pairs are considered to be very lucky.
Present gifts with both hands
Offering a gift with both hands is considered to be a sign of mutual respect and gratitude.
Avoid giving gifts in front of others
It's considered very rude to present a gift to someone in the presence of other people who won't also receive a gift.
Always present your gift at the end of a meeting
Always present your gift immediately prior to parting ways. Presenting your gift early on during a meeting can be viewed as an attempt to rush the encounter.
Etiquette For Receiving Gifts
Politely refuse the gift at least twice
It's considered greedy to accept your gift upon the first offering. Instead, you should politely refuse your gift at least twice before accepting it.
Accept gifts with both hands
As is the case with giving a gift, it's considered gracious and respectful to accept a gift with both hands.
Avoid opening your gift in front of others
It's considered rude to open your gift in front of a large group of people, especially those who aren't in receipt of a gift.
After receiving your gift, be sure to put it in a safe place and open it in private.
Always reciprocate with a gift of your own
If you receive a gift, it's important to reciprocate with a gift of your own.
It's OK to wait until your next meeting to do this if the gift is unexpected, though you should always bring a reciprocal gift to a meeting in which it's customary for gift exchanges to take place (such as a business meeting).


Japanese Gift Giving Occasions
In addition to the usual holidays and birthdays, Japan has a number of unique gift-giving occasions that you'll need to keep in mind:
Ochugen
Ochugen is an occasion in Japan where people gift gifts to those they're closest with, including their family, friends and colleagues.
It takes place in the summer months, with most Ochugen gifts being exchanged in July.
Oseibo
Oseibo gifts are exchanged in December and are used to reciprocate favours provided throughout the year.
They can be exchanged amongst family, friends, colleagues, suppliers, vendors and customers. Oseibo gifts are usually low-priced items, such as food and drink.
Okaeshi
Okaeshi is a thank-you gift that's given in exchange for a gift you've received.
Okaeshi gifts are typically around half the value of the originally-received gift, often consisting of confectionery, soft drinks or alcoholic beverages. They're commonly given at social gatherings.
Omiyage
Omiyage is a gift or souvenir from a place that the gift-giver has recently travelled to.
Omiyage gifts often consist of something edible that represents the region, such as candies, crackers or other snacks. However, they can also consist of ornaments or tools that represent the region.
Meibutsu
Meibutsu is a gift that's a popular item from a specific region of Japan. When travelling within Japan, it's common to purchase a meibutsu to give to your friends and family upon your return.
Most regions of Japan have specific meibutsu they're well-known for. For example, akahada ware (a form of traditional Japanese pottery) serves as a common meibutsu for Nara.
Temiyage
Temiyage is a type of gift that's given when you visit someone as a guest.
It's used to establish a sense of respect and hospitality with the recipient, with common temiyage gifts including flowers, ornaments, or food and drink.


Gift Presentation
It's well-known amongst Japanese citizens that the presentation of a gift is often just-as-important as the actual gift itself!
Here are a few tips on ensuring your gift is suitably presented:
Ensure your gift is beautifully-decorated
Be sure to decorate your gift with ribbons and bows to establish a sense of respect and hospitality with your recipient.
Wrap your gifts in Furoshiki
If possible, wrap your gifts in Furoshiki. These are traditional Japanese wrapping cloths made from either silk or cotton. They can be kept or re-used by the recipient for future gifts.
Opt for pastel-coloured wrapping
Pastel-coloured wrapping is considered to be modest and aesthetically pleasing, while brighter colours are considered overbearing and pretentious.
Opting for pastel-coloured wrapping ensures you'll remain humble and modest during your gift exchange.
Avoid the colour red
In Japan, red wrapping is considered to be associated with both sexuality and funerals, which may offend the recipient of your gift.
Japanese Gift Ideas
If you're ready to participate in your first gift exchange in Japan, it can be daunting to know what to buy for your recipient (especially if you're on a budget!)
Here are six of the most-common gifts that are exchanged in Japan:
Food & Drink
Food and drink serves as one of the most popular gifts in Japan, especially for small-scale gift-giving occasions such as Oseibo and Okaeshi. Popular food and drink gifts include confectionery, cakes, teas, spirits and teas.
More practical items – such as canned goods or other pantry stockers – are also considered to be acceptable gifts in Japan.
Clothing
Clothing serves as a common gift amongst close friends and family members, especially in preparation for an upcoming season!
Common clothing-related gifts include sweaters, scarfs, blouses, hats, pyjamas and accessories.
Money
Money serves as a common gift in Japan for two particular occasions:
New Year
It's customary for children to be gifted with an envelope containing money (known as Otoshidama) on January 1st each year.
Weddings
When attending a wedding, it's customary to bring an envelope containing a small amount of money (known as Goshugi), which is handed to the receptionist upon your arrival.
It's important to ensure that your Goshugi is an odd number (as even numbers can insinuate that the couple may divorce).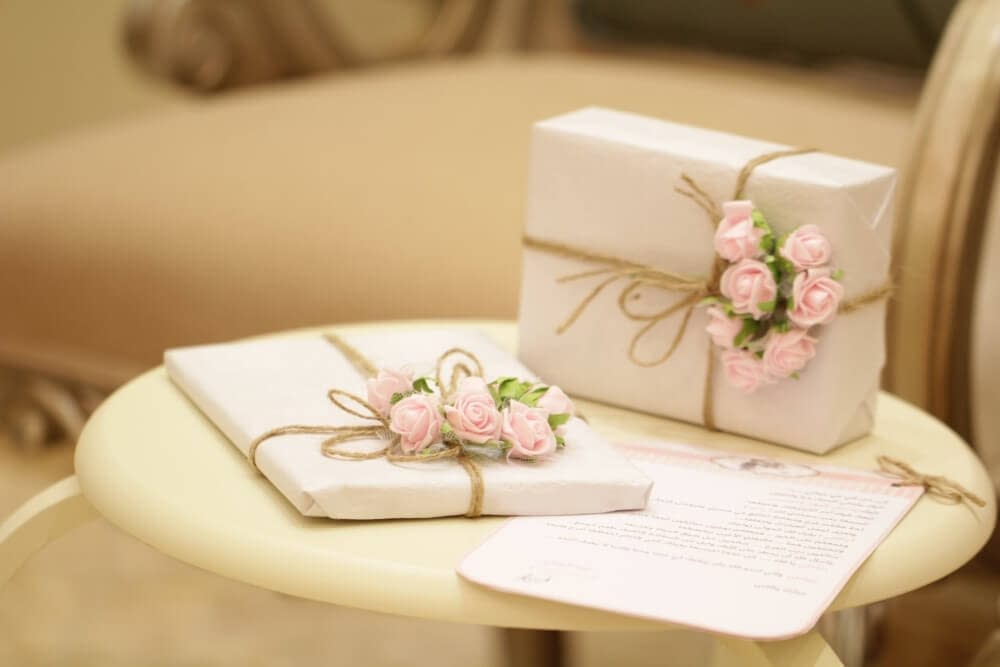 Gift Sets
Given Japan's rich gift-giving culture, many retailers stock excellent gift sets that span a wide variety of interests and hobbies!
Popular gift sets in Japan include food and drink hampers, spa kits, essential oils, stationery packs and more.
Souvenirs
Souvenirs from a place you've recently travelled to make excellent gifts for both Omiyage and Meibutsu.
It's important that gifts for these occasions are highly-representative of their respective location. For example; if you've recently travelled to Tokyo, you may consider purchasing a small figurine of a boar (Tokyo's provincial animal).
Ornaments & Houseware
Ornaments and houseware make excellent gifts for friends, family and colleagues. They're also especially common if you're visiting someone's home for the first time!
Common houseware gifts include hand towels, cutlery sets, wall decor and mantlepiece ornaments.
Closing Thoughts
We hope this guide has armed you with everything you need to know about Japan's wonderful gift-giving culture!
If you enjoyed this guide, be sure to read our article on Japanese culture and customs in a nutshell next.