Japan Tips

Life & Culture
Japanese Reading Practice for Hiragana, Katakana & Kanji
Learning a new language can be intimidating, at first. Often, it's difficult to know where to start! Yet, opening up to a foreign language can provide a fresh perspective on the way we experience day-to-day life, introducing new cultural concepts for us to appreciate.
Japanese is a beautiful language to write and speak, full of unique words with insightful meanings. It's considered to be one of the most difficult languages to learn (as an English speaker), due to its reversed sentence structure, three writing systems, and hierarchy of formality, among other things. But, don't be disheartened, mastering any new language is possible with discipline, tools, and time!
If you can't physically immerse yourself in the culture, one of the best ways to aid learning a new language is to practice reading it. We've compiled some of the best free online resources out there for Japanese reading practice to help you succeed.
Hiragana, Katakana, or Kanji?
While learning Japanese, it's important to note that Japanese is made up of three writing systems, or alphabets; hiragana, katakana, and kanji. Before you start backing away, it's not as overwhelming as it sounds! Having an understanding of all three will help you learn the language faster and more accurately.
Hiragana and katakana are considered the easiest of the three, and are seen as Japan's alphabet. They consist of the same 46 sounds, but are written differently. As a rule of thumb, native Japanese words are written using hiragana, and borrowed words (from other languages) are written using katakana.
Kanji is more complex, and incorporates several thousand Chinese characters into Japanese. However, if you're a beginner, you don't need to worry about that too much just yet. There are so many kanji characters, that the vast majority of native Japanese speakers don't know all of them, either. That's why hiragana and katakana are frequently used to translate kanji – on things like restaurant menus – to help both foreigners and Japanese natives understand what's being communicated.
So, when you're working through your Japanese reading practice resource, make note of any characters you come across that are unfamiliar to you. You can usually figure out the word by thinking about the context of the sentence it's in, plus you can always look it up. 
Alternatively, you can create a free Japanese IO account, and download their Chrome extension to access live dictionary lookups, readings, kanji, and example sentences instantly.
With that said, let's take a look at a few free easy Japanese reading resources for beginner, intermediate, and advanced.
Simple Japanese reading practice for beginners
Japanese Stories – Tom Ray
If you're looking for some texts that will give you a taste of Japanese culture, as well as all the benefits that come with reading practice, Tom Ray's website is a great place to start.
Tom Ray is a researcher, and used traditional Japanese children's stories to help him learn the language. He found this method so useful that he chose to share the stories, complete with his translations, with the world – for free!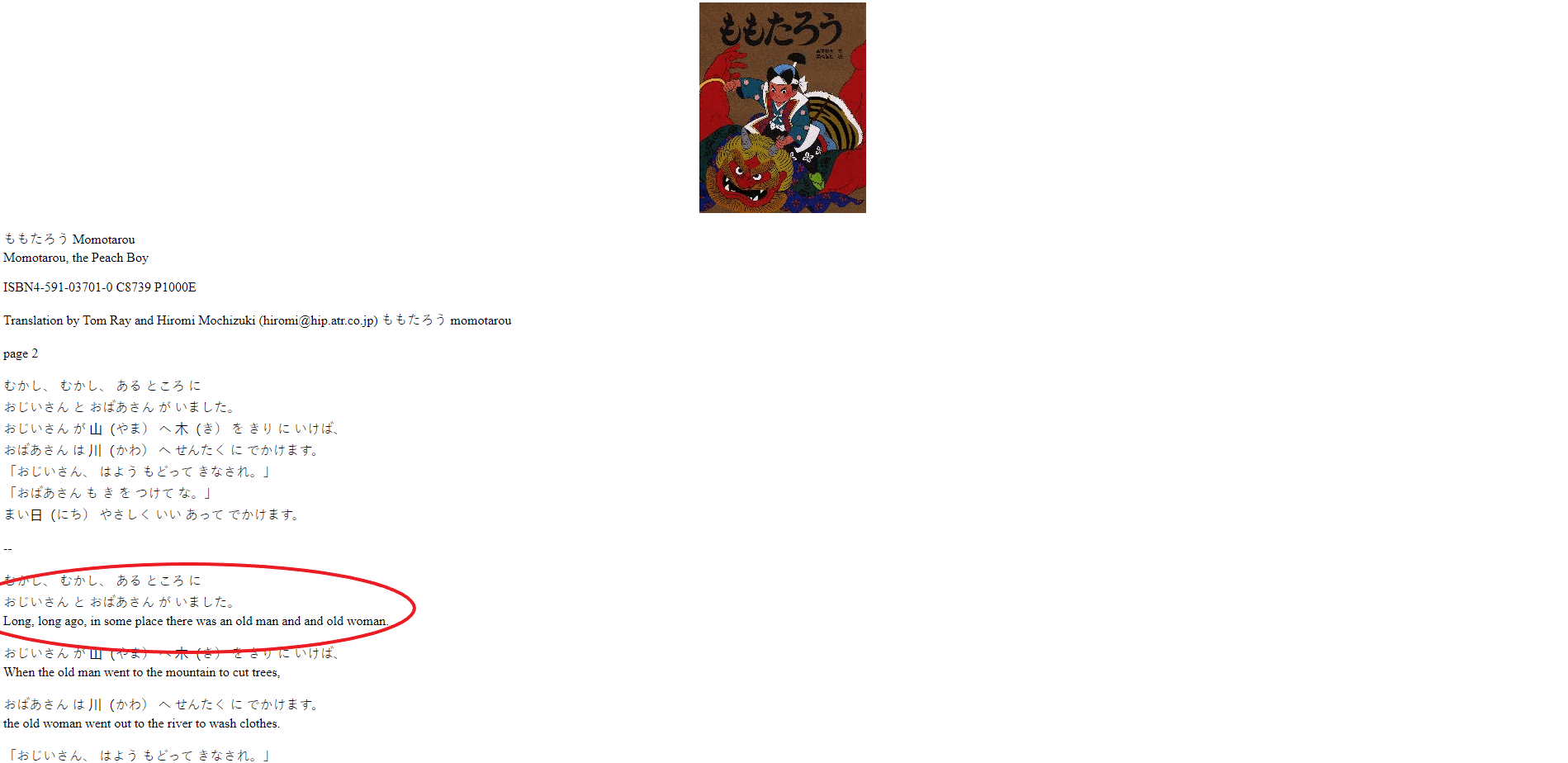 For each of the 16 titles featured on the website, Tom provides the paragraph of Japanese text first. Then, he breaks the paragraph down, sentence by sentence, with his English translation underneath.
This is a great place to start for those who are just starting their journey in learning Japanese.
Hukumusume
Similar to Tom Ray's website, Hukumusume is a website dedicated to traditional Japanese children's stories, but with more titles and features.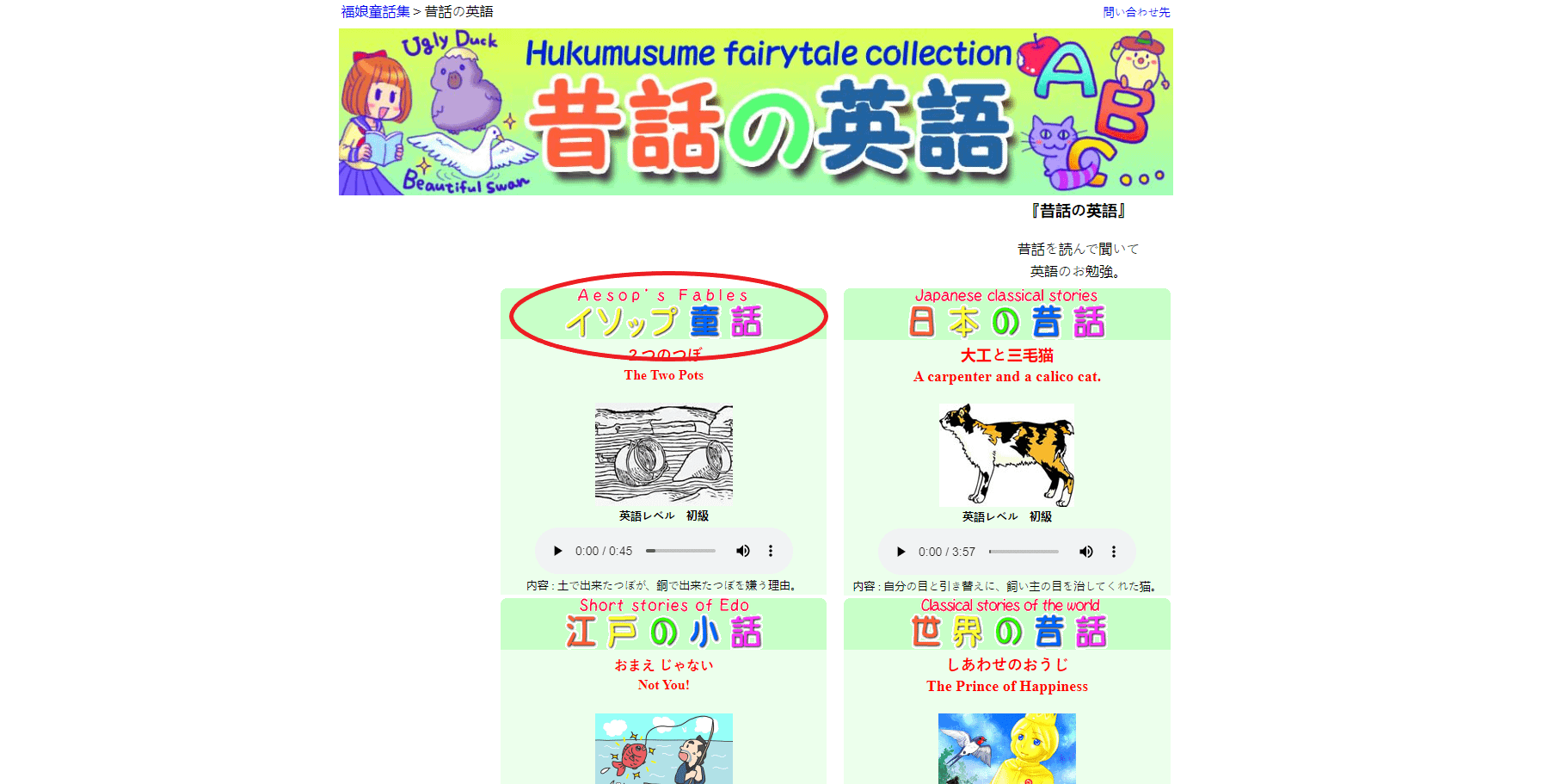 There are lots of collections and titles to choose from, and English translation throughout the website to make navigation easier.
With each title, you can listen to Japanese and English audio of the text. Plus, you can choose whether you want to read the Japanese with or without the English translation. That means, you can choose to make your reading practice a little more challenging when you feel the time is right.
Tadoku
Once you're feeling confident enough to try reading Japanese without visible translations, Tadoku provides visitors with lots of free children's books and reading materials.
When you first enter the website, everything will appear in Japanese but, not to worry, you can change the language of the site to English, using the tool in the top right corner. From here, the site is really easy to navigate. You can either choose your level, or take a browse through every title under every level by scrolling down.
If you're a complete beginner, we recommend opting for Level 0. If you're not sure which to pick, all the titles on this site come with a star-rating and reviews from other readers, as well as information about the genre – perfect!
CosCom
CosCom is a great resource for those who are gaining confidence, and want to tailor their Japanese reading practice to inform more relevant conversations.
The site is designed especially for learners of the Japanese language, and has a number of helpful resources, covering Hiragana, Katakana, and Kanji. Learners can stay up to date with short news stories from Japan (written in simple Japanese) world news stories, weather updates and more.
The only hurdle is that, to access most archived news stories, and some other learning materials, users must create a membership account. If you can afford a membership, it might be worth your while, but, if not, you can still make use of the latest news stories (open to all) and daily weather updates.
Easy Japanese reading practice for intermediate learners
Kodomo Asahi
Created by Asahi Shinbun, Kodomo Asahi is a version of the newspaper dedicated to educating children on current affairs.
You can choose to read elementary or middle school level articles, and, although there aren't as many articles there as on the adult version of the publication, there's plenty to keep a beginner busy.
There is some use of Kanji, which is a great challenge for intermediate level learners, but the articles are written simply enough that you should be able to get to grips. Check back onto the site every few days for fresh updates and content.
MATCHA
MATCHA is a fun Japanese travel and culture blog, available in an impressive 10 different languages! To make the site content as accessible to learners as possible, they even have an easy-Japanese site, which is the one linked in this article.
Visitors to the website can read all about Japanese culture, with articles on things like food, activities, and scenic locations. 
As the site comes in various languages, you can go back and read the articles in English, to check if you're on the right track. However, it's helpful to note that the translations will be loose, and won't be the same word-for-word, so take them with a pinch of salt.
NHK Web Easy
A step up from Kodomo Ashai, NHK Web Easy is a website providing relevant new articles in simplified Japanese. The articles are based on the widely consumed NHK news articles for native Japanese speakers, and they upload 2-4 new articles every day!
The articles are relevant to current affairs, both in Japan and abroad, and includes Furigana above each Kanji character to show the pronunciation/translation to Hiragana. To further assist your Japanese reading exercise, NHK Web Easy also provides an audio of the article, read slowly in Japanese.
The menu tab allows you to choose topics and categories, or even search for them in a handy search bar, so make sure to utilise those features when you're comfortable doing so.
If you need further explanation of more complex words, try hovering your mouse over the word:
Some words will provide the extra information you need to help make sense of the characters, and the article as a whole. Another helpful feature, is that the text is colour coded. People's names are highlighted in green, the names of countries and places in orange, and company names in blue.
Plus, there's no sign-up or paid memberships involved, so you can enjoy the day's news stories for free, and without handing over your personal details.
Comic Walker
And now, for all of your manga entertainment needs, Comic Walker is a platform full of legally available, free manga!
There are hundreds of titles to choose from, with new chapters being uploaded almost every day. Most of the manga comes with Furigana alongside the Kanji, so you can enjoy your reading to the fullest, and make note of Kanji along the way.
There's no English translation available on the site for any of the titles, and you're unable to use a translation extension. However, the lovely images should help you put the words into context, and help you follow the story.
Japanese reading practice for advanced learners
Once you're an advanced level learner, graduating to materials that native, adult Japanese people use is the next logical step.
Using real-life resources, like books and articles, will help you speak and write Japanese like the locals do – which is the ultimate goal, after all.
Of course, there are an abundance of resources online for you to practice with, you just need to know where to find them.
News publications
NHK
Parent of NHK Web Easy, NHK is a popular public broadcaster. Similar to the BBC in the UK, NHK is publicly funded by the Japanese public through television licencing. Alongside their television and radio programmes, they also run an online news publication.
Yomiuri Shimbun
Yomiuri Shimbun is one of the most influential conservative newspapers in Japan. It has a daily circulation of over 8 million, making it one of the largest newspapers in the world. The paper covers a wide range of news topics, including politics, economics, sports, entertainment, and international news.
Additionally, Yomiuri Shimbun also produces a range of books, magazines, and television programs.
Asahi Shimbun
Close behind Yomiuri in terms of size, is Asahi Shimbun; a politically left-leaning, independent news publication giant. It's one of the largest newspapers in Japan, with a daily circulation of 6 million. It covers a range of topics including politics, economics, sports, entertainment, and international news.
In Japan, the paper is best known for its investigative journalism and editorials on social and political issues. Plus, it also operates a publishing division, which produces books and magazines, and a television division.
Japanese literature
University of Virginia Japanese Text Initiative (UVa JTI)
Launched in 1990, the University of Virginia Japanese Test Initiative is a project with the aim of making Japanese literary and historical texts accessible to scholars and students around the world. To utilise the database of Japanese texts, you'll need to download a software program that has the ability to read and input Japanese characters, which is linked via the UVa JTI website.
The database contains a wide variety of Japanese literature. This including modern literature, classics, such as the Tale of Genji and the Pillow Book, as well as historical documents and religious texts. It's been praised for its high-quality translations, use of Furigana, and annotations.
Aozora Bunko
Aozora Bunko is a digital library of Japanese literature that offers free access to texts that are no longer restricted by copyright laws, launched by the Aozora Bunko Research Centre in Tokyo, Japan.
The digital library is considered to be an important resource for promoting Japanese literature and language, and preserving cultural heritage. The library contains a vast collection of text, including novels, poetry, essays, and children's books, as well as works in translation. The texts are available in their original Japanese language, and users can search and browse the collection by author, title, genre, and keyword.
Shousetsuka ni narou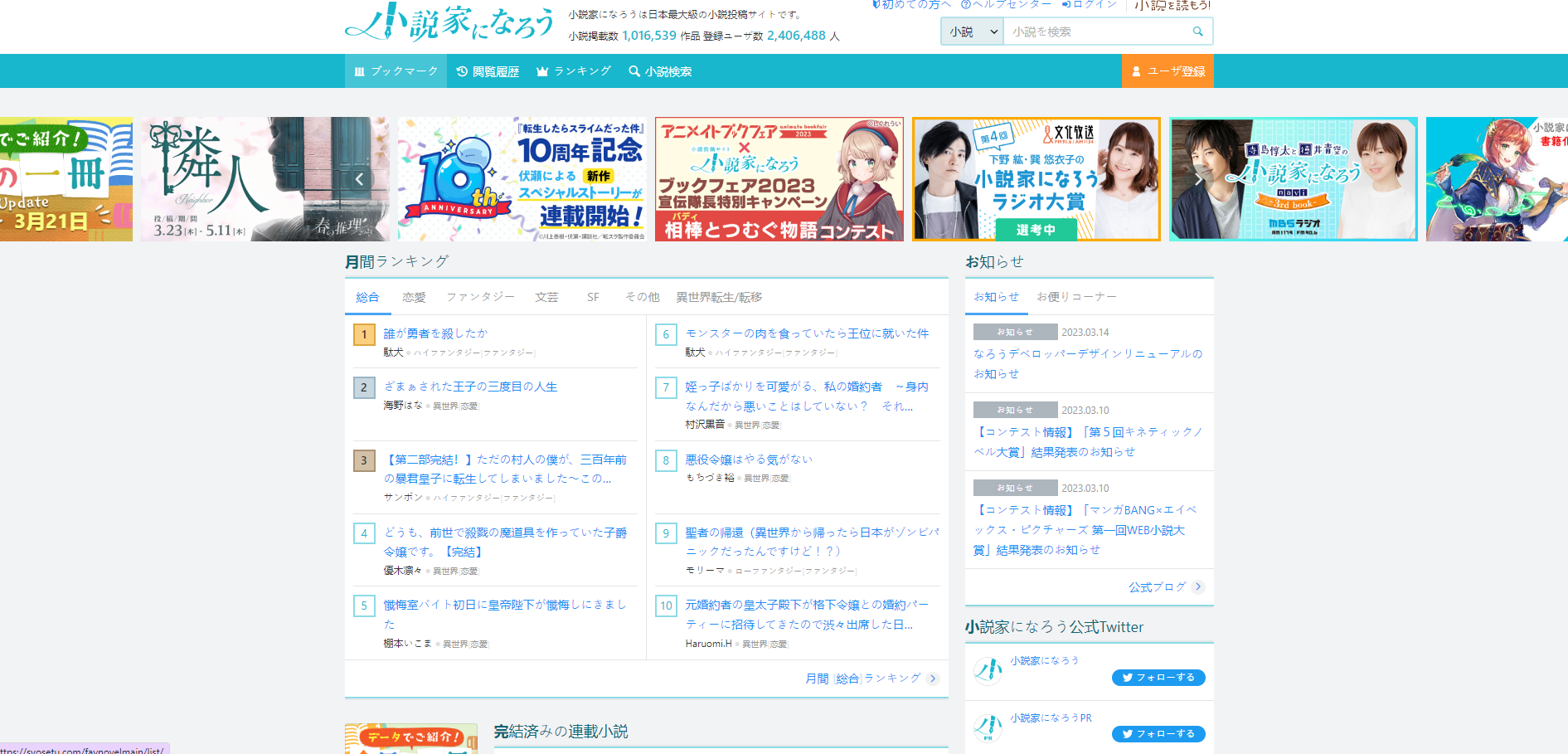 Shousetsuka ni narou (which roughly translates to "Let's become novelists") is a popular Japanese website that allows users to publish their original fiction online. The website launched in 2004 for amateur writers, and has since grown to become one of the largest online communities in Japan. Genres include fantasy, science fiction, romance and more.
Shousetsuka's ranking system, based on votes from other users, has led to many amateur writers gaining significant followings, and even being picked up by publishers for print and anime adaptations!
Japanese social media
Ameblo
Ameblo is a popular blogging and social media platform in Japan, launched in 2004. Interestingly, the name "Ameblo" is a combination of the words "rain" and "blog", suggesting that the users' thoughts and ideas would rain down on the site like a storm.
Users can create their own blog and share their thoughts, photos, and videos, much like Blogspot or Livejournal in the West. Ameblo's users can follow and interact with other bloggers, and is used by a wide variety of people, including celebrities, politicians, and businesspeople, shaping Japanese culture.
Online lifestyle magazines
Orange Page
Brush up on your Japanese reading skills and your cooking skills, with Orange Page, one of the biggest cooking sites in Japan. There are lots of recipes for you to choose from, plus informational articles about the people behind some of Japan's best dishes.
BuzzFeed Japan
BuzzFeed is a well-known publication around the world, known for its funny and interesting takes on things happening around the world, and BuzzFeed Japan follows suit!
Note
A popular Japanese magazine site, Note offers a rich, modern collection of lifestyle and culture articles covering music, film, design, work culture, travel and much more.
Browser extensions
Browser extensions are an excellent tool when learning Japanese, no matter what level of Japanese reading practice you're tackling.
It's amazing what these software modules can do, and not to mention useful, so here's a handful to add to your browser.
Rikaikun
Strictly for Chrome users, Rikaikun provides you with an English definition of a Japanese word when you hover your mouse over the Japanese text.
Yomichan
Yomichan essentially does the same thing as Rikaikun, except it's designed for Firefox exclusively.
Japanese OI
Japanese OI provides Chrome users with access to live dictionary lookups, readings, kanji, and example sentences.
We hope you've found some useful information and resources in this article! If you'd be interested in living in Japan and teaching English to Japanese students one day, find out more about our opportunities here at Interac.