Japan's Cherry Blossom Season: Where & When to See It
Japan's cherry blossom season is iconic, but where and when is best to see it? The pink sakura flowers usually open between late March and early May, but this can vary from year to year.
It's important to know that blooms appear at different times across Japan. Sakura can appear as early as February low down in Okinawa, or as late as May up in the chilly Hokkaido region.
So if you've missed the cherry blossom where you are, you may still be able to catch it up north!
Here's how to pinpoint the best times and places to visit Japan for cherry blossoms.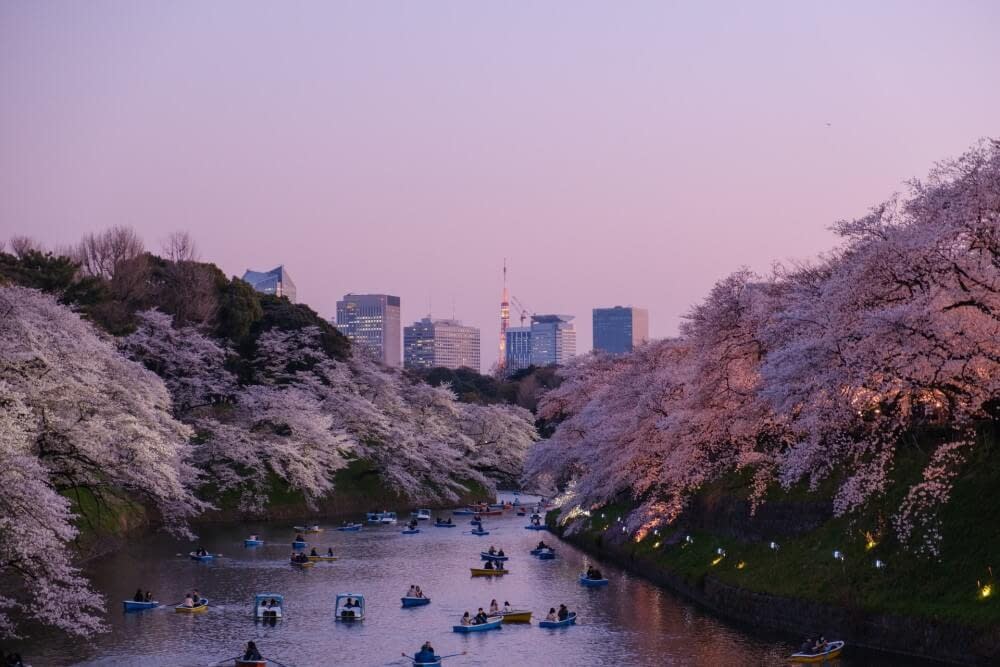 When is cherry blossom season this year?
Japan's cherry blossom season is fleeting. If you're visiting for the blossom, it's a long way to go only to realise you've arrived early or late. Luckily, Japan has its own cherry blossom forecast.
The Japan Meteorological Corporation release forecasts before and throughout the season.
The cherry blossom season forecast takes into account when cherry blossom season was the previous year. Below is the table of cherry blossom season in 2022, from earliest to latest.
Okinawa – 22nd January to 6th February
Fukuoka – 17th to 31st March
Tokyo – 21st March to 3rd April
Hiroshima – 21st March to 5th April
Nagoya – 22nd March to 4th April
Osaka – 23rd March to 5th April
Matsumoto – 5th to 13th April
Fukushima – 4th to 16th April
Sendai – 8th to 17th April
Hirosaki – 14th to 26th April
Hakodate – 21st April to 1st May
Sapporo – 23rd April to 1st May
You can also use this handy interactive tool on Sakura Navi, which is regularly updated.
It's worth noting the cherry blossom in 2022 was relatively early, as the peak of the season is usually around a week later. Keep checking the forecast to see what 2023 might bring!
How long do cherry blossom flowers last?
Cherry blossom at full bloom only lasts around a week, which is why it's essential to check the forecast. The pink flowers start as buds and are at their most beautiful when in full bloom.
Cherry blossom buds – The first stage, green buds appear on the cherry blossom tree
Buds start to bloom – After swelling, the buds burst to reveal beautiful pink flowers
Cherry blossom at full bloom – Time can vary depending on temperature and wind
Beginning to disperse – After peak bloom, the pink petals fall gracefully from the tree
Hazakura (green leaves) – You're too late for cherry blossom, try moving up north
The Japanese see cherry blossoms as a symbol of life, and their fleeting life cycle has inspired many poems and artworks. You ideally want to catch the tree when its blooms are fully open.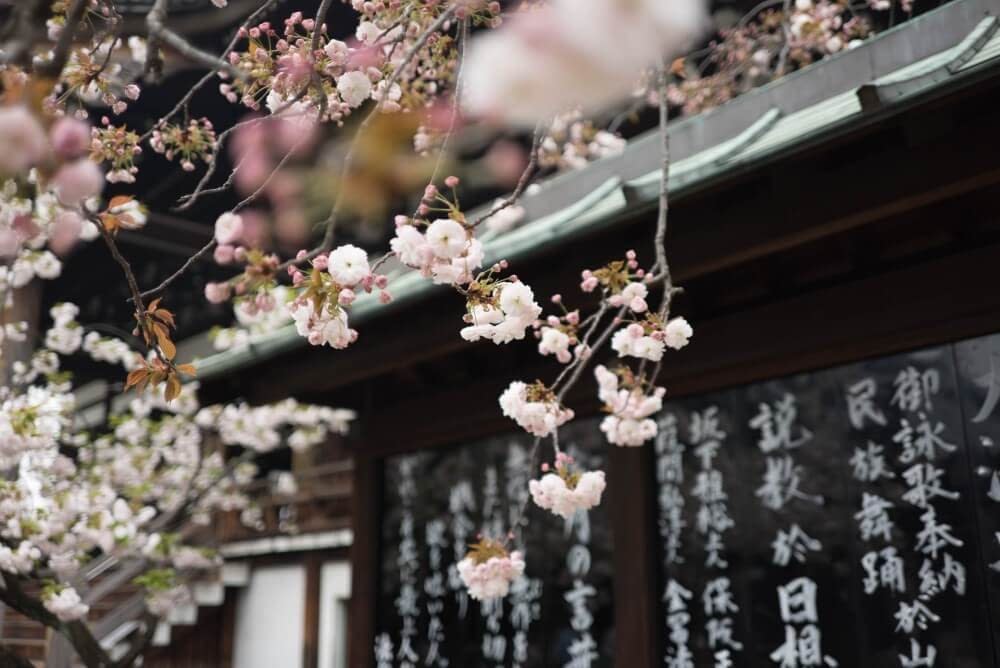 Where are the best places to see cherry blossoms?
From pink-covered mountain slopes to city gardens and parks, there are some amazing places in Japan to see cherry blossom. Here are 6 of the best spots and why they're so special.
Hirosaki Castle, Tohoku
A famous cherry blossom spot in the Tohoku region, Hirosaki Castle is one of Japan's most popular places to see sakura. The park has over 2,000 trees in around 50 varieties, and the blooms are later on in the year than in some areas. Look out for different coloured blooms!
Best time to visit: 2022's festival was from 23rd April to the 5th of May.
Ueno Park, Tokyo
If you're in Tokyo during Japan's cherry blossom season, there's no excuse not to visit Ueno Park. There are 1,000+ cherry trees, and people line up along Main Street to enjoy the sakura.
After dark, lanterns illuminate the cherry blossoms so they can be enjoyed well into the night.
Best time to visit: If you're visiting Tokyo for sakura, aim for 21st March to 3rd April.
Mount Yoshino, Kansai
With over 200 types and 30,000 individual trees, Mount Yoshino is one of the best cherry blossom viewing spots in Japan. The mountain is covered by a beautiful carpet of pink cherry blossom trees. Shuttle buses run to and from the mountain during cherry blossom season.
Best time to visit: April 5th to 13th, estimated by Yoshino Town and Fuji Five Lakes.
Sagano Scenic Railway, Kyoto
A lovely sightseeing train, this railway attraction takes around 25 minutes to ride. You'll see a forested ravine and rural scenery from the nostalgic wooden train car. Obviously, this is also a fantastic way to experience the cherry blossom in spring – the train passes under tunnels of it.
Best time to visit: March 30th to April 6th, although the railway is also popular in autumn.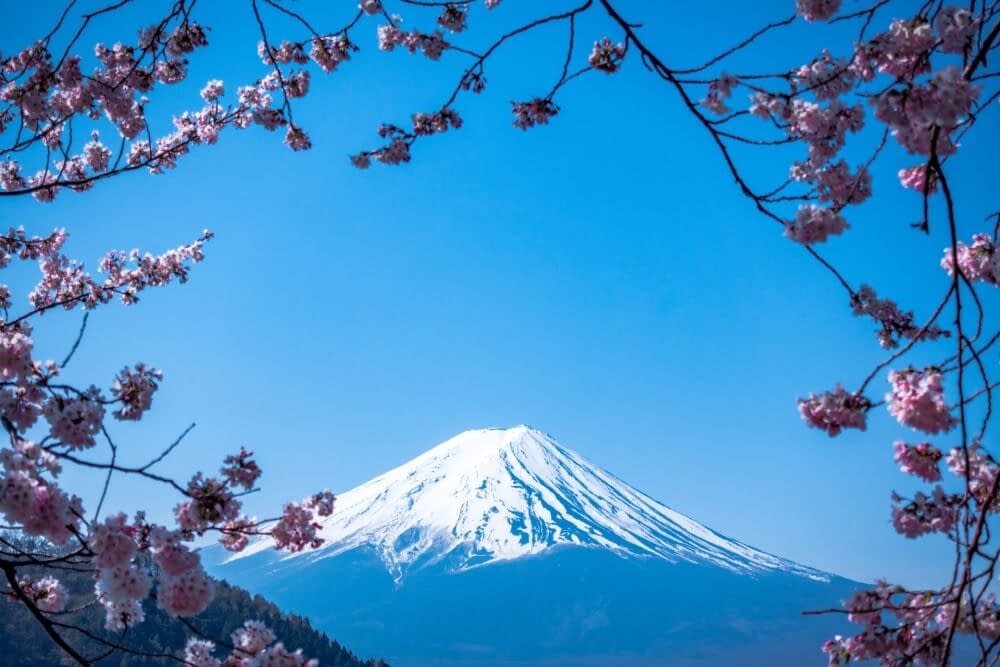 Chureito Pagoda, Mount Fuji
This recently-built structure offers amazing views of Mount Fuji, and is one of the most popular photography spots in Japan. There's a bit of a climb, but it's well worth it to see the sakura.
In spring, the pagoda appears to float in a sea of cherry blossom trees, making it a unique sight.
Best time to visit: Visit around April 12th to 19th, you could even build it into a Fuji climb.
Takato Castle Ruins Park, Nagano
With over 1500 trees, this peaceful park is another one of the best places to see cherry blossoms in Japan. A festival to celebrate the sakura is held every year, so you can enjoy food stalls and nighttime illuminations with other cherry blossom fans. It gets busy, so try to avoid weekends.
Best time to visit: The cherry blossom festival starts on 27th March and lasts about a week.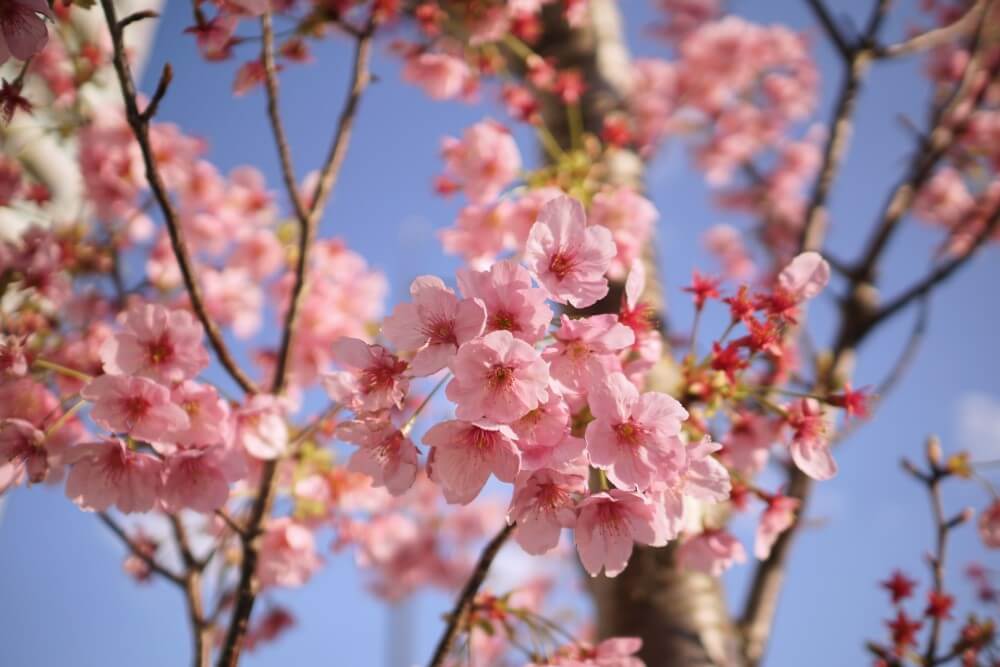 What happens at cherry blossom festivals?
Cherry blossom is a big deal in Japan, representing the fleeting things in life. You'll find many poems, paintings and musings about cherry blossom – not to mention festivals across Japan.
Known as "Hanami" in Japanese, it translates to "viewing flowers" but usually means sakura.
Hanami festivals often involve picnics in parks filled with blossoms, enjoying time with friends and family outdoors, and plenty of sake flowing right into the night. They can get quite competitive too, especially when picking the best picnic spots in the park. Some people arrive days early!
As well as viewing cherry blossoms during sakura season, Hanami festivals are a great place to experience the Japanese tea ceremony. Nothing compares to a ritual under the cherry trees.
Want to find out more about Japan's great outdoors? Try these amazing hikes and walks.