McDonalds In Japan – The Ultimate Guide
When travelling to Japan, it's important to have some home comforts to keep the transition smooth. McDonald's in Japan will often have menu staples, such as the Big Macs or Filet-O-Fish burgers, to make you feel at home. 
Japanese McDonald's showcases some new burgers and chicken dishes you'll want to try, when you're ready to venture into different culinary styles. 
McDonald's Breakfast In Japan
McDonald's breakfast will always consist of the famous McMuffins, but there are plenty of other options available that are Japanese delicacies. 
The hash browns in Japanese McDonald's are called 'hash potatoes' and you can also get a side of yoghurt with your main breakfast choice. 
Bacon & Egg McSandwich
The Bacon & Egg McSandwich seems like a dish which would be found in the UK or USA, however this breakfast sandwich is part of the Japanese menu. 
The sandwich consists of bacon, cheese slices and an egg, similar to the Bacon & Egg McMuffin. However, the bread bun is slightly different and is the same as the burger buns rather than a muffin.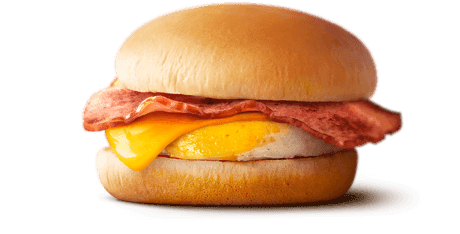 Chicken Crisp McMuffin
The Chicken Crisp McMuffin would be seen as a dish similar to the 'McChicken Sandwich' or 'Mayo Chicken'. This breakfast sandwich consists of a chicken piece in light batter, with lettuce and served in a burger bun. 
Chicken as a breakfast choice may seem quite alien to Westerners in Japan, however the Chicken Crisp McMuffin is a popular morning dish on the Japanese McDonald's menu.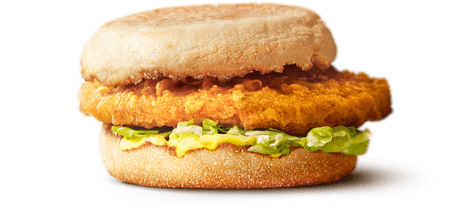 Mega Muffin
The Mega Muffin is similar to the Double Sausage & Egg McMuffin, with slices of cheese, egg and sausage. However, the Mega Muffin has added bacon. So you don't have to worry about choosing between sausage or bacon.
This option is available as an add-on to the McMuffins in the UK and America, however it's not a listed menu item like the Mega Muffin.
Filet-O-Fish 
A staple on the UK and USA main menu, the Filet-O-Fish is enjoyed across the Western world. 
This particular sandwich is usually on the main menu, however in Japanese McDonald's it's a breakfast menu item. Featuring a fish fillet and a slice of cheese, the Filet-O-Fish will cost around ¥340 (£2.17, $2.95).
McDonald's Breakfast Sides & Sauces in Japan
The UK and USA McDonald's have one main side for the breakfast menu, the hash brown. This is available in the Japanese McDonald's, alongside some other breakfast side options. 
Unlike the UK and USA McDonald's, portions of chicken nuggets are available on the breakfast menu in Japan McDonald's. You can purchase 5 McNuggets for ¥200 (£1.28, $1.74) or 15 McNuggets ¥580 (£3.70, $5.04)
There are edamame and corn pots and yoghurts. However, the yoghurts do contain gelatin, so they aren't suitable for the vegetarian or vegan travellers.
Japanese McDonald's Regular Menu 
Not only does the McDonald's in Japan do breakfast menus, they also do a regular menu and a dinner menu. 
The regular menu starts from 10:30am, and continues until 5pm. Then the dinner menu begins from 5pm. 
A large portion of the dinner menu is just the regular menu, with higher prices, but the portions are larger, or the patties are doubled.
Samurai Mac Range
Originally brought into Japanese McDonald's in 2020, the Roasted Soy Sauce Double Beef Burger is part of the Samurai Mac burgers range alongside the Roasted Soy Sauce Bacon Tomato Thick Beef burger.
The Samurai Mac Range represents the feuding Samurai Factions, with the 'Samurai' flavour coming from the soy sauce infused beef patties. 
Although these burgers may seem similar to the Big Mac or Quarter Pounder, it's the unique soy sauce flavouring that elevates the burger.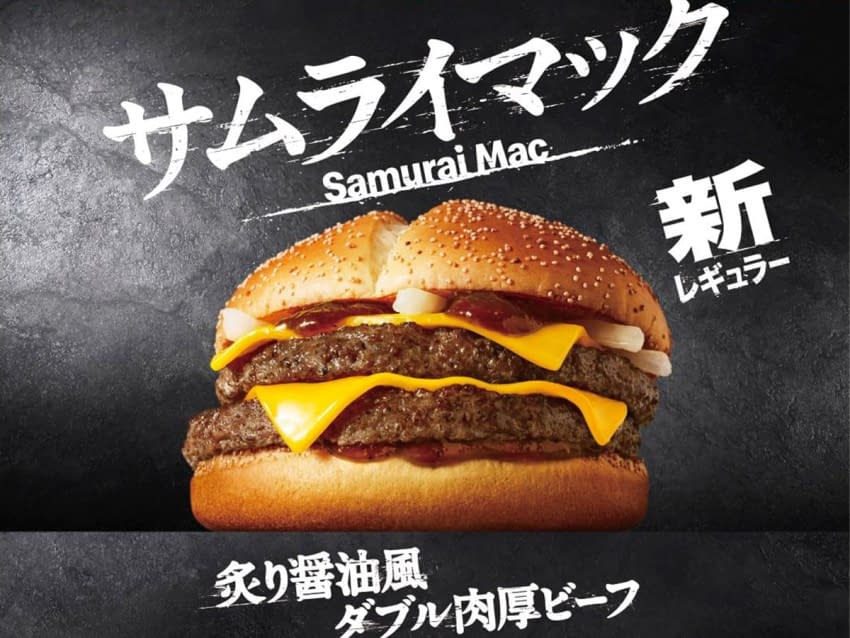 Teriyaki Chicken Filet-O
To celebrate McDonald's 50th anniversary in Japan, the branches introduced the Teriyaki Chicken Filet-O. Costing around ¥370 (£2.36, $3.21) for the sandwich and ¥670 (£4.27, $5.82) for a meal, including a drink and side.
Similar to the Mayo Chicken, the Teriyaki Chicken Filet-O contains a chicken patty and a sesame bun. This Japanese version has extra added flavour to the chicken patty, using teriyaki sauce to coat the battered chicken and mayonaise smothered on the buns.
Shrimp Filet-O (EBI Filet-O)
The Shrimp Filet-O consists of a panko breadcrumb, shrimp patty and is one of the most popular burger choices in Japan. 
With the Filet-O-Fish being the main fish dish in UK and USA McDonald's, the EBI Filet-O offers a completely different experience. Shrimp temperature sauce is added to the burger alongside mustard and lettuce, this particular burger will cost about ¥390 (£2.49, $3.39).
Japanese McDonald's Dinner Menu
The dinner menu in Japanese McDonald's is served after 5pm. This menu consists of a lot of the same dishes as the regular menu, however they're usually larger portions or have extra patties on the burgers. Yet, there are a few meals that feature only on the dinner menu in Japan.
Bai Egg Cheeseburger 
The egg element of the burgers or sandwiches is often only seen within a breakfast menu for the UK and USA McDonald's, however this changes in Japan! 
Bai Egg Cheeseburger roughly translates to 'Double Egg Cheeseburger'. This burger is exactly as described, with two beef patties and a fried egg between two buns. The trimmings on usual burgers are also present, pickles, onions and burger sauce. For an average of, ¥300 (£1.92, $2.61) it's easy to see why this is a popular snack burger.
Bai Spicy Beef Burger
If you're wanting a spicy burger, then the Bai Spicy Beef Burger is for you. Hotter than any of the usual burgers available in the Western McDonald's, including the limited run of the McSpicy burger in the UK. 
These types of spicy burgers are ones that really are a new style for the ALTs living in Japan.
The spicy burger consists of two beef patties (bai), crispy lettuce and a spicy sauce with jalapeño and garlic. This particular burger will set you back around ¥300 (£1.92, $2.61).
Japanese Sides & Set Meals in McDonald's
It's not only main dishes that change in the Japanese McDonald's, sides are also updated for the Eastern menu. Fries are available as usual, however there are options for chicken extras, veg extras and yoghurt pots.
Shaka-Chicki
The Shaka-Chicki is a chicken side dish that could be likened to the UK's Chicken Selects, however it's presented the same as a hash brown. 
The chicken piece is coated in batter and is accompanied by a sachet of seasoning. Use the seasoning to pour into the bag containing your chicken piece, then close the bag. Shake the bag to make sure your chicken piece is covered in the chosen seasoning, then eat!
Shaka-Chicki comes with 3 different flavours, the plain Shaka-Chiki, Red Pepper Chicki and Cheddar Cheese Chicki. This particular chicken side dish will usually cost around ¥150 (96p, $130).
PoteNage DAI & TOKUDAI Set Meals
"PoteNage" is a mash-up of potato and "nagetsu," the Japanese word for "nuggets". Which is exactly what you get in this set meal. 
There are two options for your PoteNage meals in Japanese McDonald's, either DAI or TOKUDAI. The DAI option consists of one portion of chips and 10 McNuggets, with the TOKUDAI option doubling up on the chip portions and has 15 McNuggets. 
PoteNage DAI costs around ¥500 (£3.19, $4.34) and the PoteNage TOKUDAI ¥800 (£5.11, $6.95).
Japanese Happy Meals in McDonald's
Japan McDonald's offer children's meals, known as Happy Meals, similar to Western McDonald's. There are different options available for Japanese youngsters, including a different type of Happy Meal for breakfast and for dinner. 
Breakfast Happy Meals in Japan
Breakfast Happy Meals are served before 10:30am in Japan. There are 3 mains to choose from including an egg and bacon McMuffin, chicken McNuggets, hotcakes and petit pancakes.
The sides in Japanese Happy Meals include yoghurt, edamame beans and corn, side salads or a hash brown. However, it is ¥50 (0.32p, 0.43c) extra to add a side salad as your side. 
Drinks available in the Japanese breakfast Happy Meal are, once again, similar to the Western versions. Orange juice is available, alongside milk and apple juice. However, there are some Japanese additions.
Yasa Sieikatsu 100 is a fresh mango flavour drinks with passion fruit, containing a mixture of over 10 fruits and vegetables. 
Sokenbicha is a blended tea, created by The Coca-Cola Company, that contains around 5 different tea types.  
All breakfast Happy Meals in Japan cost ¥500 (£3.19, $4.34) apart from the Petit Pancakes Happy Meal which costs less at ¥470 (£3.00, $4.08).
Regular Happy Meals In Japan
The regular Japanese Happy Meals are served after 10:30am, with multiple options for sides and mains like the breakfast Happy Meal. Japanese Happy Meal mains include chicken dishes, burgers and petit pancakes. This is the same petit pancake meal that is on offer for breakfast, but has differing sides.
Regular Happy Meal sides are the same as the breakfast Happy Meal sides, however French fries are on offer instead of a hash brown. With the drinks on offer also being the same as the breakfast menu. 
Japanese McDonald's Desserts 
There are lots of similar desserts in the Japanese McDonald's Menu and the Western menu, with ice cream in cones and McFlurries available. 
The famous apple pie is also on offer, however it is cooked with similar pastry to the UK apple pie version, not the baked USA version. Vegans be warned though, the Japanese Apple Pie contains dairy, unlike the UK version. 
Japanese McFloats
Japanese McFloats could be under the dessert or drinks section, however, most would class them as a mix of the two. There are several different types of McFloat available in Japan, ranging from sweet fruit McFloats to coffee flavoured McFloats.
The sweet fruit McFloat consists of melon and grape juice, topped with whipped ice cream. The juice used is actually grape and melon Fanta. However, on the Japanese McDonald's website, it does state the McFloats do NOT contain fruit and cost around ¥290 (£1.85, $2.52).
Coffee McFloats are made of ice brew coffee with soft serve ice cream on top. This is similar to an iced coffee with cream that you can buy in Starbucks. Coffee McFloats are ideal to ease into the McFloat tasting, as some find the fruit drink with ice cream a bit too sweet. Costing around ¥290 (£1.85, $2.52) for a coffee McFloat, you can get a caffeine hit alongside your dessert. 
The most common McFloat is the McFloat Coke. Cola floats are available in diners and cafés in most Western countries, so it's something most ALTs are familiar with ordering. Cola McFloats are the price as the Coffee & Fruit McFloats at ¥290 (£1.85, $2.52).
Waffle Cones
Soft serve ice cream is available in most western McDonald's, but they're usually served in a normal ice cream cone. In Japanese McDonald's, waffle cones are on the menu. 
Available in 3 different flavours, plain, chocolate & almond and strawberry. The waffle cones will cost between ¥150 – ¥200 (£0.96 – £1.28, $1.30 – $1.74) depending on flavour.
Drinks in McDonald's Japan
The drink menu in Japanese Mcdonald's is extensive, with classics such as Coca-Cola and Sprite available, yet there are a few new additions which aren't available elsewhere. 
Fanta Flavours
Orange Fanta is the most common Fanta drink available in McDonalds in the UK, however as previously mentioned in the McFloats section, there are melon and grape flavours also on offer. Grape and melon Fanta on its own will set you back about ¥100 (£0.64, $0.87)
Qoo White Grape
Qoo White Grape is a product of the Minute Maid brand. Containing around 20% fruit juice, the Qoo juice is infused with vitamin B and calcium. Depending on the size of Qoo juice you order, the cost varies from ¥100 (£0.64, $0.87) to around ¥250 (£1.60, $2.17).
Earl Grey Iced Tea
Earl Grey may seem like a British beverage, and you'd be right to think so. This seems like the ideal choice for our British ALTs. 
However, in the Japanese McDonald's there are three different types of Earl Grey iced tea to choose from, which is more than the UK McDonald's options for tea.
You can have lemon flavoured Earl Grey tea, normal Earl Grey tea and Earl Grey tea with milk. All costing ¥100 (£0.64, $0.87) and all are vegan except the Earl Grey with milk option, as milk alternatives aren't available. 
Suntory Kuro Oolong Tea
Suntory Kuro Oolong Tea is a strong black tea served in Japan McDonald's. This type of tea can be served hot or cold and has been known to have certain health benefits. Oolong tea is reported to reduce cholesterol and aid digestion. A serving of this tea will cost, ¥250 (£1.60, $2.17).
McCafe in Japan
The McCafe barista in Japanese McDonald's offers more than just coffees and hot drinks. Cakes and biscuits are available, alongside cold frappé drinks and smoothies for the warmer days. 
Orange Latte
The orange flavoured latte is a prominent flavour amongst the Japanese menu. This particular drink is available in 2 sizes (small and medium) and can be enjoyed inside a Japanese McDonald's or can be taken out. The 2 sizes cost around  ¥40 difference, with the smaller size costing ¥300 (£1.90, $2.62) and the medium coming in at  ¥340 (£2.18, $2.96).
Darjeeling Tea
Darjeeling Tea is a tea from Bengal, West India. This type of tea consists of 'Camellia sinensis' or 'Tea Plant' leaves, and produces a black tea. Darjeeling Tea is often more fruity than other teas, so it's not common practice to add milk or sweeteners.
Purchasing a Darjeeling Tea will cost ¥220 (£1.43, $1.92) for a small or ¥260 (£1.69, $2.25) for a medium. 
McDonald's In Japan for ALTs
McDonald's is a comfort for everyone, with menu changes and staples available whilst living in Japan, most people find the transition easy with certain cuisines. 
You can find more information on how to become an ALT in Japan, or some details on Interac as a business. Start you ALT journey today.