The Most Beautiful Gardens in Japan
Ever wanted to visit the best Japanese gardens all around Kyoto and Toyko? We've pulled together a definitive list of the most beautiful, idyllic Japanese gardens that you need to see.
From central Tokyo resident ALTs who love the hustle and bustle, to the more secluded and artistic gardens, our list will help you decide which Japanese garden is perfect for you.


Kyoto Japan Gardens
Saiho-ji/Kokedera (西芳寺/苔寺, the Moss Temple)
Saiho-ji (Kokedera) is a Japanese garden known as the Moss Temple, as it's home to 120 different types of moss and is based in the Nishikyo Ward of Kyoto.
The Moss Temple used to be a part of the royal villa of Prince Shotoku, however it now is one of the Unesco Heritage Sites. Kokedera was turned into a temple in the Nara Period, having a renovation in 1339 to become a Zen Temple and Japanese garden.
This specific Japanese garden and temple is unique as it encourages visitors to join in with the religious activities. Often, it's required to join in with the Buddhist chanting and copying of certain scriptures, also known as 'Sutra'.
Once you enter the gates of Kokedera, you must pay the entrance fee and then begin to join the Sutra. You'll be greeted by a monk who will chant the Sutra, so the copying can begin by visitors in the gardens. Once you've completed the chant, you're free to visit the rest of this Japanese garden, which should take around 90 minutes overall.
It's important to note that during winter months, this Japanese garden and temple is closed. Winter for Kokedera is classed from mid-January – early March. This is so the garden can rest, and any work can take place on the buildings for maintenance.
However, if you are visiting Kyoto in these winter months, you can still view some areas of Kokedera. The temple's main hall is still open for visitors, and you can participate in a Zazen meditation instead of Sutra copying.
How to Reserve a Visit at Saiho-ji/Kokedera Japanese Garden
The way to reserve a visit for Kokedera is a little bit different than other Japanese gardens. Firstly, you must send a postcard to the address below:
Saihoji Temple Worship Clerk
56 Matsuo, Jingatani-cho
Nishikyo-ku, Kyoto, 615-8286, Japan
The postcard is a special postcard, called "ofuku hagaki" and is available in most post offices across Japan.
On this postcard, you must include:
Name of yourself or your group representative

Address of yourself or your group representative

Requested date of visit

Number of visitors
Once you have sent this postcard, you will receive it back from the temple, with confirmation of a date and time for your visit. However, please make sure you have made this reservation over 3 weeks in advance and have a Japanese address to receive the confirmation back from the Temple.
Then you must pay the admission fee (¥3000, £18.08, $21.71) in cash on the day of your visit.
How to get to Saiho-ji/Kokedera Japanese Garden
Kokedera is a 20 minute walk from Matsuo Taisha Station on the Hankyu Arashiyama Line.
However, if you travel from Kyoto station, it will take around 30 minutes before getting to Matsuo Taisha station. The Karasuma subway line to Shijo station is a 3-minute trip, then transfer to the Hankyu Kyoto Line to get to Katsura Station, which should take around 8 minutes. Once you're at Katsura Station, swap to the Hankyu Arashiyama Line which takes 5 minutes to Matsuo Taisha Station. This trip costs around ¥450 (£2.71, $3.26).
If you prefer to travel by bus to the Kokedera garden, you can catch the Kyoto bus 73 which takes around 1 hour and costs ¥230 (£1.38, $1.66) one way.
Do not drive to the Kokedera Japanese garden as there is no parking available.
Admission Fee: ¥3000 (£18.08, $21.71)
Opening Hours: Open from 10am.
Ginkaku-ji (銀閣寺, Silver Pavilion)
Ginkaku-Ji is a temple in Japan, also known as a Japanese Garden. This garden is based in Higasiyama, along the Eastern mountains of Kyoto.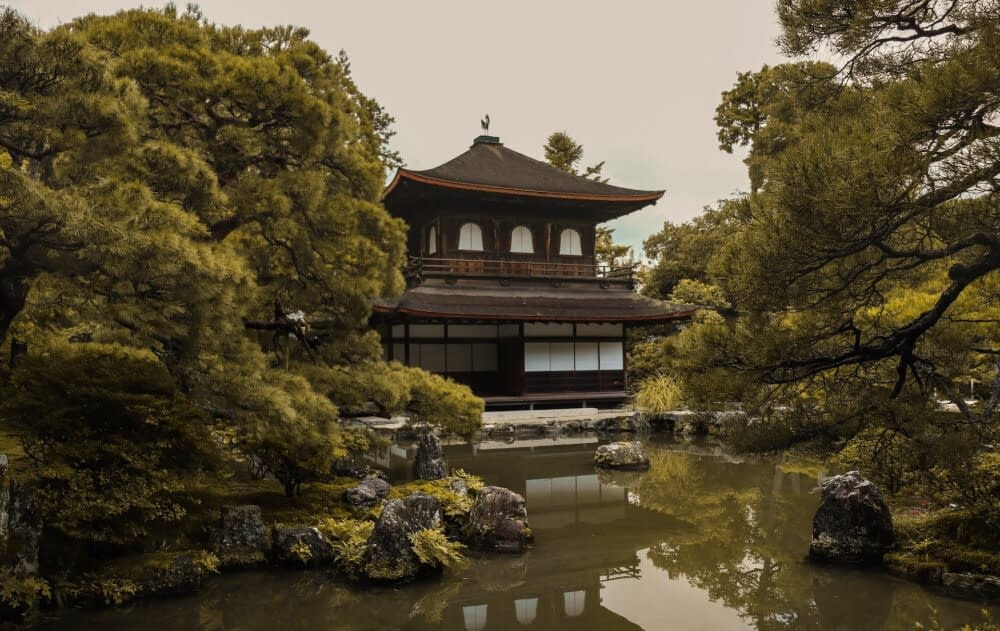 The Silver Pavilion garden in Japan is modelled after the Golden Pavilion, Kinkakuji and was built in 1482. Built by Ashikaga Yoshimasa, based on the retirement village of the Golden Pavillion, this Japanese garden was turned into a temple after Ashikaga's death.
However, the name 'Silver Pavilion' is not because of its father temple, the Golden Pavilion. The Silver Pavilion name is due to the moonlight shining on the back of the temple, as the exterior wall was painted black, giving a silvery colour.
Ginkaku-Ji Japanese garden offers the 'sea of silver sand' which is a large area of silver coloured sand, often raked into an aesthetic pattern or shapes. Within the sea of silver sand there is a 'moon viewing platform' made from silver sand.
There is a large statue of Kannon, the Buddhist god of mercy at the front of the temple, however the public are not able to enter the temple. Another building within this Japanese garden, called the 'Togudo', is also not open to the public, yet you can find a moss garden on the paths around the Togudo temple. The moss garden includes islands and bridges, filled with streams and plants.
How to Get to Ginkaku-ji Japanese Gardens
There are several ways to travel to Ginkaku-ji, including bus and by foot. The bus route departs from Kyoto station and is bus number 5, 17 or 100, this will take around 35 minutes. Kyoto buses cost around ¥230 ($1.69, £1.44). You can also walk to the gardens, depending on where you are in Japan.
Admission fee: ¥500 (£3.03, $3.68)
Opening Hours: 08:30am – 5:00pm
Katsura Rikyu (桂離宮, Katsura Imperial Villa)
Katsura Rikyu, also known as the Katsura Imperial Villa, is located in Western Kyoto. This particular Japanese garden is one of the most picturesque with lots of great Japanese architectural structures on display inside and within the gardens.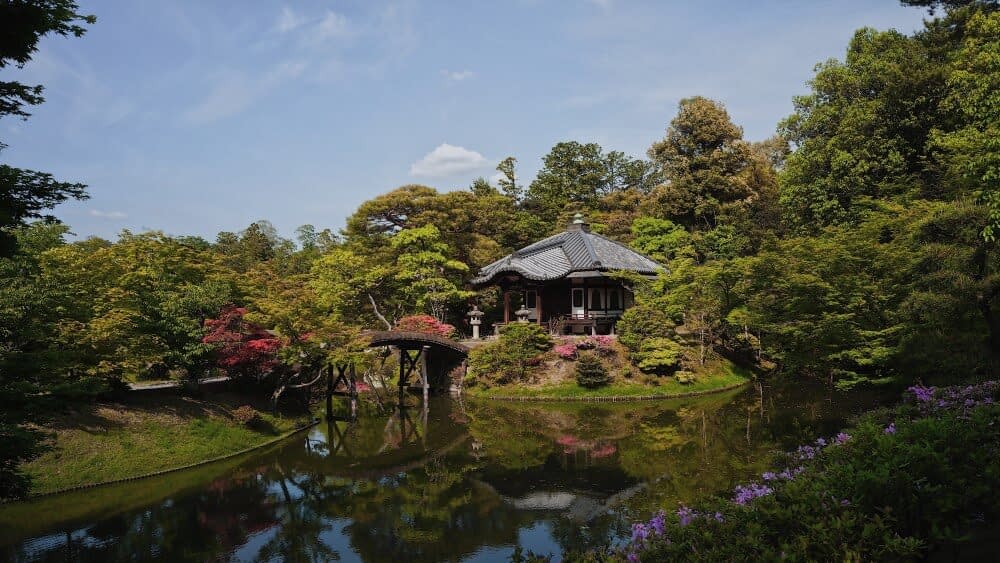 Dating back to the 1640s, the Katsura Rikyu was a villa for the Katsura family, members of the Japanese Imperial family. The villa covers around 16 acres of land and is based next to the River Katsura.
To visit the Katsura Rikya Japanese garden, you must join one of their tours. These tours are available in Japanese or English, so you can practice your Japanese whilst learning! Tours in the Katsura Rikyu tend to follow the circular paths around the river, however the palace buildings are only viewable from the outside and photography is only allowed in certain areas.
There are audio tours available for visitors, so you can look at the beautiful architecture whilst blocking out the rest of the tours. Spaces for these tours usually fill up straight away, so it's important to book in advance. You'll also need to provide a passport when booking this tour.
Another tip for booking this specific tour, you'll need to apply in advance to secure a space, using your passport. Booking the tour requires you to go to the Imperial Household Agency's Office in Kyoto Imperial Park. This office is open at 8:40am and closes at 5:00pm, it's also closed on Mondays and National Holidays.
Alternatively, you can make reservations on the Imperial Agency's website. They do only have a few slots available for online bookings, so you need to be quick.
How to get to Katsura Rikyu Japanese Garden
Katsura Rikyu is located about 15 minutes away from Katsura Station, using the Hankyu Kyoto Line. If you prefer a bus trip then use the Kyoto City bus number 33, disembark at the "Katsura Rikyu-mae" stop, it takes around 20 minutes from the Kyoto bus station. This bus trip costs around ¥240 (£1.45, $1.74).
Admission fee: ¥1000 (£6.04, $7.24)
Opening Hours: 08:40am – 5:00pm (closed on Mondays)
Tokyo Japanese Gardens
Nezu Museum Japanese Garden (根津美術館)
Originally commissioned by Nezu Kaichiro, the Nezu Museum Japanese Garden opened first in 1941. In 2009 the reconstructed building was opened to the public, designed by Kengo Kuma.
The Nezu Museum Japanese garden is a unique type of garden to visit. Not only does it have stunning architecture, it also has a private art collection within its grounds. With over 7,400 pieces of Japanese and east Asian art available for viewing, Nezu has a lot to offer for one trip.
With the art collection being so vast, they often change special exhibitions. Every 4-6 weeks the exhibitions switch to a new theme, displaying different pieces. However, there are lots of pieces that stay the same throughout the year including calligraphy, textiles and ceramics.
To access the gardens and tearooms, you must enter via the museum. You can then enjoy the garden paths, ponds and garden lanterns within the grounds of Nezu Museum Garden.
You don't need to book to visit this Japanese garden, with tickets for the museum available on the door most days during opening times.
How to get to Nezu Museum Japanese Garden
The Nezu museum is conveniently accessed via the Hanzomon, Ginza, and Chiyoda subway lines from Omote-sando Station.
Admission fee: Varies depending which exhibitions are available.
Opening Hours: 10am – 5:00pm (closed on Mondays)
Koishikawa Korakuen (小石川後楽園)
Koishikawa Korakuen is noted as one of the oldest Japanese gardens in Toyko. Built between 1600-1868, also known as the Edo Period, at the residence of the Tokugawa family.
This Japanese garden is perfect to visit all year round, with late November and early December showcasing the orange colours of autumn. February through until March is Plum season, then followed by the Cherry Blossom season that is a big must-see for ALTs and visitors.
Koishikawa combined miniature hills, ponds and bridges to recreate famous landscapes from Japanese scenery. There are several viewpoints on the paths round the garden where you can stop to take pictures and look at the different types of trees. Although this garden is located next to the Tokyo Dome, it's not visible within the scenic landscapes.
How to get to Koishikawa Korakuen
Koishikawa Japanese garden is a 10 minute walk from the Iidabashi Station and the train runs on the JR Chuo Line (yellow trains). Tozai, Yurakucho, Namboku and Oedo subway lines are also a similar distance. Suidobashi Station also runs trains on the JR Chuo Line, with 5-10 minute journey. Korakuen stadion is a 10 minute walk using the Marunouchi and Namboku subway lines.
Admission fee: ¥300 (£1.81, $2.17)
Opening Hours: 09:00am – 5:00pm (last entry is 4:30pm)
Hama Rikyu Japanese Gardens (浜離宮恩賜)
Hama Rikyu is based in the centre of Tokyo, located next to Tokyo Bay. This garden is surrounded by skyscrapers and large modern buildings. However, don't let this put you off, as it's a beautiful escape from the hustle and bustle of Tokyo in the Shiodome district.
Hama Rikyu is another one of the Japanese gardens that was built in the Edo period (1600-1868) and its original purpose was for duck hunting. Later it was used as a strolling garden and had a detached imperial home.
Visitors can still view the imperial home from the garden's grounds. There are newly reconstructed duck hunting blinds plus the remains of an old moat.
Similar to the Koishikawa Korakuen, Hama Rikyu is beautiful to visit any time of year. With fall colours showing on ginkgo trees, plum season and cherry blossom season offering the beautiful Sakura trees.
How to get to Hama Rikyu
JR Shimbashi Station is a 15 minute walk from Hama Rikyu gardens. Shiodome Station is a 10-minute walk to the gardens if this is more convenient, catching the Odeo subway line or the Yurikamome train.
Alternatively, the Tokyo water bus is an option from Asakusa. The water bus is around 35 minutes and costs around, ¥1040 (£6.27, $7.50) which also includes entry to the Japanese garden. This is only a one way trip, if you wish to return to Asakusa via water bus it will be around 60 minutes and cost ¥800 (£4.83, $5.77).
Admission fee: ¥300 (£1.81, $2.17)
Opening Hours: 09:00am – 5:00pm (last entry is 4:30pm)
How to Make the Most of the Japanese Gardens
Visiting certain gardens means following the rules set for that specific Japanese garden.
Some include religious rituals, clothing expectations and reservation timescales. Here's what you need to do to make sure you make the most of the Japanese gardens on your list:
Follow the rules of each garden and check them in advance before attending.

Book your place in advance if required, some gardens require bookings up to 6 weeks in advance, so don't miss out.

Do not pull any leaves or branches off the plants in the gardens.

Do not consume alcohol within gardens that don't allow this, please check in advance.

Turn up in plenty of time for your booked slot, so any tour fees or audio equipment can be sorted before wandering the gardens.
These are the basic rules of most of the Japanese gardens, although some religious practising gardens and villas may have more strict rules on specific things.