Japan Tips

Life & Culture
Onsen Japan – Onsen Etiquette & Places To Visit
Onsen are a naturally occurring phenomenon in Japan. Due to the country's location along the pacific ring of fire (an area of much volcanic activity), onsen are everywhere.
There are more than 3000 onsen in Japan. If you visit one high up in the mountains, you might even see Japanese snow monkeys bathing nearby.
If you're thinking about visiting or working in Japan, going to an onsen should definitely be on your list of things to do! As well as being incredibly relaxing, they are usually full of natural compounds and minerals that are great for your skin!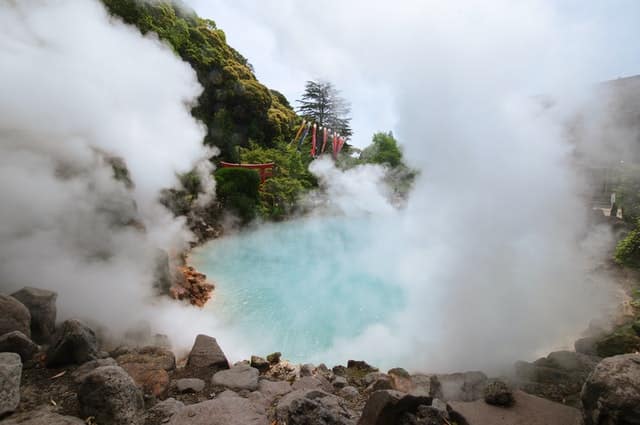 What is an Onsen?
Onsen are hot springs that naturally occur in Japan due to it being a volcanically active country. Thousands of onsen are dotted around the major Japanese islands.
The hot springs act (温泉法, Onsen Hō) defines an onsen as "hot water, mineral water and water vapour or other specific gas gushing from underground." It must also have a temperature of over 25 °C. Cold onsen do not exist.
Why are Onsen so Popular?
Japanese people have been bathing in onsen for thousands of years. In fact, many resorts and resort towns have sprung up around them.
Many people believe in the health benefits of onsen.
The natural hot mineral water is thought to be good for your body and skin, helping relieve you from back pain, joint pain etc.
The relaxing atmosphere is great for your mind, helping you unwind and relieve stress.
After all, who wouldn't be relaxed whilst sitting in a hot onsen bath at the top of a cold mountain looking down over Japan's naturally beautiful landscapes?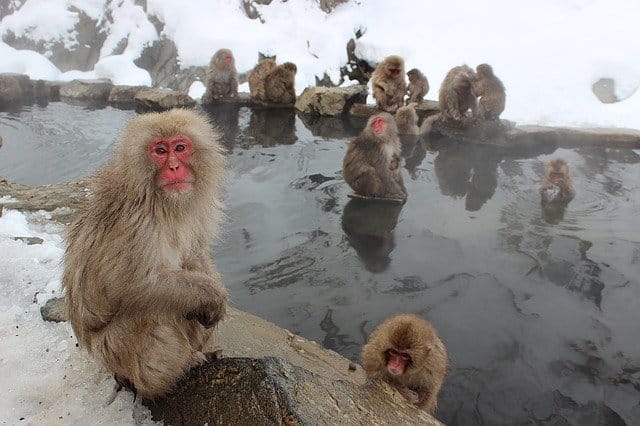 Onsen Rules
Before you visit an onsen in Japan, you're going to need to learn a little bit of onsen etiquette.
Onsen are important to Japanese culture, so you want to be as respectful as possible.
Follow these simple onsen rules below, and you'll have a great time.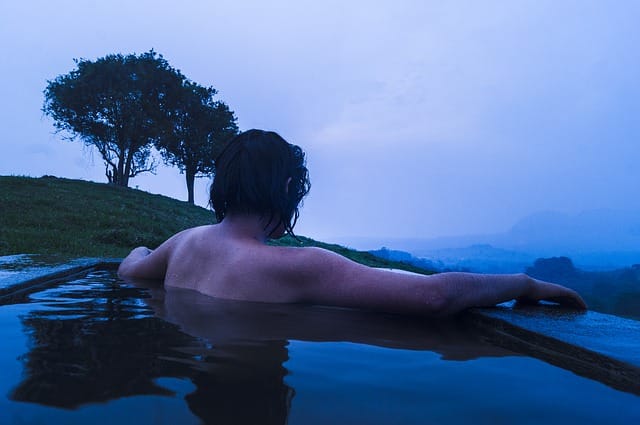 No Clothes Allowed
No clothes or bathing suits are allowed in the onsen bathing areas.
People try hard to preserve the cleanliness of onsen. They are somewhat sacred places.
Clothes and bathing suits can bring dirt and soap into the hot spring waters from outside and are, therefore, considered unhygienic.
Instead of bathing suits, people use small towels to hide their private parts whilst manoeuvring the hot spring baths.
If you are completely turned off by the idea of bathing naked, you could rent a private onsen or find a facility where they allow bathing suits.
These can be expensive or hard to find, though.
Wash Before Entering the Onsen, Don't Wash in the Onsen
It's customary, polite and hygienic to wash your hair and body before entering the onsen water.
This keeps it clean for everyone. Nobody wants to sit in someone else's dirty bathwater.
Before entering the changing room, you should try to wash your feet to help keep it clean.
Once you have changed out of your clothes, you should proceed to the shower area.
In the shower area, there is often a seat and a pail you use when washing your hair and body.
After you have used these items, it is polite to rinse them and return them to their original position. This is respectful for the people who will use them after you.
Try also to be mindful in the shower area. Avoid splashing water on the people near to you with the showerhead.
When moving through to the actual onsen area, don't wait by the changing room entrance, especially when you're naked. It can make people feel uncomfortable.
After you have bathed, wipe yourself with a towel before returning to the locker room. This helps keep it dry and clean.  
Onsen Towels
When visiting an onsen, it's a good idea to take a couple of towels. A large one to dry yourself in the changing room and a small one to cover yourself and help keep yourself and the onsen area clean.
Don't worry if you don't have a towel. Most onsen resorts will usually provide these.
It's a good idea to check before you go though.
Tie Up your Hair
When in an onsen, you should never put your hair in the water or fully submerge your head underwater. This is considered unhygienic.
Neither your hair nor your towel should touch the water. Putting your hair underwater is unpleasant and will make everyone around you feel uncomfortable.
Nobody wants to get another person's hair stuck to them in the water.
Towels are also seen as unhygienic. They may be dirty or have soap on them. If you want to take a towel into the onsen, you should rest it on top of your head. But make sure it doesn't enter the water.
Moreover, with any shared water, there is a chance of sharing infection, so try not to submerge your head. It will make people feel uneasy.
No Tattoos Allowed
In Japan, tattoos are banned in most public bodies of water. This is because they are associated with the yakuza.
If you have a tattoo, don't be surprised if you're not allowed in a Japanese onsen.
If it's small, you may be able to cover it up with a bandage or similar.
If you have tattoos, you should rent a private onsen. This way, you shouldn't have any problems.
Be Respectful with Noise
Onsen are relaxing places. People visit them to unwind and clear their heads.
You should always be aware of how much noise you're making in the onsen and try not to disturb people around you.
As long as you're not being rowdy, you should be fine.
Don't Drink Alcohol or Bring Glass Around the Onsen
Drinking alcohol in an onsen is dangerous, just like it is to get drunk in any body of water. If you get drunk, you could get into trouble in the water, and you might annoy other people, so avoid doing this.
Moreover, glass bottles and cups can be dangerous. Everyone is naked at the onsen, and a smashed glass could result in some nasty injuries, so avoid doing this too.
Don't Swim in the Onsen, Just Relax
Onsen aren't swimming pools, no matter how big they are.
Onsen are for relaxing. Don't swim, jump, dive or splash. You may upset the people around you.
Do not Enter the Onsen from the Pouring Gate
The pouring gate is where the new, hot water is coming into the onsen.
If you enter or sit there, it means that all the new, clean hot water has touched you.
This is considered unpleasant, no matter how clean you are.
Try to sit as far as possible from the pouring gate.
No Phones or Photos
Onsen are traditional places of relaxation, and most people are naked. So taking photos is forbidden!
You wouldn't like strangers taking pictures of you naked in an onsen, would you?
Avoid Looking at People
Just like people taking photos of you naked, you probably wouldn't like it if someone was staring at your naked body either.
Try to avoid looking at other people. You may make them feel self-conscious or uneasy.  
Best Onsen Towns In Japan
Now you know how to act in an onsen, why not go and visit one!
Below are 12 of the best onsen and onsen towns in Japan with indoor and outdoor bathing areas.
Hakone Onsen

Kusatsu Onsen

Noboribetsu Onsen

Dogo Onsen

Beppu Onsen

Kurokawa Onsen

Yufuin Onsen

Kinosaki Onsen

Fuji Kawaguchiko Onsen

Ibusuki Onsen

Arima Onsen

Nyuto Onsen village
Hakone Onsen
Located around a two-hour drive from Tokyo, Hakone has been one of Japan's most popular hot spring locations for hundreds of years.
Dozens of hot springs supply water to the popular bathhouses and ryokan in the area.
Kusatsu Onsen
Another location not far from Tokyo is Kusatsu Onsen. It's possibly the most famous and popular onsen in Japan.
Legend has it that "the waters can cure every illness apart from love sickness".
Noboribetsu Onsen
Noboribetsu onsen is one of the most popular onsen resorts on the northern island of Hokkaido.
The waters in this hot spring are full of minerals that are thought to soften and lighten the skin as well as combat fatigue.
Although, the sulphur in the water may smell, so if you don't like the smell of sulphur, you may want to avoid this one.
Dogo Onsen
Dogo Onsen is one of the oldest onsens in Japan. It's been around for about 3000 years. The main bathhouse, Dogo Onsen Honkan is a wooden bathhouse that has been around since 1894!
Beppu Onsen
With eight different springs supplying fresh water to the bathhouses, Beppu is another popular hot spring resort.
Beppu offers a wider range of bath types than most other onsen resorts, including sand baths where you are buried in naturally heated sand.
You can even eat eggs that are boiled in one of the hot springs when you are here.
Kurokawa Onsen
Kurokawa Onsen is a beautiful hot spring town near Mount Aso. There are some lovely ryokans and shops located along the river that runs through the town.
The hot springs are all within walking distance of each other. You can buy a wooden hot springs pass that will give you access to three onsens of your choice.
Yufuin Onsen
Located in the Oita prefecture, Yufuin onsen is a popular hot spring resort. Its blue coloured springs are thought to have natural moisturising properties. This makes the resort very popular amongst people interested in beauty care.
Kinosaki Onsen
Situated in the northern Hyogo prefecture and built along a picturesque river, Kinosaki onsen town is a charming destination. If you have tattoos, this is a great place to visit. It's one of the few places in Japan where you will be allowed in the onsen with tattoos.
Fuji Kawaguchiko Onsen
Fuji Kawaguchiko Onsen resort is located at the base of Mt Fuji. This scenic location is an ideal spot for tourists. There are various onsen you can bathe in. And, on a clear day, you can even see Mount Fuji from your hot spring.
Ibusuki Onsen
Ibusuki Onsen is a beautiful seaside onsen resort offering beautiful views of Mt Kaimon.
Hot sand baths are a popular attraction at this resort. You are buried in sand that is naturally heated by volcanic steam. This is said to have benefits, including increasing blood circulation.
After your sand bath, you take a shower to clean all the sand off and proceed to relax in the regular outdoor onsen.
Arima Onsen
This popular hot spring town is located in Kobe, on the other side of Mount Rokko to the city.
One of the oldest hot spring resorts in Japan, its history dates back over 1000 years. There are several hot spring sources, all located within a walking distance from each other.
There is even a hot spring museum you can visit.  
Nyuto Onsen village
At Nyuto Onsen village, there are numerous ryokan with onsen. These are accessible for people visiting during the day and those staying at the ryokan.
The rustic style resort has cloudy waters that are rich in minerals and are said to be helpful for many ailments.
Are You Ready To Visit An Onsen?
If you're visiting the land of the rising sun, you should try to visit an onsen in Japan at least once. It's an experience like nowhere else in the world.
There are so many things to do in Japan, it's a good idea to work here for a while so you can explore all the attractions in your spare time.
If you're looking for a job in Japan, head over to our job listings page now and see if you can find something that looks right for you.