25 Must-See Places to Visit in Hiroshima City
Visiting Hiroshima is an unforgettable experience for many people visiting Japan. The city – which was the site of a nuclear bomb attack in 1945 – is now a global centre for peace.
Rebuilt and thriving, Hiroshima is full of both fascinating history and exciting things to do.
From museums and the Memorial Park, to multiple art galleries and green spaces, here's our guide to some of Hiroshima's best attractions and sightseeing, alongside its famous places.
Hiroshima is just one location, read our guide to places in Japan to visit in 2022.
Peace Sites in Hiroshima
Many people visit Hiroshima to reflect on its destruction in WW2 and subsequent recovery.
There are not many locations in the world more committed to peace, and Hiroshima offers a unique genre of 'peace tourism' to visitors. Here are some famous things to see and do in Hiroshima.
A-Bomb Dome
Designated in 1996 as a UNESCO World Heritage site, the Atomic Bomb Dome was one of the few buildings not destroyed by the 1945 atomic blast. Kept in a state of ruin, it serves as a reminder of the destructive effects of nuclear warfare. It is now a moving symbol of peace.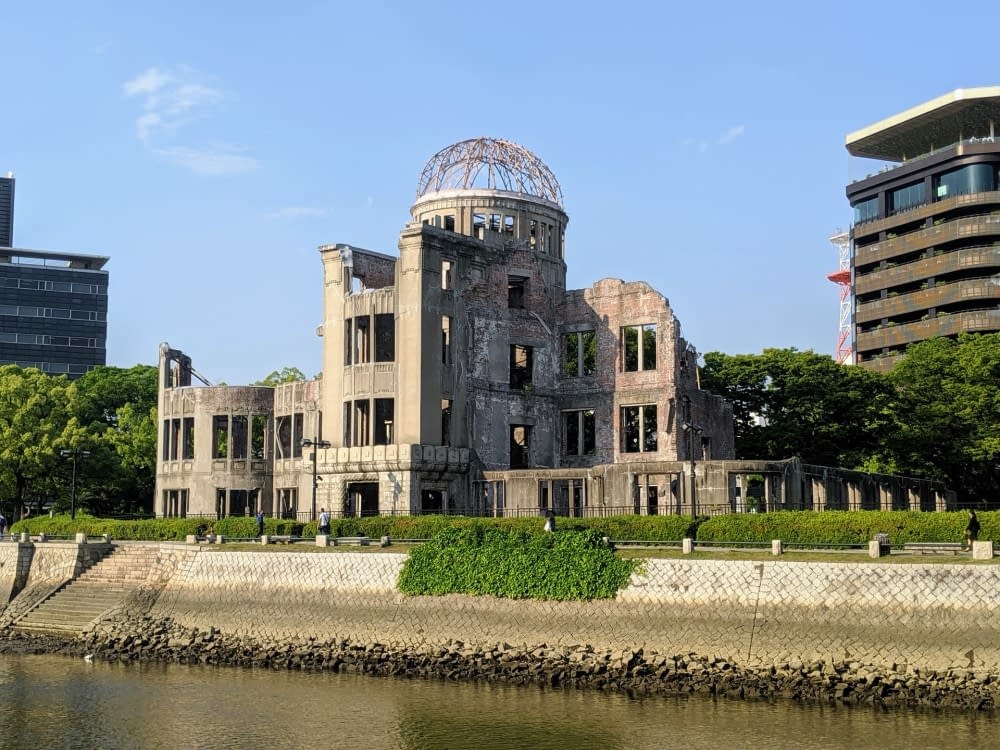 Peace Memorial Park
Built to surround the A-Bomb Dome, the Peace Memorial Park welcomes over a million visitors per year. The park contains a variety of memorials, monuments and museums to visit.
It serves as an advocate for peace and is the site of ceremonies, festivals and conferences. Look out for thought-provoking monuments like the Cenotaph; which lists the names of the victims.
Peace Memorial Museum
A must-visit site within the Peace Memorial Park, the museum contains many exhibits about the run-up, destruction and aftermath of the atomic bombing. A popular site for school trips and international visitors, it's a hard visit emotionally – but an essential part of human history.
Peace Memorial Hall
Founded by the Japanese government in 2002 and designed by Kenzo Tange, the Hall was built to mourn the atomic bomb victims and be an expression of Japan's lasting desire for peace.
The Hall contains an underground museum and a clock frozen at 8:15, the time of the attack.
Children's Peace Monument
A stone monument to commemorate Sadako Sasaki, a young girl who died from radiation poisoning ten years after the bomb, alongside the thousands of children killed in the blast.
Folded paper cranes, a symbol of the pursuit of peace, are still left at the monument.


Peace Bell
Another tribute near the Children's Peace Monument, the Hiroshima Peace Bell is another must-see monument within the Memorial Park. The large bell – which can often be heard while walking in the park – can be rung by any visitor, to express their wish for world peace.
Peace Flame
An understated sculpture near the Cenotaph, reminiscent of two outstretched hands cupping a burning flame. The flame will only be extinguished when the world is free of nuclear weapons.
Gardens, Religious Sites & Castles
Hiroshima has many beautiful green spaces and relaxing structures to enjoy – some entirely rebuilt after being destroyed. Here are some of the most photographed sites in Hiroshima.
Want to visit a religious site? Read our guide to visiting temples and shrines in Japan.
Shukkei-en Garden
Step back in time at this traditional Japanese garden, which literally translates to "shrunken scenery garden". Through clever landscaping, you'll spot miniature versions of mountains, forests and valleys as you walk the paths. You'll also find a number of tea houses (bliss).
Mitaki Temple
Just north of the city, this peaceful Buddhist temple is surrounded by woodland and is best seen in autumn. The grounds contain three waterfalls and many mossy statues of the deity Jizo.
The temple features memorials to those killed by the atomic bomb and is a train ride away.
Hiroshima Gokoku Shrine
A 'Gokoku' shrine is a Shinto shrine dedicated to those who died in war. Hiroshima's can be found near Hiroshima Castle and has been repeatably rebuilt (the main building in 1995). A popular place for hatsumōde, the first shrine visit of the year, it's an atmospheric place to see.
Hiroshima Castle
Originally built in the 1590s, Hiroshima Castle was completely destroyed by the 1945 bomb.
Also known as the Carp Castle, the building has been faithfully rebuilt and restored to its former glory. Inside the castle are three trees – a willow, holly and eucalyptus – that survived the blast.
One of the best places to see in Hiroshima, it's around half an hour's walk from the Peace Park.


Hijiyama Park
Get a panoramic view of Hiroshima's famous places from this green space. Ideal for just taking in nature, the park contains a Skywalk, areas of forest, and multiple public sculptures to reflect on.
If you love green spaces, why not take a look at our guide to Japan's best national parks?
The Botanical Garden
A plant and flower lover's paradise, Hiroshima's botanical garden includes a large greenhouse replicating tropical and subtropical environments. With lush displays of cacti, tropical water lilies and more, the garden opened in 1976 to promote the preservation and exploration of plant life.
Dining & Shopping in Hiroshima
Like many places in Japan, Hiroshima has many culinary delights and tasty places to eat out. After sightseeing famous places, why not fill up at one of these top-rated destinations?
If you're in Japan for the food, read our guide to restaurants and street food in Osaka.
Okonomimura
Described as a 'food theme park', this tower building contains four floors of food stations all serving okonomiyaki – a type of savoury pancake and one of Japan's best-loved comfort foods. Enjoy your favourite fillings, or go on an empty stomach and try as many as you can manage.
Parco della Pace
If you're a westerner yearning for the taste of home, this pizza restaurant in Hiroshima is the one to beat. It receives rave reviews for its stunning Italian food and friendly, English-speaking hosts.
The Outlets
With over 120 shops, this outdoor shopping mall is a good place to find whatever you need.
As well as local and international brands of clothing, food and lifestyle products, there's a cinema and indoor ice skating rink. An amusing place to relax and unwind after sightseeing in Hiroshima.
Hassei
Another much-loved okonomiyaki restaurant, Hassei offers their own take on the cabbage, noodle and pancake dish. Visitors praise the portion sizes, texture and value for money.
Why not check out our guides to dining etiquette in Japan and how to use chopsticks.
Galleries & Museums in Hiroshima
Although many of Hiroshima's famous places are centred around peace and reflection, there are a wide variety of other museums and art galleries to visit. Here are some of our favourites.
Hiroshima City Manga Library
If you've read our blog about Otaku culture in Japan, you'll love this amazing manga library.
Located in Hijiyama Park, you have to "trek up a hill through a forest" to reach this hub for Japanese comics fans. There's everything from vintage, to rare, to English-speaking manga.
Hiroshima Museum of Art
Located in a memorable circular building, you'll find a lovingly curated collection of paintings and sculptures – including both Japanese and western favourites like Picasso, Monet and Van Gogh.
Prefectural Art Museum
Another art gallery in a fantastic modern building, the Prefectural Art Museum contains many Japanese pieces inspired by Hiroshima. A large gallery with thousands of artworks, it also includes historic objects and Japanese crafts. Look out for Dali's famous melting clocks.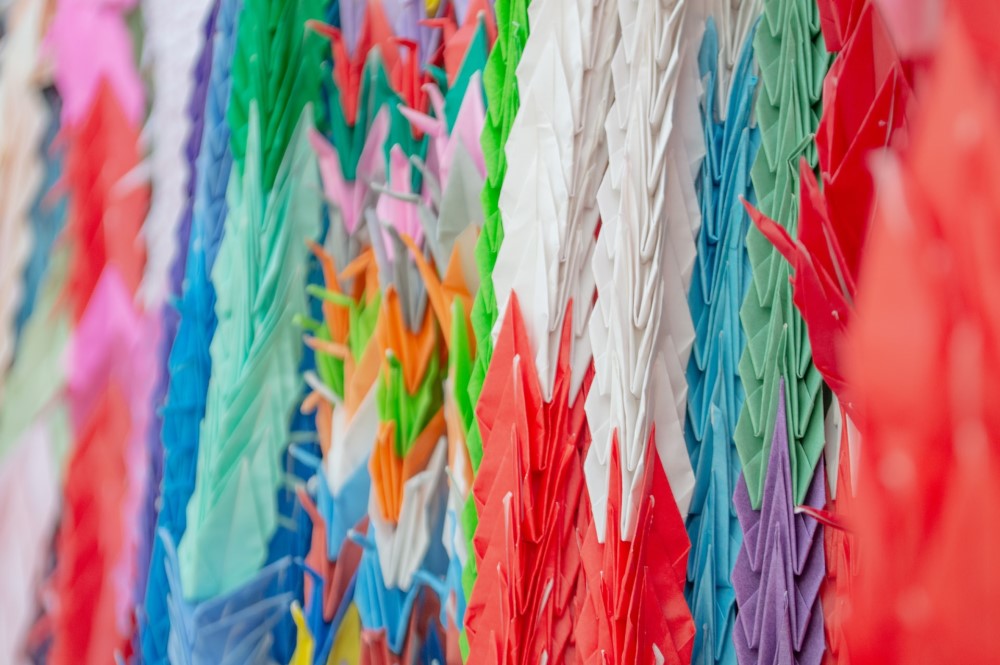 Children's Museum
A great place for a fun family visit or school trip, this science museum is much loved by kids.
With a large planetarium and plenty for little ones to touch, play with and observe, it's a must-visit for children wanting to explore and let off steam. Best of all, children don't have to pay a thing.
Museum of Contemporary Art
Reopening next year after a hefty renovation project, Hiroshima's contemporary art museum includes a dedicated video art collection. A must-visit for aspiring art students and fans.
Hiroshima City Ebiyama Museum Of Meteorology
Another fantastic science museum, this attraction lets you experience and understand weather first hand. With a wind tunnel and typhoon box, it's a memorable and fascinating day out whatever your age. Look out for exciting science shows and workshops at the weekend.
Sports Attractions in Hiroshima
Like many cities in Japan, Hiroshima has a thriving sporting scene. Here are a couple of sites, but you can also go further out of the city for beaches and hiking trails within the prefecture.
Check out our guide to Japan's biggest sports, you won't miss out if you're a sports fan!
Mazda Zoom-Zoom Stadium
Home of the popular Hiroshima Toyo Carp baseball team, this large stadium is a great place to watch a game. Designed to be accessible for all, the Zoom-Zoom Stadium has everything you need for a great day out – tasty food, plenty of space, and modern facilities for all visitors.
Big Arch Stadium
Less than an hour from the centre by train, this outdoor stadium is home to Sanfrecce – one of Japan's professional football teams. It's a multi-purpose venue and is also used for athletics.
Read our guide to football in Japan to get a taste of what to expect as a football fan here.
Now that you've read our guide to sightseeing and famous places in Hiroshima, why not read our other area guides? We offer job opportunities all across Japan including Osaka, Tokyo and more.