Japan Tips

Life & Culture
Shopping Like A Local
It's seems to be fairly common knowledge that food costs in Japan are some of the highest in the world. So, if you really want to live like a local, you just need to get wise on how to shop for what and when. Start by getting point cards for any supermarkets you'll be frequenting.
Nearly EVERY store chain has one, and getting the points is like free money. One of the more popular ones, from the Aeon group even offers 2x or 5x points on certain dates every month at their supermarkets. The card is also valid for use at Mini-Stop convenience stores. In addition to that there are always bonus points on many items which can add up quickly. Points can then be redeemed 1 for 1 to spendable yen. Make sure you take your own reusable bag, as nearly every supermarket will offer a small "eco-discount", usually ¥2 for doing so. And remember, the goal here is to live like a local in Japan. In addition to the store branded cards, there are also point cards that have a consortium of different businesses as members. Ponta is a good example fo this, as are Rakten Super Points (Rakuten) and D-Points (docomo).
Next is your timing. Produce – Get accustomed to what's in season and try new fruits and veggies when they are in season. If you go later in the day, usually after 6:00 you'll find many fresh items marked down for quick sale. In addition, most stores will have a discounted day each week with many featured produce items on sale. Meat… let's face it many westerners love…love…LOVE meat!
It's usually cost prohibitive to buy it in the quantities we're used to. A couple of strategies can help though. Firstly, always shop for fresh meats later in the day, they will be marked down, again usually after 6:00pm.
For the real bargains though, wait until Saturday morning. It's common to find markdowns as much as 50% on fresh meats. Once you have made a trial run to investigate you'll figure out the timing.
Finally, Japanese super markets are well known for their amazing variety of prepared foods. While they may be moderately priced, you can always find a bargain if you just can't bear to cook and go usually between 8-9pm, when nearly everything is marked town to half price. Just look for the stickers which are usually red to show the mark-downs.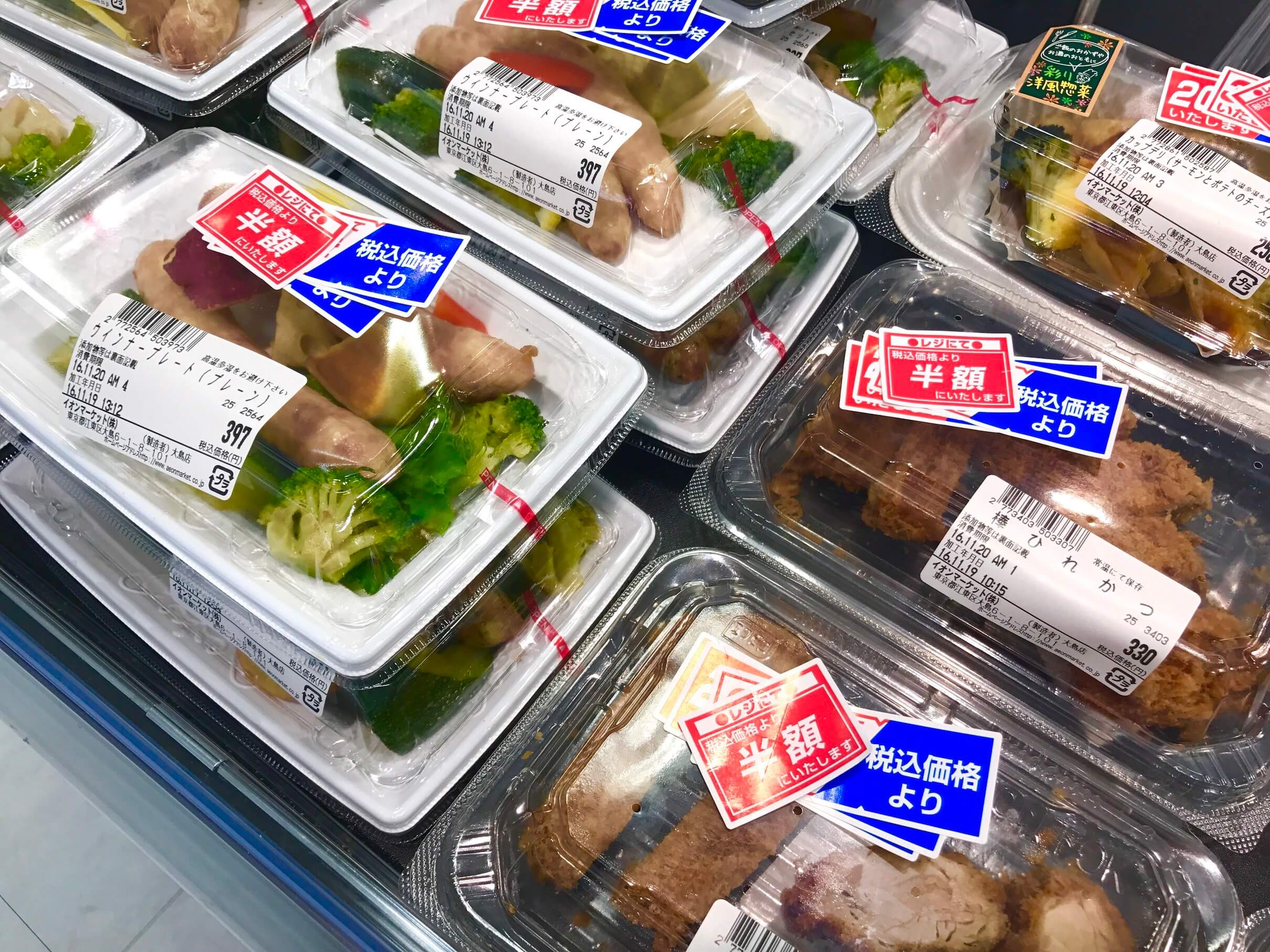 It's quite common for shoppers to linger around the display table waiting for the staff to apply the discount stickers, at which point it becomes a free-for-all.
Over anything else, try new things, and you may just find something you never knew you couldn't live without.
You can find so many ins and outs to  live like a local in Japan. Hopefully, with some of these tips, you'll be able to get around town and get yourself fed well. Another time we'll look at other local secrets like using a convenience store to its maximum potential.