Japan Tips

Life & Culture
Swimming in Japan: Pool Etiquette & What to Bring
With Japan being known for its hot and humid weather, swimming serves as one of the best ways to cool off and relax during a particularly warm day.
However, it's not just the respite from the warm weather that makes swimming in Japan unique. Swimming is actually one of the most unique aspects of Japanese culture, notably due to its strict etiquette and dress code.
If you're going to a Japanese swimming pool for the first time, it's important to know what to expect and what you'll need to bring with you.
Keep reading for an in-depth guide to swimming in Japan, including etiquette, required dress code and the types of pools available in Japan.
Japanese Swimming Pool Etiquette
Perhaps the most notable aspect of swimming in Japan is the strict pool etiquette that's put in place across almost all Japanese swimming pools. Almost all of these rules are exclusive to Japan, making for a truly unique experience.
While the following rules apply to the vast majority of Japanese swimming pools, they may change slightly depending on the specific pool you visit. It's well-worth checking ahead of time to see which specific rules apply to the pool you're planning on visiting.
Opt For Conservative Swimwear
While there's usually no specific rule in place for swimwear, almost all swimming pool attendees in Japan will wear conservative swimwear.
Bikinis are almost-never worn, with most women instead opting for a one piece swimsuit combined with swim shorts.
For men, it's common to wear a set of trunks or conservatively cut swimming shorts as well as a rash guard.
Swimming Caps Are Mandatory
Virtually all Japanese swimming pools require the use of a swimming cap, even when not in the water. This is imposed for hygiene reasons and is strictly enforced.
If you forget to bring a swimming cap along with you (or bring an ill-fitting cap), most pools will sell them in the reception area.
Showering Is Mandatory
The vast majority of swimming pools in Japan will require you to shower before entering the pool.
The use of soap and shampoo is generally left to the discretion of each individual pool, so it's worth checking in advance to see if you'll need to bring these items with you.
Tattoos Are Banned
As is the case with many other public facilities in Japan, visible tattoos are strictly prohibited. This is due to the fact that tattoos are commonly associated with the Yakuza.
It's OK if the cover-up is obvious-looking, but you may be asked to leave if swimming with uncovered tattoos. Small tattoos can be covered with a plaster (band aid), while larger pieces can be covered with a rash guard or swimsuit.
Pool Accessories Are Banned
Swimming pools in Japan are intended to serve one core purpose: physical exercise.
As a result, most ' pool accessories' are prohibited. This includes:
Toys
Floats
Dinghys & lilos
Electronics & mobile devices
Fins
Snorkels
Visible piercings must also be removed while swimming, with the exception of band rings in the ears. However, studs or facial piercings are not permitted.
Towels Are Often Rented
Most Japanese swimming pools require attendees to rent towels from the facility instead of bringing their own. Be sure to bring some cash with you to ensure you're able to rent a towel to use once you've finished your session.


Most Pools Are Open From 9AM-10PM
When visiting Japan, it's rare to find a pool that's open before 9AM.
While pools in Japan generally don't open early, most stay open until 9PM-10PM, allowing you to enjoy a swimming session outside of standard working hours.
Shoes Are Not Allowed by The Pool
While this rule varies from pool to pool, shoes are generally not permitted by the poolside.
Virtually all pools in Japan will offer free lockers as part of your session, which can be used to store your shoes or flip flops.
There's A Mandatory Rest Period Every Hour
This is perhaps the most unique aspect of swimming in Japan:
Once each hour, there's a mandatory 'rest period' of between 5-10 minutes where all attendees must vacate the pool. This is done to allow for a safety check to be carried out as well as a change of lifeguard.
Music is usually played during this time, with attendees either chatting or doing bodyweight exercises (such as push ups) to pass the time.
Most Pools Are Divided Into Two Lanes
Most pools in Japan are divided into two lanes:
A 'serious' lane: In this lane, swimmers are required to swim the length of the lane at the same pace as each other. This lane is usually reserved for exercise and competitive swimming purposes.
A 'non-serious lane': This lane is reserved for more casual pool use, such as pool games or children's swimming lessons.
What To Bring With You
When visiting a swimming pool in Japan, it's important to bring the right equipment with you.
Here's what you should bring:
Swimsuit (preferably one-piece or otherwise conservatively-cut)
A well-fitted swimming cap
Shower gel/soap (provided the pool you're visiting allows for the use of these items)
Cash or credit card (to not only pay for your session, but to rent additional equipment such as towels)
Proof of ID (some swimming pools in Japan require you to be a resident or employee within the specific region where the pool is based. However, many pools will allow entry regardless of where you live or work).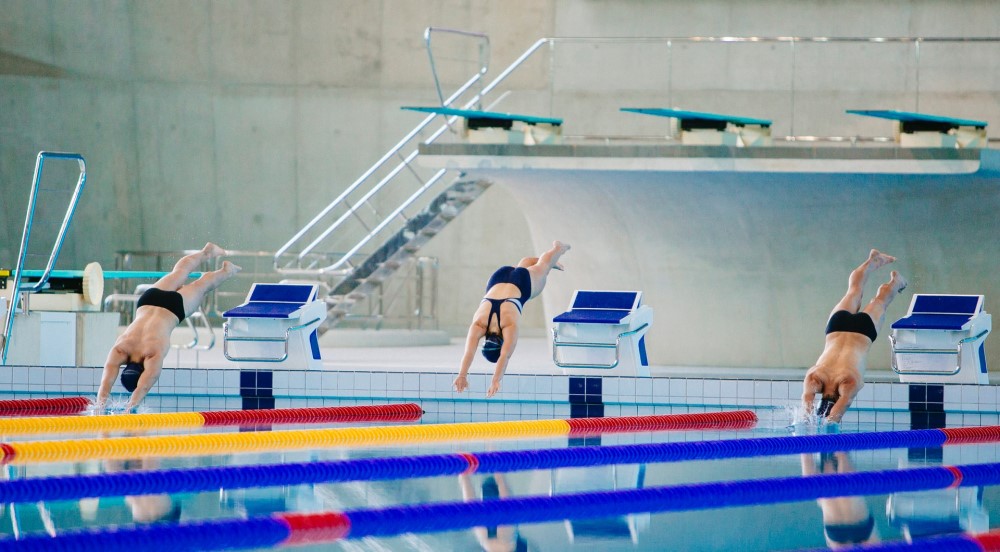 Where Are The Best Places To Swim In Japan?
Japan has no shortage of excellent indoor and outdoor swimming pools. Many gyms in Japan will feature a dedicated swimming pool, while there's also a number of dedicated swimming parks and centres.
Here's a quick guide to the best places to swim in Japan:
Outdoor Pools In Japan
Japan is home to many outdoor waterparks and public pools. Entry is usually around ¥400-¥500, with families and young children permitted.
Tokyo in particular boasts some large-scale waterparks and pools that are suitable for all ages, including:
Kanamachi Park: The oldest park in Katsushika, featuring a large outdoor pool as well as a large playground.
Showa Kinen Park Rainbow Pool: Based in Tachikawa, this large-scale waterpark features nine pools as well as several waterslides. It's usually very busy, especially during the summer months.
Indoor Pools In Japan
Indoor swimming pools in Japan are housed in leisure centres, gymnasiums and dedicated swimming centres. Most pools charge between ¥200-¥500 for a two hour session and are available to all ages.
Tokyo is also home to some particularly impressive indoor swimming pools, including:
Sogo Undojo Pool: This complex features two large-scale pools as well as two infant pools.
Tokyo Metropolitan Gymnasium: This large-scale gym houses a 50 meter swimming pool and is suitable for all ages.
Minatoku Sports Center: This complex houses two indoor swimming pools; a large one for exercise and a smaller one for more casual use.
Closing Thoughts
And there you have it! An all-encompassing guide to swimming in Japan.
While it's certainly a different experience from swimming in many other parts of the world, swimming in Japan is a truly enjoyable and cultural experience that's not to be missed. If you're interested in learning more about sporting activities in Japan, be sure to check out this article on the most popular Japanese sports next.