Taxis In Japan: Etiquette & How Much They Cost
Taxis in Japan are often considered an expensive and inconvenient alternative to the superb public transport that is on offer in the big cities.
However, if you have a lot of luggage that needs transporting, you're in a big group, or it's after midnight, and all the buses and trains in Japan have stopped running, you might need to hail a cab.
Taxis in Japan are also convenient in the smaller cities and towns where the public transport isn't as good.
Japanese Taxis are usually very clean, the level of service is high, and so are the prices. But don't worry, drivers don't take advantage of their clients and fares are calculated by running metres.
If you're thinking about visiting or working in Japan, there's a good chance you'll need to use a taxi at some point. Keep reading below to find out everything you need to know about Taxis in Japan.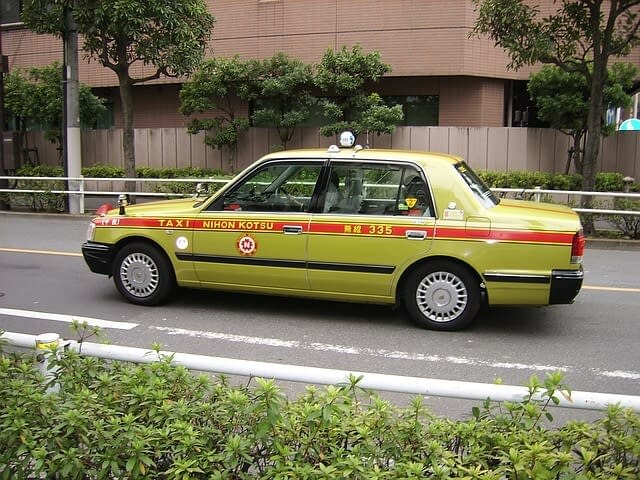 What do Japanese Taxis Look Like?
Japanese taxis don't look that different from taxis in the rest of the world. It's pretty obvious that they are taxis. There are a few identifying characteristics though.
The Car
The car will usually have a taxi light on the rooftop and a neon sign in the windscreen that indicates whether it is vacant or not. A red light usually means it is vacant, whereas a green light means occupied.
The number plates are green, and the Toyota Crown is one of the most popular vehicles that is used as a taxi.
The Driver
Japanese taxi drivers are very well dressed. They often wear a suit and white driving gloves with a chauffeur cap. They take pride in their taxi environment and try to make it as clean and nice as possible for you.


How To Hail A Japanese Taxi
Hailing a taxi in Japan is pretty much the same as hailing a taxi in the west.
You can go to a taxi stand and wait for one, flag one down in the street, phone a taxi company, or use an app.
If you don't speak Japanese and waiting at a taxi rank or flagging one down isn't convenient, you can ask people like hotel receptionists to help you get one.
In small towns, you may have to pay a small additional fee to order a taxi though.
Taxi Hailing Apps
Taxi apps are a great way to easily order a taxi.
Once you've downloaded one, all you need to do is input your destination and press the order button.
Some of these apps let you order in English, which is great if you don't speak Japanese.
Japan Taxi, Tokyo Taxi Association and Tokyo Musen all enable you to use them in the English language.


Using Japanese Taxis
Using a Japanese taxi is a little different to using a taxi in the west. Here are some things you should know.
Electric Doors
Before you rip open the door and jump in the taxi, wait.
Most taxis in Japan have an electric door on the rear left-hand side that is opened remotely by the driver.
You are not supposed to open or close this door by yourself. It is fine to open the other doors manually though.
Getting To Your Destination
If you don't speak Japanese and you're not heading to a well-known destination, your driver may struggle to understand where you want to go. Most Japanese people do not speak English.
You should write your destination down on a piece of paper in Japanese or even point it out on a map to make sure they know where you want to go.
Paying For Your Taxi
Stickers and signs on the taxi will usually indicate which methods of payment are accepted.
Most taxis take payment in cash, and many now accept credit and debit card payments.
Some taxis will accept IC cards, which are rechargeable cards that are used to pay fares on public transport.
In general, you should try to avoid paying small fares with big bills. You don't have to tip either. Tipping is not the norm in Japan.
Taxi drivers are very trustworthy in Japan, so don't worry about being taken for a ride. Fare calculations are almost always done by the meter, and they will navigate to your destination using GPS.
There are certain situations where fares are not by the meter. These are scenarios like when a fixed price to a destination has been decided on. For example, a taxi from the airport or train station.


How Much Does A Taxi Cost In Japan
So, how expensive are taxis in Japan? Just like most other countries in the world, the price of a taxi varies by location.
Taxi Fares By City
Below are some of the fares you can expect to be paying in popular Japanese cities. The start fare is the price when you get in the taxi. The 1km price is the per kilometre travelled in the taxi.
Taxis In Tokyo
Start Fare: ¥ 450
1km Price: ¥ 420
Taxis In Kyoto
Start Fare: ¥ 490
1km Price: ¥ 320
Taxis In Nagoya
Start Fare: ¥ 475
1km Price: ¥ 450
Taxis In Osaka
Start Fare: ¥ 680
1km Price: ¥ 400
Taxis In Fukuoka
Start Fare: ¥ 580
1km Price: ¥ 325
Sightseeing Taxis
Sightseeing taxis are common in all of the big Japanese cities. They're a great way to comfortably see all of the sights you want to see.
A qualified sightseeing taxi driver will chauffeur you around landmark locations whilst telling you stories and educating you on the history of the areas.
Sightseeing taxis have great flexibility. You can choose a pre-determined tour, or you can agree on a custom tour that covers everything you want to see.
Fortunately, you don't stay in the taxi the whole time either. At certain landmarks and locations, you will exit the vehicle, and the driver will show you them up close.


Taxis And Crime
The police in Japan use taxis to help fight crime.
In August 2009, the Takkun Crime Prevention Information System was implemented.
The system makes use of the fact that taxis are travelling around the city 24 hours a day.
Video captured by taxi dash cams and internal cameras is used in criminal investigations when they are useful.
The taxis are also "always watching" and have ways to communicate with the police. They are used as extra eyes and ears to help find and catch criminals.
Feel Confident With Taxis In Japan Now?
Now you know what makes Japanese taxis special, how to flag one down, and the sort of service you can expect, are you feeling more confident in your options?
Have you ever considered working in Japan? If you're thinking about becoming a teacher in Japan, knowing how to hail a cab will be very useful. Especially on your way from the airport with your luggage.
Why not browse our teaching in Japan opportunities today.