19 Amazing Things to Do in Kanazawa
Known as Japan's 'Little Kyoto', Kanazawa is a city in the Ishikawa Prefecture of Japan.
If you love the idea of romantic old Japan, Kanazawa is a fantastic alternative to Kyoto. There are many preserved streets from the Edo period, not to mention some of Japan's best gardens.
In this guide, we've handpicked our favourite things to do in Kanazawa – let's dive in!
19 Amazing Things to Do in Kanazawa
1. Kenroku-en Garden
Don't miss one of Japan's three most beautiful gardens and Kanazawa's biggest attraction. The Kenroku-en garden boasts Japan's oldest fountain, alongside many breathtaking floral displays.
Alongside the Korakuen Garden in the city of Okayama and the Kairakuen Garden in the city of Mito, this exceptional Kanazawa attraction is known as one of the Three Great Gardens of Japan. The garden extends to around 25 acres and was first started in the 17th century.
Its combination of preserved teahouses, ponds and ancient trees makes it a special visit.
2. Kanazawa Castle
Just adjacent to the Kenroku-en garden, Kanazawa Castle should be high on your list of things to do in Kanazawa. It's one of Japan's best castles, being huge, well-preserved and photogenic.
There's a mix of old and restored buildings, with the site being used from as early as 1580.
The gardens are lovely, although not as grand as the Kenroku-en gardens next door. Be careful of the lack of shade on the vast expanses of grass – it can be merciless on hot days! Although the castle asks for a fee, you can enjoy the grounds of Kanazawa Castle for free.
Check out our brief guide to the history of Japan for foreigners, for more information.
3. Nomura Family Samurai House
A historic home in one of Kanazawa's best-preserved districts, the Nomura Samurai House is a journey into Japan's past. The area still looks very similar to how it looked in the Edo period.
Inside the house, which belonged to a wealthy samurai family, are many beautiful antiques and artefacts from the period. The house's architecture itself is a masterpiece, with elegantly painted screen doors and a panelled wooden ceiling. You'll also find a full suit of samurai armour.
Outside, you'll find a lush and peaceful garden, plus a traditional tea room with great views.
4. Oyama Shrine
A Shinto shrine established in 1599, this unusual religious site is a highlight of Kanazawa.
The Oyama Shrine's gate was designed by a Dutch architect and incorporates both European and Asian religious themes. There's also a lovely garden, with bridges going over its ponds.
Look out for the stained glass window in the shrine's gate, making it unique. This is extremely rare for a Japanese shrine, and it was even used as a lighthouse for a time. The shrine is free to visit, just remember to read our etiquette guide to visiting shrines and temples in Japan first.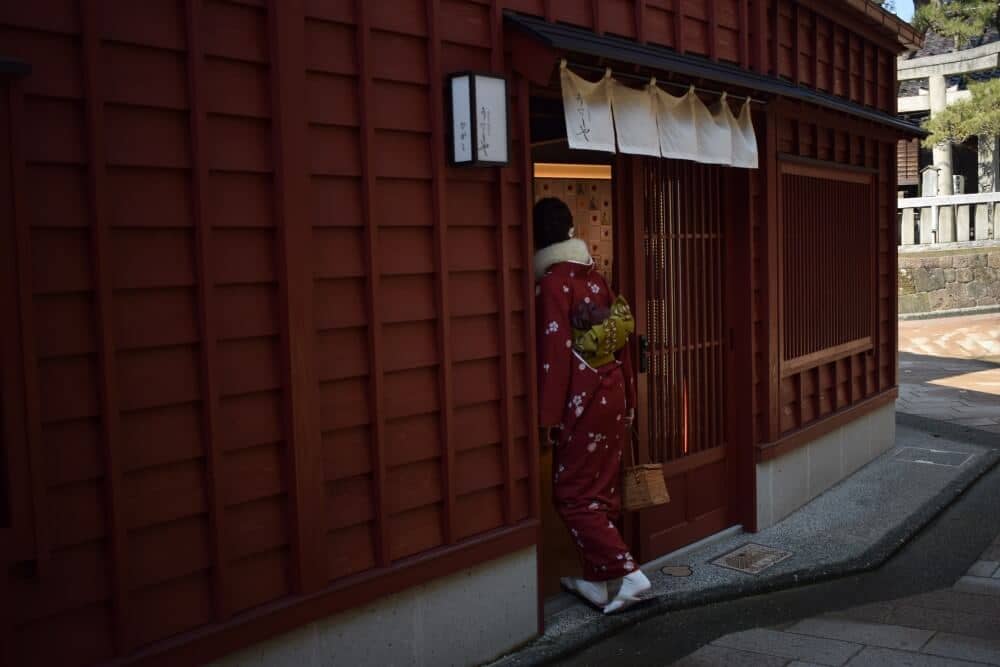 5. Higashi Chayagai District
Kanazawa's largest and most interesting geisha and teahouse district, the Higashi Chayagai District is a must-visit attraction in Kanazawa. You'll find teahouses where geisha perform, alongside traditional craft shops selling goods and souvenirs decorated with gold leaf.
There's both a historical geisha house, where you can see how geisha of the Edo period lived, and a working geisha house that's open to the public. Check the opening times for events.
Don't miss trying out the traditional bitter tea and sweets made from sweet adzuki beans.
6. Gold Leaf Museum
Kanazawa is the largest producer of gold leaf in Japan. It has been used in Japan since ancient times to decorate temples, shrines and palaces, alongside small accessories and even food!
The museum displays hundreds of items incorporating gold leaf, from the early modern period to the present day. You'll find everything from Buddhist altars and hanging scrolls, to unique styles of ceramics and folding screens. You'll even find golf leaf applied to the building's structure.
You'll also find interesting displays to learn all about the process of creating gold leaf.
7. D. T. Suzuki Museum
Another interesting thing to do in Kanazawa, this museum is dedicated to all things Suzuki.
A Kanazawa-born philosopher, D. T. Suzuki's life, writings and ideas were instrumental in introducing Zen Buddhism to westerners. The museum's structure evokes a feeling of peace and quiet contemplation, with its minimalist rooms and furniture a great contrast to city bustle.
A highlight of the museum is the Contemplative Space – a room with openings on each side, which leads to the Water Mirror Garden outside. Ideal for a meditate, or just getting some peace.


8. Myōryū-ji Ninja Temple
While not actually associated with ninjas, this distinctive Buddhist temple is a treasure trove of secret entrances, tunnels and even floors. Although it appears to be a two-storey building, the Myōryū-ji temple conceals a complicated seven-layer internal structure and four-storeys.
The temple was part of Kanazawa Castle's defensive plan, and the bottom of its well is said to connect to the castle as an escape route. There are 23 rooms, 29 staircases and many trap doors.
Make sure you book a spot on the 45-minute tour to get a fascinating taste of its history.
9. Seisonkaku Villa
Built in the last years of the Edo period, this compact two-storey mansion is an amazing snapshot of Japanese culture. It sits towards the back of the famous Kenroku-en Garden.
An emperor built the structure in 1863 for his mother-in-law and its decor is vibrantly unusual.
Rooms are decorated in dramatic colours like red, purple and black, and there's a large wooden staircase to the second floor. There are wonderful gardens inside, plus a rich collection of art. This elegant, unique samurai villa is a must-visit for fans of Japanese architecture and decor.
10. Omicho Market
With around 180 shops and stalls, this Japanese fresh food market is a foodie's paradise.
The atmospheric market first opened in 1721 and contains many different types of shops to explore – from the best Japanese seafood and fresh fruit, to clothing, flowers and restaurants.
Nicknamed "Kanazawa's kitchen", the Omicho Market's highlights include fresh oysters, local sake stores, and delicious seafood and rice bowls. The market is a 15-minute walk away from the Kanazawa train station, and you're sure to find plenty of free food samples if you're peckish.
11. Phonograph Museum
The phonograph was the world's earliest commercial medium for producing sound. You may also know the phonograph as the gramophone or record player in its newer, later forms.
Kanazawa Phonograph Museum is a fascinating look into the history of the phonograph. There are 240 phonographs in the museum, alongside 20,000 SP records. You can hear regular demonstrations of the eerie recordings, including some extremely old and famous ones.
The museum also features a self-playing piano and features hands-on classes and concerts.
12. Nagamachi Neighbourhood
Kanazawa's famous samurai district, this beautiful area contains preserved mansions, gates and cobblestone streets. As well as the Nomura Family Samurai House, you'll find souvenir shops and cafes dotted around. The district is perfect for photographers, with unique architecture.
The neighbourhood has been restored and preserved to look just like it did in the times of samurai, with interwoven canals, gardens and traditional houses. Remember to take a camera.
Look out for the neighbourhood's walking tours to hear stories about the area's interesting past.
13. Prefectural History Museum
Want to learn more about Ishikawa, the prefecture Kanazawa is in? Step right into this museum.
The Ishikawa Prefectural History Museum is dedicated to the prefecture's history and culture. There's a decent audio guide in English, but it's better to get help from a Japanese speaker.
The museum features a mixture of permanent and temporary exhibitions, where you can learn about Ishikawa in ancient and modern times. You'll find interactive displays, alongside many artefacts like swords, crafts and taxidermy animals. A great place to spend a quiet hour or so.
14. Kanazawa Station
Like many Japanese stations, Kanazawa Station is more than just a place to leave or arrive at Kanazawa. It's one of Japan's most aesthetically pleasing train stations, with a unique design.
The station is regularly listed as one of the world's most beautiful train stations. It features a structure reminiscent of a traditional Torii gate – the entrance to a Japanese Shinto shrine. Many tourists like to take photos of the station's gate, and it emphasises the spiritual side of the city.
The station has many tasty places to eat, alongside many boutique shops and even a hotel.
15. Dolls Museum
Dolls are very popular in Japan, and this wonderful museum has them in all shapes and sizes.
The museum is built like a traditional tea house, and is filled with beautiful Japanese dolls from many eras. Dolls play an important part in Japanese culture (they play a part in various festivals and in theatre), and this museum shows the sheer scope of their types and why they're so loved.
Look out for the guided tour, where you can find out about the individual dolls in more detail. Highlights include old dolls from the Edo period, alongside stunningly delicate ceramic dolls.
16. Hanayome Noren Sightseeing Train
With just two carriages for 52 people, this unique train is decorated to feel like a Japanese luxury hotel on wheels. Its exterior features a red, black and gold pattern, reminiscent of lacquerware.
The train runs from Kanazawa train station to the hot spring resort of Wakura Onsen.
It takes around an hour and a half to get to the onsen resort, and the journey is very scenic. One carriage features eight private booths, ideal for getting a little privacy as you enjoy your journey. The second carriage is more spacious – ideal for a party of people or hosting a special event.
17. Ochaya Shima
One of Kanazawa's most unmissable attractions, this historic geisha house is now a museum. Built in 1820, the museum has a beautifully preserved interior and many artefacts that belonged to and were used by the geisha – such as clothing, accessories and musical instruments.
Geisha are still misunderstood by many, so this museum is a must-visit to understand their lives. In its heyday, the house's geisha would entertain wealthy patrons with games, poetry and dance.

The house has two levels to explore, alongside a beautiful garden and a matcha tea room.


18. Gyokusen-immaru Garden
Although not as grand as the Kenrokuen garden, this lush green space is well worth a visit.
The garden is newly restored, and features ponds, bridges, a waterfall, manicured lawns, and plenty of trees and plants. It's perfect for a stroll, or for just relaxing with a picnic or book in the sunshine. There's also a tea pavilion overlooking the gardens, with tourist-friendly staff.
At night, the garden is lit up and there's a little show set to music. The garden is over 400 years old and has been passed down through generations. Best of all, the gardens are free to enter.
19. Prefectural Museum of Art
Also known as IPMA, this gallery brings together the best of Ishikawa's historic artworks. An alternative to the city's contemporary gallery, this museum gives a glimpse into "old Japan".
The museum is small but packed with high-quality exhibits and an emphasis on decorative arts.
Highlights include the preserved Edo pieces, a fine collection of incense burners, and many exquisite crafts. Some of the works are hundreds of years old and all are a pleasure to look at. Don't forget to exit through the gift shop – there are some wonderful local art pieces to buy.
Ready to create your Kanazawa itinerary?
We hope you feel more prepared after reading our list of things to do in Kanazawa! If you're a tourist creating your itinerary, remember to check out our guide to places to visit in Japan.