20 Best Things To Do In Kyoto
What are the best activities in Kyoto? The city is known for its temples, shrines, palaces, gardens and nature. Considered the cultural capital of Japan, you'll never be at a loss of things to do in Kyoto!
If you're thinking of visiting or working in Japan, it should be high up on your list of places to visit.
It's not just the culture capital. Kyoto used to be the actual capital city of Japan too. You may have noticed that Tokyo and Kyoto are anagrams. Meaning, Tokyo can be spelt by rearranging the letters in Kyoto.
Kyoto was the capital of Japan for over 1000 years. The word Kyoto translates to "imperial capital". In the past, anywhere the emperor decided to live or move to became Kyoto.
During a rebellion in 1864, around 28,000 homes and properties in Kyoto were destroyed by fire. As a result, the emperor at the time decided to move his capital to Edo. It was renamed Tokyo, which means "east imperial capital".
The fact that Tokyo and Kyoto are anagrams in English is just a coincidence. In Japanese, Tokyo is spelt 東京都, and Kyoto is spelt 京都. The only difference is the additional character 東 at the start of Tokyo, which translates to "east".
And with that fun fact, let's dive in. Keep reading this post to find out about 20 of the best activities in Kyoto.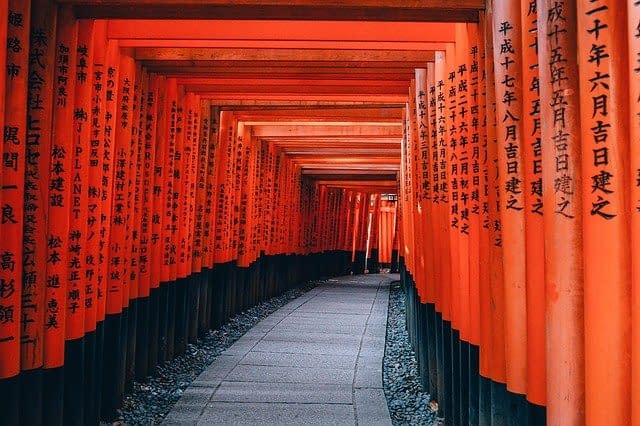 1. Torii Gates At Fushimi Inari Shrine
The Torii Gates are a spectacular sight you should see and one of the best activities in Kyoto. You may recognise it as the shrine was used as a film set for the film "Memoirs of a Geisha".
The brightly coloured gates seem to go on forever, meandering through the forest up to incredible viewpoints where you can see the whole city.
At first glance, you may think the gates are an orange colour, but they are actually a shade of red. The colour of the gates symbolises the colour of the god, Inari, a god of grains and abundant crops. You can think of it as the colour of the sun.
Good crops are associated with a steady income, and Inari also became known for success in business.
Torii is thought of as a gate to a place where the gods exist. At Fushimi Inari Shrine, they are all over the place, making it a very spiritual location.
The shrine is most famous for a thousand gates along the paths, but there are actually just under 10000 gates across the mountain.
All of the gates are donated. People donate a gate to have a wish come true or, if their wish has been fulfilled, they donate a gate to say thankyou. Check out our guide to visiting shrines in Japan here.
It's more of a hike than a temple visit. The walk takes around an hour and a half, but it can be longer if you take your time. You pass through many small shrines and rest huts on the way to the top.
The shrine is open 24 hours and is lit up at night. It can get very busy during the day, so lots of people prefer to visit at night. At the top, there is a stunning viewpoint of the city.


2. Gion & Southern Higashiyama
If you're looking for a true taste of traditional Kyoto culture, visiting Southern Higashiyama should definitely be on your list of things to do in Kyoto.
It has some of the most beautiful and well-preserved streets in the city. Wooden buildings line the narrow stone roads, and paper lanterns light the way.
This area is a great place to wander around and experience traditional Japan. You are also likely to see people roaming the area in kimono and traditional Japanese attire.
March is a great time to visit this area. During the Higashiyama Hanatouro Festival, the streets are lit up by thousands of lanterns. There are also special events and illuminations at the temples.
Gion is famous for being the main geisha district in the area. As you wander through the streets, you may see them going to their appointments. If you see them, try to keep your distance and be respectful. They are often crowded by tourists, which can irritate them.


3. Kiyomizu-dera Temple
Kiyomizu-dera is a temple that was founded in 778AD. Its incredible hillside location offers striking views across the city.
The large wooden main hall is an amazing sight. It was built completely without nails. Inside it, you can view a statue of the eleven faced thousand-armed Kannon.
The name Kiyomizu-dera means pure water temple. It originates from Otowa Waterfall, which you can see under the main veranda of the temple. There are three streams of water, and many believe the special water can bring academic success, benefit relationships and help you live longer.
This is definitely one of the best things to do in Kyoto, especially if the water brings you good fortune.


4. The Philosopher's Path
The philosopher's path is a 1.2-mile long path that runs between The Nanzen-ji and Ginkaku-ji temples in Northern Higashiyama. It's one of the most relaxing activities to do in Kyoto if you like walking.
The beautiful path runs along a canal that is lined with cherry trees. So, as you can imagine, cherry blossom season is the best time to visit.
Its name comes from a man named Nishida Kitaro, a famous philosopher who is said to have used the gorgeous path for his daily meditation. Want a longer walk? Check out our favourite Japan hikes.


5. Nanzen-ji Temple
As you've probably gathered by now, temples make up a large chunk of the Kyoto attractions. This Nanzen-ji temple lies at one end of the philosopher's path. It is located at the bottom of the forested Higashiyama mountains and is one of the most important zen temples in all of Japan.
It is the head temple in the Rinzai sect of Japanese Zen Buddhism.
It's free to enter the temple, and the first thing you'll see is the huge Sanmon entrance gate and aqueduct that was built in the Meiji period. You can climb up to the Sanmon gate's balcony, where you will be greeted by a view of the whole city.
On the grounds, you can blissfully wander the many beautiful grounds including the zen rock gardens. There are also a few sub-temples located around the main temple. These are equally beautiful and worth a visit.


6. Ginkaku-ji Temple
Another popular Kyoto attraction lies at the other side of the philosopher's path to Nanzen-ji.

Ginkaku-ji temple is another beautiful location. With magnificent halls and gardens, its name means silver pavilion.
The temple was built in 1482 by shogun Ashikaga Yoshimasa and was modelled after Kinkaku-ji (The Golden Pavilion). Located at the foot of a forested mountain, it is an outstanding example of Japanese landscape architecture.
Ginku-ji also consists of 6 other incredible temple buildings, a gorgeous moss garden and a meticulously groomed dry sand garden.
There is a circular route that can be walked around, enabling you to view and enjoy all of the temple buildings and grounds.


7. The Golden Pavilion At Kinkaku-ji Temple
Known as the golden temple, Kinkaku-Ji is one of the most beautiful Kyoto attractions.
The incredible golden pavilion lies before a large pond that is scattered with island trees. The top two floors of the pavilion are covered entirely in gold leaf.
The temple was originally the retirement villa of the shogun Ashikaga Yoshimitsu. After his death, it became a zen temple of the Rinzai sect, as outlined in his will.
The golden pavilion has actually been burned down multiple times throughout history. It was destroyed twice in the Onin War and once more recently in 1950. A 22-year-old novice monk with mental health issues set it on fire. He was jailed, and it was rebuilt to its current structure in 1955.


8. Otagi Nenbutsu-ji Temple
Otagi Nenbutsu-ji is a quiet temple in the hills of western Arashiyama. It is famous for its collection of 1200 Raken statues representing disciples of the buddha.
All of the statues were carved by visitors to the temple under the guidance of the head priest between 1981 and 1991. Every statue was carved by a different person, meaning, they're all unique.
All of the statues were carved by amateurs, but they are all of great quality. The head priest must have given some superb guidance!
A fun visitor game is to try and find the statue that most resembles yourself. Why not give it a go when you visit.


9. Jojakko-ji Temple
Located to the side of Mt Kokura on the west of Kyoto, this temple is famous for beautiful autumn leaves.
With fewer crowds than other temples and large, beautiful hillside gardens, it's a very peaceful experience. Except when you visit in the Autumn, as it can be very busy.
Whilst it's not the most incredible temple in Kyoto, you'll probably enjoy your time unwinding at the quiet pagoda, surrounded by greenery.


10. Kodai-Ji Temple
Established in 1606 in memory of Toyotomi Hideyoshi, a famous Japanese samurai and daimyo, Kodai-ji is another one of the best things to do in Kyoto.
This zen Buddhism temple was constructed with huge financial support. The main buildings of the temple have richly decorated interiors and are surrounded by beautiful zen gardens.
Within one of the gardens lies a stunning memorial hall that you can admire. There is also a beautiful bamboo grove on the return path to the temple buildings.


11. Togetsukyo Bridge
Located in Arashiyama outside of Kyoto city, this 155-metre bridge spans the Katsura river.
The incredible Kyoto attraction was originally built during the Heian period (794-1185) and is a main site for the Hanatouro festival that is held in December every year. The bridge is illuminated during the festival at night.
Surrounded by historic monuments and rich nature, it's a popular location for period films.
The name "Togetsukyo" means "moon crossing". The bridge got its name during a boat party under a full moon. Emperor Kameyama thought the moon looked like it was crossing the bridge.


12. Hozugawa River Cruise
If you like boat rides? Taking a sightseeing boat trip down the Hozugawa river is one of the best things to do in Kyoto.
The cruises use traditional flat bottomed wooden boats, and the boatmen guide them with oars and bamboo poles.
The relaxing cruise takes around two hours as you lazily float down the river and soak up the incredible scenery.
The boatmen are said to make it a really fun experience, bringing a great sense of humour and lots of knowledge of the river and its history.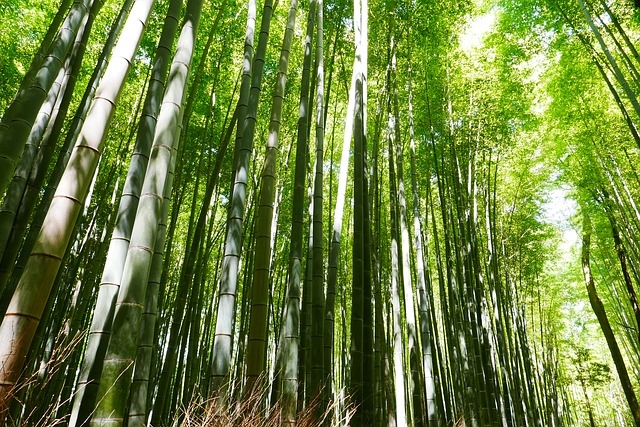 13. Bamboo Grove
The bamboo grove does what it says on the tin. It's a natural forest of bamboo in Arashiyama covering 16 square kilometres of land.
It's one of the most popular Kyoto attractions in the city. So, as you can imagine, it gets very busy with tourists.
Despite the crowds, standing amongst the tall stalks of bamboo is a truly unique and otherworldly experience. It's definitely one of the best activities in Kyoto if you can miss the crowds.


14. Tenryuji Temple
Tenryuji temple is the most important temple in the Arashiyama district. It's actually ranked first amongst Kyoto's five great zen temples.
Registered as a world heritage site, it was built in 1339 by shogun Ashikaga Takauji. The temple was dedicated to Emperor Go-Daigo, who had just passed away.
When you visit, you can experience the temple's stunning gardens designed by Muso Soseki and the traditionally beautiful temple halls. Located at the foot of the forested Arashiyama mountains, they're surrounded by beautiful pine trees.


15. Ine no Funaya
One of the most beautiful and best things to do in Kyoto, Ine no Funaya is a seaside village in the "Kyoto by the sea" area.
Lying on the coast of the sea of Japan are the famous wooden boat houses known as "funya" which have unusual architecture.
The bottom floor of the buildings have boats and fishing gear, whilst the upper floors are living areas.
The bottom stories nearly line up with the waterline, and the houses look like they are floating on the bay.
The boathouses are historic buildings under Japan's Historic Preservation Act.
As you can imagine, being such a unique and beautiful location, it's a popular place for filming TV shows and movies.
If you're looking for things to do in Kyoto and this piques your interest, you can book tours where you see the houses from a boat, enter some selected boathouses, experience fishing or learn about Ine's history on a cycling tour.


16. Try The Matcha
Matcha is one of the main Kyoto attractions. Matcha is a finely ground powder that is made from specially grown and processed tea leaves. It's characterised by its distinctive green colour.
Kyoto is one of Japan's best producers of Matcha and green tea. In fact, nearly half of the tea is produced in a small town named Wazuka.
With such great matcha production nearby, it's no surprise that there are lots of teahouses in Kyoto where you can try matcha based food and beverages. It's a perfect way to have a rest during a busy day sightseeing.
If you're really interested in Tea and looking for things to do in Kyoto, you can visit Wazuka Tea Plantation and take part in various activities, including tours, tea picking and tea ceremony lessons.


17. Participate In A Tea Ceremony
Kyoto is famous for its tea, and attending a tea ceremony is one of the best things to do in Kyoto. Due to the area's Zen Buddhist culture, tea ceremonies in Kyoto are especially sacred. The tea ceremony ritual actually originated here.
You can unwind and forget about all your worries in a zen ceremony where you will be able to drink a bowl of tea made to perfection. In some tea ceremonies, you will also be able to borrow and wear a kimono.


18. Kyoto Tower
Kyoto tower is one of the few modern Kyoto attractions. It's the tallest man-made structure in the city. The steel observation tower stands around 130metres tall and is designed to look like a Japanese candle.
An observation deck at 100 metres high up the structure has capacity for 500 people. On the deck, you can experience a breathtaking 360 view of the city and the surrounding areas.
It is lined with free telescopes that give you an even better view. There are also touch screen information modules that let you scroll through a digital version of the city and give you more detail on what you are looking at.


19. Monkey Park Iwatayama
Do you like monkeys? If the answer is yes, the monkey park should definitely be on your list of things to do in Kyoto. You'll see monkeys swinging from trees and running around the paths.
If you want to get a little closer to them, you can buy a package of food from the nearby shop. This will make you very popular.
Make sure to keep your wits about you and your bag zipped shut. These monkeys are known to try their luck at stealing your things.


20. Relax In The Kurama Hot Springs
The best onsen in the Kyoto area is in Kurama, a quaint town in the mountains. A 30-minute train ride will take you here, where you can relax in pure bliss.
The onsen has a heated outdoor bath and is surrounded by stunning forested mountains. It's a perfect place to unwind and relax. The indoor baths are great too. If it's snowing, you're in luck. It's an exceptional experience.
There is also a Buddhist temple you can visit, past which there are steep hiking trails where you can commonly see animals, including deer, monkeys and more.
What Will You Do First In Kyoto?
Now you know a little bit about some of the best things to do in Kyoto, which ones will you try first? If you're thinking about being a teacher in Kyoto, why not head over to our main website and find out how to apply for a teaching job in Japan.