Japan Tips

Life & Culture
Tokyo Subways – Top Tips For Tourists
The Tokyo Subway is the busiest subway in the world. Every day, around 9 million people use underground trains to manoeuvre Japan's capital city.
It started from humble beginnings though. The first underground railway in Japan opened under Tokyo Station in 1915, exclusively for use by the railway post office.
Now, more than 280 stations exist to help millions of people efficiently navigate the city. And, most stations along the subway even have free wifi.
If you're considering visiting or working in Tokyo, you'll likely be using the Tokyo underground at some point.
Keep reading below for our top tips for using the subway in Tokyo.
What is the Tokyo subway?
The Tokyo Subway is an underground railway system that enables people to quickly travel around Tokyo.
There are two subway train line operators in the city. One is Tokyo Metro Co. The other is Toei transportation. Tokyo Metro is privately owned and operates 9 train lines. Toei is operated by the local government and operates 4 train lines. More details on each further down.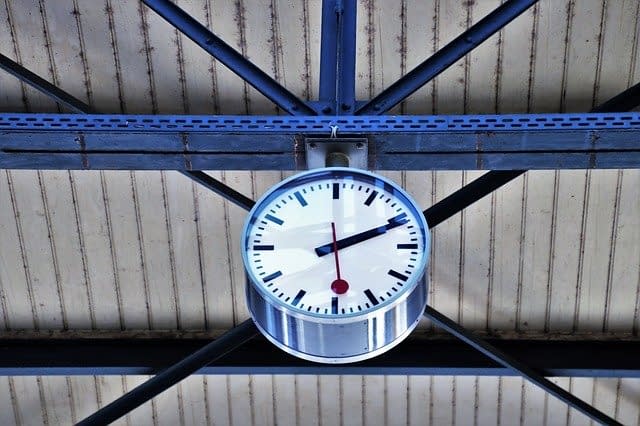 Is the Tokyo Metro open 24 hours? 
The Tokyo Metro is open for most of the day, but not 24 hours.
Whilst times may vary slightly, the first train usually starts at 5 am, and the last train usually departs at midnight.
In the times when trains are active, they are very efficient and punctual.
Tokyo Subway trains usually arrive every 3 to 6 minutes.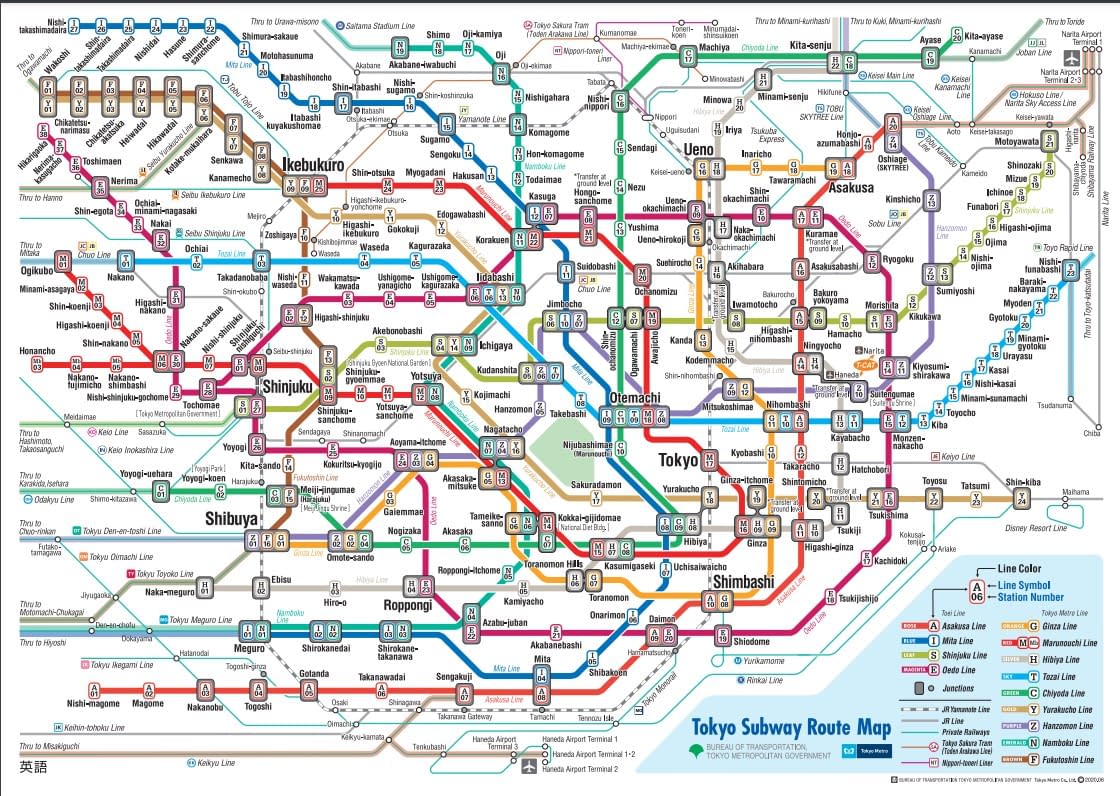 Tokyo subway map
Plan your journey around the Tokyo Subway with this Tokyo Metro Map. Click this link to the Official Tokyo Subway Map to view it in more detail.
There are 13 lines on the Tokyo subway, and many people find the map quite complicated. Meaning, it's a good idea to study it before you catch any trains.
Each station on the subway has a station number. This consists of a letter, colour and number. 
The letter is the first letter of the name of the line you are on. For example, the letter for the Ginza line is G. The colour also represents the line. The colour for the Ginza line is orange, whereas the Hibiya line is grey.
The number relates to which stop the station is. For the Ginza line, the first stop is number 1, and the last stop is number 19. The stops are listed in chronological order. Different lines have different numbers of stations.
Train tickets
There are lots of options for Tokyo subway tickets, depending on your travel needs. Read below about some of the popular options and top tips for travelers.
Is the Tokyo subway expensive?
Regular Tokyo Subway Tickets cost 170 ¥, 200 ¥, 240 ¥, 280 ¥, or 300 ¥, depending on the distance you are travelling.
You can buy these one-way tickets from multilingual machines at every subway station.
Keep in mind that there are two subway operators in Tokyo. These are Toei and Tokyo Metro. You will need different tickets for each operator when you buy regular single-journey tickets.
If you use the subway a lot, there are various deals on passes that will save you money over paying for each journey separately.
Tokyo subway tickets
If you are going to be making multiple journeys, you should consider a Tokyo subway ticket, also known as a Tokyo metro pass.
Toei and Tokyo Metro created the pass for tourists. It grants you access to the whole subway and saves you money over buying individual tickets.
The main options for a Tokyo metro tourist pass are a 24-hour, 48-hour, or 72-hour ticket.
A 24-hour ticket, for example, will allow you to travel as much as you like on the Tokyo underground for 24-hours.
These are the current prices:
24-hour Tokyo Subway Ticket – Adult: 800 yen, Child: 400 yen
48-hour Tokyo Subway Ticket – Adult: 1,200 yen, Child: 600 yen
72-hour Tokyo Subway Ticket – Adult: 1,500 yen, Child: 750 yen
IC cards
IC cards are rechargeable cards that you can top-up with funds to pay fares on public transport.
You can use them to quickly touch and go through ticket barriers. They help make travelling a little smoother too.
These pre-paid cards are very useful because you can use them with different transport companies. You can travel on the Tokyo Metro and Toei lines without having to buy separate tickets.
You can even use them to pay at select vending machines, shops and restaurants too.
Tokyo Metro & Toei Transportation
As mentioned briefly above, there are two subway operators in Japan.
One is operated by Tokyo Metro and the other by Toei transportation. Tokyo Metro is privately owned and Toei is owned by the Tokyo Metropolitan Government.
Each of these companies offers a variety of tickets and deals for riding their lines.
Tokyo Metro is the larger of the two. They run 9 train lines and transport over 7 million passengers a day over 195km (121.2 mi) of track and between 180 subway stations.
Tokyo Metro Lines:
Ginza Line
Marunouchi Line
Hibiya Line
Tōzai Line
Chiyoda Line
Yūrakuchō Line
Hanzōmon Line
Namboku Line
Fukutoshin Line
Toei, on the other hand, operates 4 lines that connect 106 stations over 109km of track (67.7 mi). They transport just under 3 million people every day on average.
Toei Transport lines:
Tokyo subway tips
Read the below advice to help make your time on the Tokyo subway as hassle free and enjoyable as possible.
Line up at designated spots and wait patiently for other passengers to leave the train before you get on. This makes the subway experience better for everyone.
Avoid eating, drinking, talking on the phone, singing or anything else that might annoy other passengers. There are likely lots of people travelling to and from work, so try to be as respectful as you can.
Try not to take up too much space. Tokyo subways are notoriously crowded. So, try to minimise the amount of space you take up.
Be polite. Make accommodations for elderly, pregnant and disabled passengers. Be nice, give them room and maybe even your seat.
Avoid rush hour. The Tokyo subway is the busiest subway in the world. And, as you can imagine, it's not very comfortable at peak times, especially if you're claustrophobic.
Subway passenger pushers
How do you feel about being forcefully pushed onto a train? If you're not so keen on the idea, it's probably best to avoid Japanese subways at rush hour.
The Japanese rail network is renowned for its punctuality and superiority. And, they take punctuality very seriously. Despite trains arriving every 3 to 6 minutes, they are still extremely overcrowded.
The trains are so overcrowded that the stations employ specific staff known as "Oshiya" or "pushers". Their job is to force passengers onto the train so the doors can close and the trains can run on time.
The whole thing looks extremely uncomfortable. You can see a video of station staff cramming people onto a train above.
Women-only train carriages
During peak times on the subway, there have been issues with women being groped and being made to feel uneasy by male passengers.
For this reason, the Japanese metro system actually has female-only carriages on many trains. Young male school students, disabled people and their assistants are also commonly allowed access to these safe spaces.
Ready to catch a train?
Now you know about the Tokyo subway, are you feeling excited to jump on a train?
They're very useful for commuting. If you're thinking about working in Tokyo, you might find yourself using them a lot.
Why not head over to our job listings page and see if you like the look of any of our current jobs.