Top 26+ Most Beautiful Places to Visit in Japan
Across the nearly 7,000 islands that call Japan home, there are natural and man-made wonders spanning thousands of years of history.
From the ancient shrines and temples of old, to the futuristic skylines of today, to the national park forests and lakes whose beauty resides timelessly, you have to see the most beautiful places in Japan to believe them.
And see them you should. Spend any period of time in Japan and we're sure you'll come away with the same thought: Japan is one of the most beautiful countries in the world.
So, without further ado, here are the 26+ most beautiful places in Japan, although we could have picked a lot more!
26 most beautiful places in Japan
1. Mount Fuji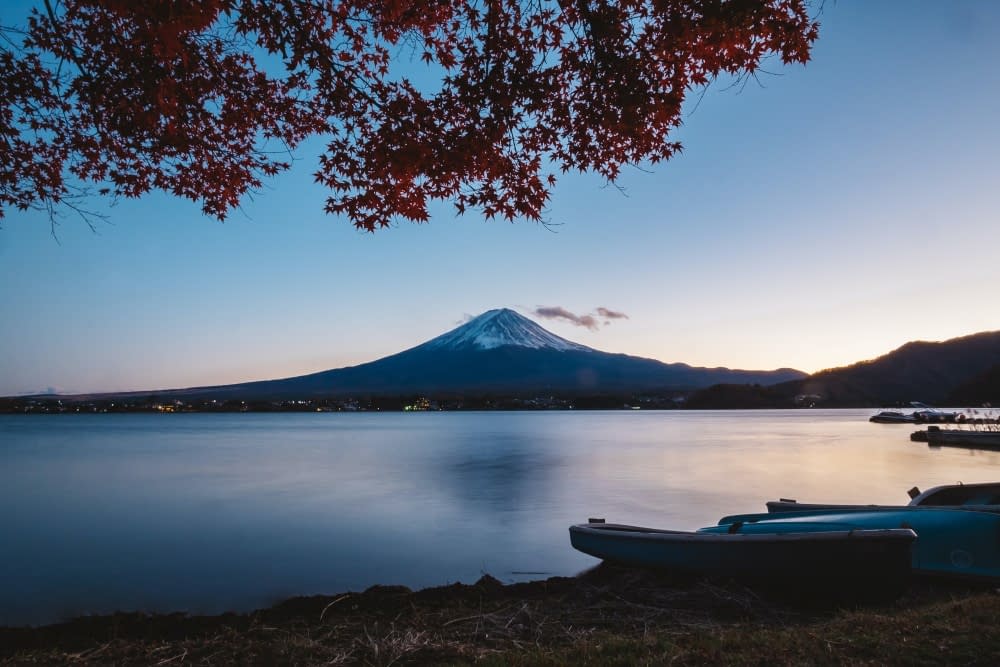 There's a reason why, when many people think of Japan, the iconic image of Mount Fuji soaring up into the clouds is never far from mind. That is because this famous mountain, otherwise known as Fuji-san, is as beautiful as it is imposing.
Standing as the tallest mountain in Japan at 3,776 meters tall, it is located on the border between Shizuoka and Yamanashi prefecture, and contains numerous Japanese hiking trails for hikers of all abilities. There are many ways to enjoy the magnificent views on offer from this natural wonder.
How to visit: In Yamanashi prefecture, the Fuji Five Lakes area is one of the best spots for getting a glimpse of the mountain. The closest train station for this is Kawaguchiko Station. For the closest train station to the mountain itself, Gotemba station will drop you off close to the mountain, from where you can catch a bus to the beginning of the climb at Subashiri 5th station.
When to visit: If you are looking to climb Mount Fuji, bear in mind that the climbing season only lasts from July until September. Trails and huts are closed at other times of the year, so attempting to climb it in another period is likely to be dangerous.
2. Togetsu Bridge (Kyoto)
Originally built in the 9th century, Togetsu Bridge in Kyoto is 155 meters long and straddles the Katsura river. With beautiful cherry-blossom trees on both sides, bridges don't get much more photogenic, making this one of the most beautiful places in Japan.
You might also like to know that Togetsu means 'moon crossing' in Japanese!
How to visit: Luckily, visitors to Togetsu Bridge don't have to travel too far off the beaten path to enjoy its wonders. That's because it is located at the western edge of Kyoto, which is one of Japan's most populous cities. From Kyoto's main station, take the JR Sagano line to Arashiyama Station. Or, take the Keifuku Arashiyama Main Line to Arashiyama Station. To walk across the bridge takes around one minute.
When to visit: Togetsu Bridge is most popular in spring and fall. This is because this is the time when the cherry-blossom trees really come to life, and the colours of the greenery are at their most breathtaking.
3. Takachiho Gorge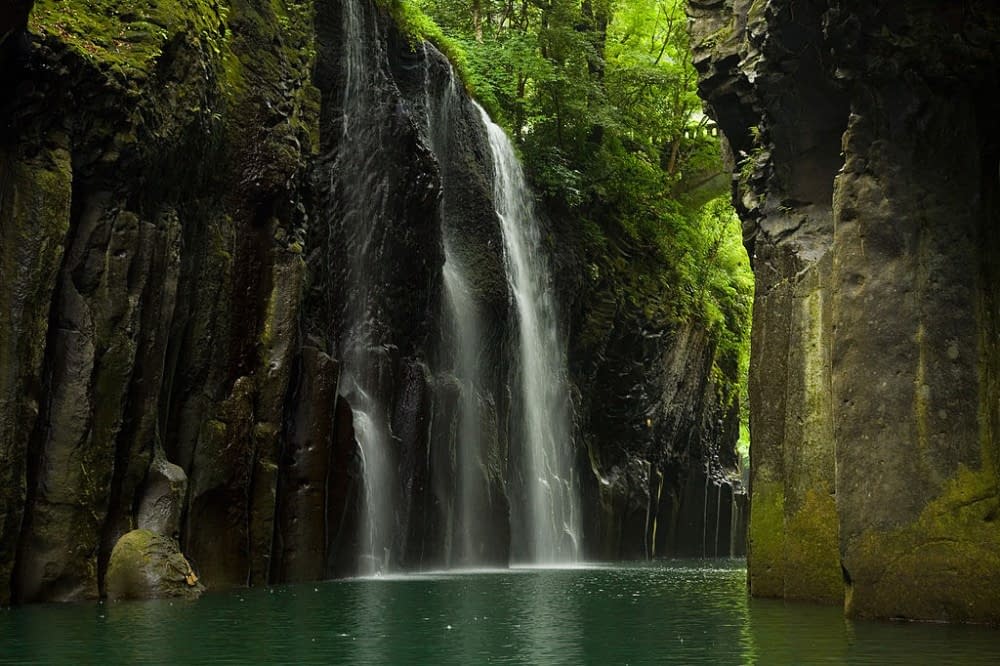 Residing in the northwest part of Miyazaki prefecture, Takachiho Gorge is a naturally occurring series of rising rock columns and splashing waterfalls that spill off the rocks into the river below. Many people choose to row along the river between the rock faces.
Takachiho Gorge has strong connections with Shinto mythology and there are numerous shrines and other historical sites nearby.
How to visit: The quickest way to Takachiho Gorge is to take the Shinkansen, train, or plane to the nearest transportation hub, which include Fukuoka, Kumamoto, or Miyazaki. You can take the direct buses to Takachiho from there. The one-way Shinkansen from Fukuoka to Kumamoto costs around 4,700 yen and takes 30 minutes.
When to visit: You may find when visiting Takachiho Gorge that it is most beautiful in the summer and fall, when the leaves have not yet fallen and the colours of the grassy rocks are at their most rich. Try to visit the gorge in the early-to-mid morning, as this is the time when the sun is in the right position to cast a warm glow onto the river through the rocks.
4. Takeda Castle
Often known as the closest Japanese equivalent to Machu Picchu, Takeda Castle is the site of an ancient ruin that is thought to have been built in 1411 but was abandoned at some time in the 17th Century.
Due to its elevated altitude, from the right angle it can seem as if the castle is floating in the clouds. Catching it at the right time of year and seeing this effect can be magical, so give it a try!
How to visit: Visiting Takeda Castle is likely easiest by car. After driving to Ritsuunkyo's parking lot, a steep dirt trail winds up the mountain, with multiple observation decks along the way. The lower decks are only a few steps away from the parking lot.
When to visit: The optimum time to see the 'floating castle' effect is around sunrise in October and November, when a sea of clouds can be seen on one out of every three mornings on average. The best vantage point is from Ritsuunkyo, which is located on the mountain slopes opposite the castle.
The closest train station is Takeda Station which is virtually at the base of the hill.
5. Shodo Island
Shodo Island has become more and more popular over recent years as an Instagram photo-location haven, owing largely to its mild climate, vast beaches and beautiful olive trees. Angel Road is one of the main attractions of Shodo Island, with three smaller connected islands that can be traversed by foot at low tide.
Besides this obvious draw, there are also plenty of Japanese historical sites to enjoy, including ancient temples, centuries-old towns and more. Taking a trip into the highlands is also a treat, with beautiful greenery as far as the eye can see.
How to visit: Pretty much the only way of visiting Shodo Island is by getting a ferry from a number of Western Japanese ports, including Takamatsu, Okayama Prefecture, and Hyogo Prefecture. Be careful with your planning here though, as different companies offer services at different times which are easy to mix up.
When to visit: The best time to experience the warm, relaxed atmosphere of Shodo Island is during the summer months of June, July, August and September. However, going a bit earlier in the spring will also be well worth it.
6. Miyako Island
Located around 300 kilometers southwest of the main island of Okinawa, Miyako Island is remote and surrounded by warm oceans – perfect for snorkelling, swimming and relaxing on the lush white beaches.
One of the most striking features of the island is the spectacular Irabu Bridge, which is the longest bridge in Japan, spanning over 3,500 meters. For a Japanese experience not quite like anything else, Miyako Island is the place to go.
How to visit: To get to Miyako Island, you need to catch a direct flight – luckily you can catch one of these from pretty much all of Japan's big cities, including Tokyo, Osaka and Nagoya. The flight from Okinawa's main island only takes about 45 minutes.
When to visit: Like all locations that are popular for their warm weather and sandy beaches, the best time to visit Miyako Island is in the period from May until October. However, there is more chance of rain if you are to visit in August or September.
7. Ogasawara Islands
Located about 1,000 kilometers south of the main island of Tokyo, Ogasawara Islands (sometimes called Bonin Islands) are a cluster of remote islands filled with unique ecosystems. For this reason, it was designated as a UNESCO World Heritage Site in 2011.
Chichijima and Hahajima are the only inhabited islands among this 30-strong cluster, but they are a very popular tourist attraction for people wanting to escape the hustle and bustle of modern life. You might even see the endangered Bonin flying fox, just one of the many endangered species native there and one of the coolest animals in Japan.
How to visit: The only way to visit the Ogasawara Islands is by ferry. Luckily, there is a 24-hour long ferry ride that departs from central Tokyo. More specifically, this is the Ogasawara-Maru ferry from Tokyo's Takeshiba Terminal to Chichijima Island's Futami Port.
When to visit: The best time to visit Ogasawara Islands is around early summer, so likely June or July. This is because temperatures can get chilly in winter, whereas at the height of summer, the islands can be swarmed with tourists. Go a little earlier, and you get the best of both worlds.
8. Himeji Castle
Next on our list of 26+ most beautiful places in Japan is Himeji Castle. Situated in Hyogo prefecture, this famous building is considered one of the three premier castles in Japan – the others being Matsumoto Castle in Nagano and Kumamoto Castle in Kumamoto. It is also considered the best surviving of Japanese 17th-century castle architecture.
Unlike most, if not all, other castles in Japan, the exterior of Himeji Castle is completely white, which is just one of the many reasons it is enduringly popular with tourists and locals alike. Indeed, it is both a Japanese National treasure and a UNESCO World Heritage Site.
How to visit: Himeji Castle is located in the city of Himeji, which is easily reachable from Osaka by train. To reach the castle, all you have to do is walk the 1 kilometer from the station's north exit, which is a 15-20 minute walk. Or, there is a five-minute bus ride available, which is about 100 yen one way.
When to visit: When visiting Himeji Castle, you can expect large crowds year-round, such is the popularity of the place. With this in mind, you may find it easier to visit in some of the quieter months, such as December, January, or June. Blooming season occurs in early April, which is a particularly great time to soak in the castle's beauty.
9. Lake Towada
Lake Towada marks the border between the two prefectures of Aomori and Akita, and is popular with tourists for its tranquillity and picturesque surroundings. It is a dual-crater lake that was formed following a volcanic eruption.
Among the many activities you can partake in around Lake Towada, many people go rowing, hiking and skiing. The area is also popular with artists who paint the beauty of the lake and its striking reflections.
How to visit: To get to Lake Towada either by car, or by taking a train followed by bus. In the city of Aomori, you can take the train to Shichinohe-Towada Station on the Tohoku Shinkansen, and then take the bus to Towada. Shichinohe-Towada is approximately three hours and twenty minutes by Shinkansen from Tokyo and 35 minutes by bus.
When to visit: There's no doubt that Lake Towada is beautiful all year round. However, to really get the most out of your visit, you may choose to visit in the fall, when the falling leaves produce a stunning backdrop. Mid-October to Mid-November may be the best time of all to take a trip.
10. Shibuya Crossing
Right in the heart of Shibuya, Tokyo, Shibuya Crossing is world-famous for the sheer numbers of people who cross it every day. Located just next to Shibuya station, around 3,000 people on average can cross it at a time, which makes it the world's busiest intersection.
Just like Times Square in New York and Piccadilly Circus in London, advertising screens are mounted on the buildings surrounding the crossing. Hachiko Memorial Statue, which stands between the station and the intersection, is a popular meeting point for people in Tokyo.
How to visit: Shibuya Crossing is very easy to get to should you want to visit. All you have to do is take any of the many connecting trains across Tokyo to Shibuya station and walk the short distance to the crossing. These connecting trains include the major city loop and the JR Yamanote Line.
When to visit: In truth, there is no bad time to visit Shibuya Crossing, as it is usually crowded all the time! However, if you are in a mood to see the crossing at its busiest, you should go at 7pm on weekdays. Once a year, at Halloween, the crossing will be full of people wearing all sorts of fun costumes.
11. Unkai Terrace
Near the center of the northern island of Hokkaido, Unkai Terrace is one of the most beautiful places in Japan for views and scenery. Standing at 1,088 meters, Unkai Terrace is an observation deck that allows visitors to look at clouds rolling beneath them.
In 2006, a 'cloud walk' opened, which brings all those who visit even closer to the clouds below. This has only added to the attractiveness of this amazing place, which draws in over a hundred thousand people each year.
How to visit: Despite its relatively remote location, Unkai Terrace is pretty easily accessible. To get there, you can take a train from Sapporo's New Chitose Airport or rent a car. If you're travelling by train, get off at Tomamu Station, changing at Minami-Chitose Station. This takes approximately 90 minutes.
When to visit: Unkai Terrace is only open from mid-May until the end of October. Be sure to check the weather forecast before you go, as you want to see the clouds in their best form. The gondolas up to the terrace are open from 4.30am until 7am.
12. Fushimi Inari Shrine
Undoubtedly one of Japan's most beautiful places is the Fushimi Inari Shrine, located in southern Kyoto. This orange-coloured shrine is particularly important for the Shinto religion, as it is the most prominent of all Shinto shrines dedicated to the god of rice, Inari.
The shrine is as historic as it is visually stunning – it was built even before Kyoto was established as capital in the year 794. Surrounding the shrine is a number of mountain trails which lead into the nearby countryside. One of these trails leads all the way up the holy Mount Inari, which, at 233 meters high, holds some fantastic views of the area.
How to visit: To visit the Fushimi Inari shrine, you can use the Japanese train network or bus from Kyoto city center. The shrine is located just outside JR Inari Station, on the JR Nara Line. You can also take a short walk from Fushimi Inari Station on the Keihan Main Line.
When to visit: If you're a traveller in need of flexibility, you're in luck with Fushimi Irani shrine. It is open 24 hours a day, which means you can dodge the large crowds by going early in the morning or late in the evening. In terms of months, the busiest time of year is usually mid-July to late-August, so you may wish to avoid that if possible.
13. Shirakawago Village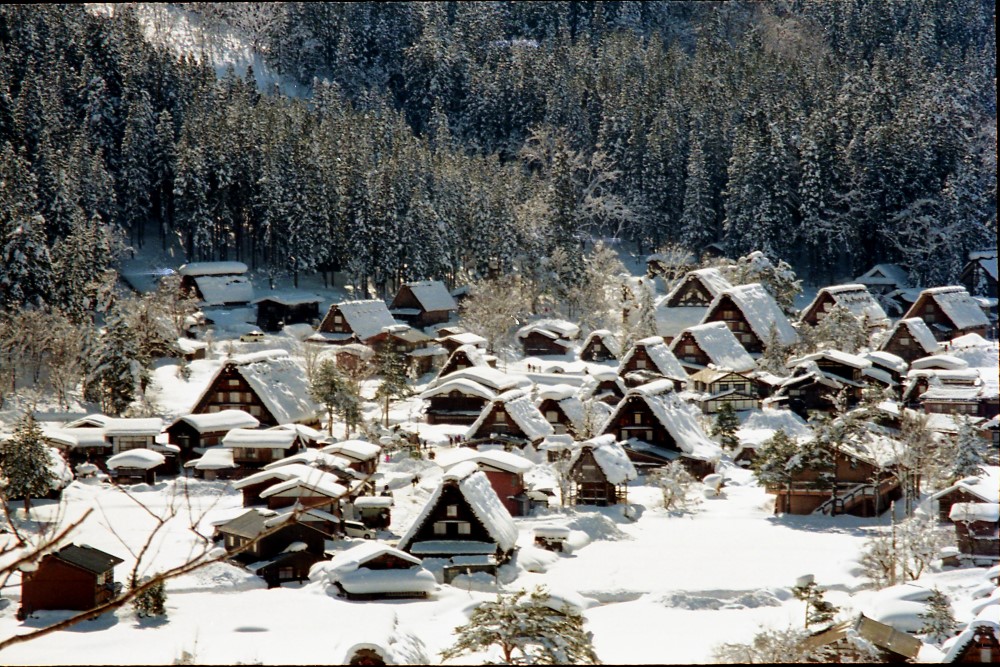 One of the first things you'll notice when you visit the central Japanese mountainous village of Shirakawago is the gassho-zukuri (prayer-hand) farmhouses. Often more than 250 years old, these hand-sculpted huts are designed to withstand the weight of heavy snow during winter, and stand alongside the regions' picturesque scenery as the main visitor attractions.
Farmhouse stays are a popular choice with tourists, as is visiting the local Ogimachi village castle, with spectacular views of the surrounding countryside. With options like these, it is little wonder that Shirakawago was declared a UNESCO World Heritage site in 1995.
How to visit: The main way that visitors get to Shirakawago is by bus. You can get buses from the center of Tokyo and Kyoto, which take a number of hours. You may have to change buses in order to reach specific villages within the region, such as Ogimachi, Ainokura and Suganuma.
When to visit: Like much of Japan, the spell-binding colours of fall at Shirakawago village only add to its beauty, which makes it a great time to visit. Meanwhile, the 'Winter Light-up Festival' takes place on selected weekends over the snowy season, and that's something you don't want to miss!
14. Tottori Sand Dunes
Although great expanses of desert-like golden sand may not be the first thing you picture when thinking of Japan, the Tottori sand dunes are there to prove Japan has everything! Spanning over 16 kilometers along the Sea of Japan coast, this natural wonder was formed due to currents washing sand back to the shore.
Located in Sanin Kaigan national park, the Tottori sand dunes are popular with horse and camel riders, while paragliding and sand boarding is also available for visitors to the area. You can also take a trip to the nearby Sand Museum, which is full of amazing sculptures.
How to visit: The Tottori sand dunes are located near the southern city of Tottori. To get there, take the red line of the 100 Yen Kururi Bus from Tottori Station and get off at bus stop number 14. The temple is also a 30-minute walk from the station.
When to visit: The best time to visit the Tottori sand dunes really depends on what you prefer. You have the option of going during the summer and sunbathing on the hot sand, or taking it in during fall, when temperatures are cooler but you may get a better chance at seeing some native crabs and other local wildlife.
15. Motonosumi Inari Shrine
Fancy walking through one of Japan's iconic torii gates? Well, how about passing through 123 of them! That's what you can do at Motonosumi Inari Shrine, which is widely regarded as the most picturesque of all Inari shrines.
Residing near the coastal town of Nagato, the torii gates here cascade down a dramatic cliffside trail, leading to a magnificent shrine right at the cliff's edge. Although not as ancient as some other Inari shrines in Japan (it was built in 1955), Motonosumi Shrine is worth a visit for the glorious views alone.
How to visit: The easiest way to get to Motonosumi Inari Shrine is by car or taxi, so if you are new to Japan it might be worth renting a vehicle. Alternatively, the shrine is about 20 minutes from Nagato-Furuichi Station, or about 40 minutes from Nagato-shi Station by taxi.
When to visit: There is no bad time to visit Motonosumi Inari Shrine, as no matter when you go, an enlightening experience awaits you. However, to top off your visit, why not try visiting at sunrise, as the sun sinks below the cliffs. It's something worth seeing!
16. Hitachi park
Never has flower power been so abundantly apparent than at Hitachi Seaside Park in Ibaraki Prefecture. Renowned for the beauty and breadth of flowers on show, Hitachi Park's botanical highlight is arguably the beautiful blue flowers named nemophilas, also known as baby blue eyes, which bloom in Spring.
For those less horticulturally-minded, there is also an amusement park and a visitor center to keep you entertained. Or, pick up a bike and cycle along one of the 11 kilometers worth of cycling paths around the park.
How to visit: It takes at least 2-3 hours from Tokyo to reach Hitachi Seaside Park, and possibly longer. To travel to the park, take a limited express train from Shinagawa, Tokyo, or Ueno to Mito, and then rent a car to drive the rest of the way.
When to visit: The great news is Hitachi Park is a fantastic visit all-year round. Don't be disheartened if you don't get a chance to see the flower you wanted, as there is always beauty to be found. That said, If you want to feast your eyes on the baby blue eyes previously mentioned, you'll need to go between mid-April and mid-May.
17. Senso-ji Temple
Tokyo's oldest temple is also one of the most beautiful temples in all of Japan. Founded in the year 645, Senso-ji Temple is a historic marvel, with grand entry gates, twinkling lanterns and shopping stalls everywhere you look.
The temple stands as one of the most popular attractions in Tokyo, and its shopping streets are full to the brim with tourists all-year round. Numerous events take place, including the Sanja Matsuri, which is held in May, and is the annual festival of the Asakusa Shrine.
How to visit: Luckily, it is relatively easy to get to Senso-ji Temple, as it is located only a short walk from Asakusa Station. It is served by the Ginza Subway Line, the Asakusa Subway Line, and the Tobu Railway.
When to visit: When visiting this ancient temple, it is worth noting that the main hall is only open from 6:00 to 17:00, or 6:30 from October to March. If you want to avoid the crowds that will inevitably flock to the temple, you should visit as early in the morning as you can.
18. Nachi Falls
If waterfalls are on your list of sights to see in Japan, look no further than the Nachi Falls, located in Nachikatsuura, Wakayama Prefecture, Japan. Standing at 133 meters high and 13 meters wide, it is Japan's tallest uninterrupted waterfall.
That's not all there is to see at Nachi Falls – there is an evergreen forest that surrounds the waterfall, perfect for hikes and soaking in the serenity. It also has strong connections to the Shinto religion, and its pilgrimage routes have led it to become a UNESCO World Heritage site.
How to visit: To visit Nachi Falls, go to Kii-Katsuura station in the main town of Nachikatsuura. Then, take a bus bound for Nachisan and get off at Nachi-no-Taki-mae bus stop. It is only a five minute walk from there.
When to visit: The beauty of Nachi Falls is such that visiting at any time of the year will be a great time. However, if you really want to have a one-of-a-kind experience, visit in the winter, when the water splashes over the freezing rocks and produces stunning clouds of vapour.
19. Arashiyama Bamboo Forest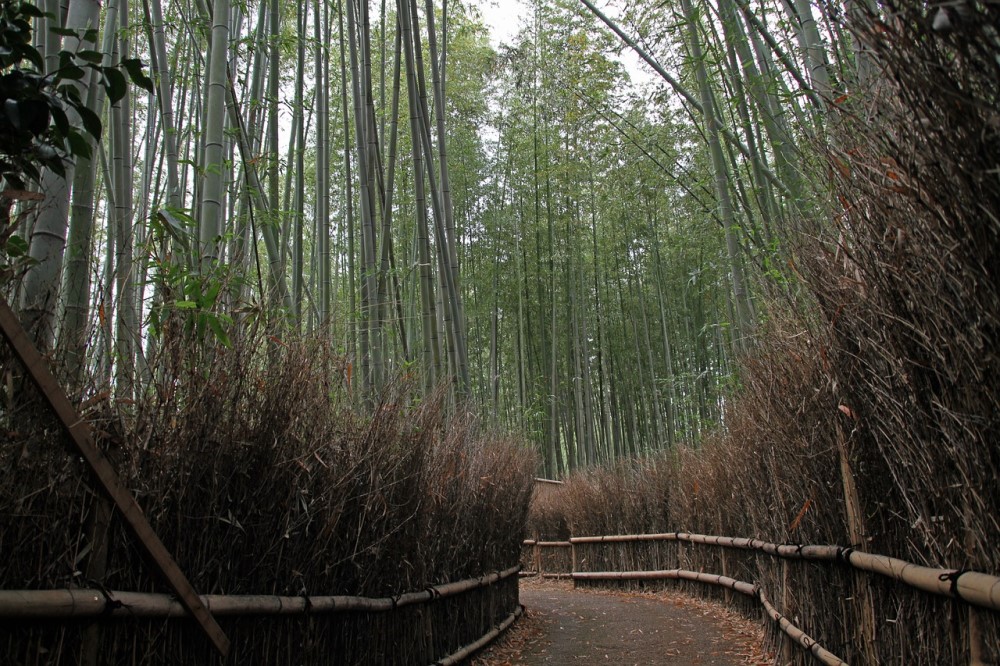 In Japanese culture, bamboo has synonymous connections with strength and resolve. On the outskirts of Kyoto, Arashiyama Bamboo Forest embodies this, boasting an enchanting bamboo grove that is a far cry from the nearby city. When sunlight seeps between the stalks, you'll see why it is truly one of Japan's most beautiful places.
As well as these sights, Arashiyama Bamboo Forest also is famous for its series of characteristic sounds, which are created by the bamboo stalks swaying in the wind. That said, owing to its well-deserved popularity with tourists, you may need to find a quiet spot in order to hear these peaceful tones.
How to visit: Arashiyama Bamboo Forest is situated not far from the city of Kyoto, which means that it is relatively easy to get to. To travel there from Kyoto Station, take the JR San-in or Sagano lines to Saga-Arashiyama Station. This train ride lasts approximately 20 minutes.
When to visit: Open 24-hours-a-day all-year round, you can pick and choose the time you want to visit Arashiyama Bamboo Forest. However, to give yourself the best chance of experiencing the peaceful sights and sounds, you may like to visit early in the morning – in the summer, this also means more chances of sunlight!
20. Matsumoto Castle
Like Himeji Castle, Matsumoto Castle in Nagano is one of only a few original castles remaining in Japan. It is known as a "hirajiro", which means a castle built on plains rather than on a hillside.
First completed in 1504, it expanded to its current size in the late 16th and early 17th centuries. It is enduringly popular with visitors not only because of the finely crafted wooden interiors, but also because of the fantastic views it offers over the city of Matsumoto.
How to visit: Matsumoto Castle resides only a few streets away from the main station in the city of Matsumoto. From there, it is either a 15 minute walk or a 5 minute bus ride. The bus you'll need to take will be the 'Town Sneaker' Northern Course bus loop line.
When to visit: One of the best times to travel to Matsumoto Castle is during cherry blossom season. When these plants reach full bloom in mid-April each year, crowds flock to the castle to see the hundreds of cherry trees that adorn the castles' outer moat.
21. Kenrokuen Garden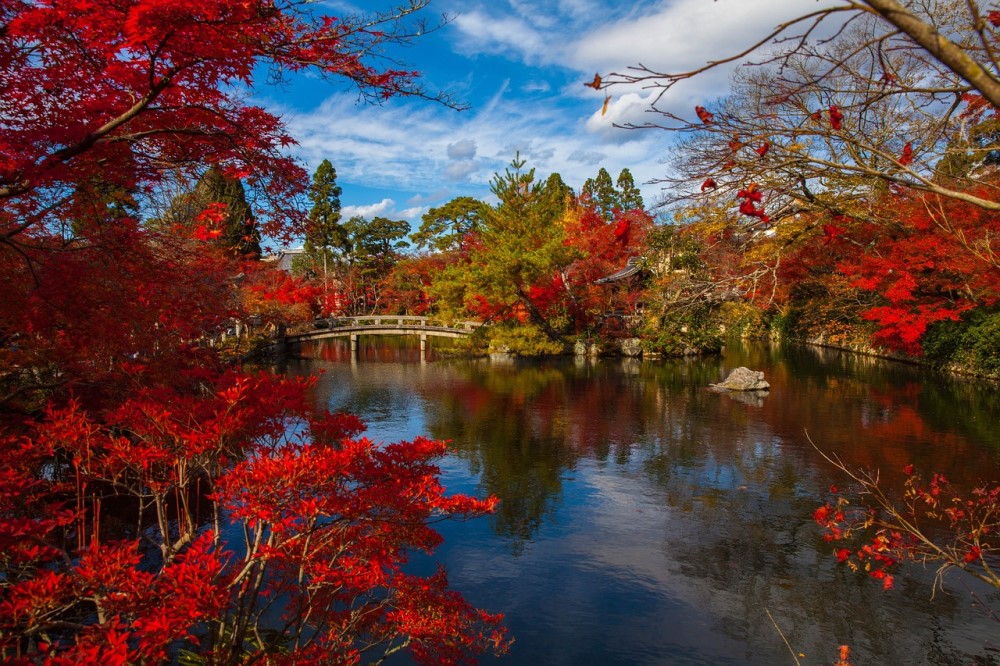 Just one of Japan's amazing gardens is Kenrokuen Garden, located in the city of Kanazawa. Its grounds used to be part of Kanazawa Castle, until they were finally opened up to the public in 1871. Kenrokuen translates to 'Garden of the six sublimities', according to Chinese landscape theories.
One prominent feature of Kenrokuen Garden is the numerous water features that occupy its grounds. This includes streams, ponds and fountains. One such fountain is the one below Kasumigake Pond which is one of Japan's oldest, and is powered by the drop in elevation from the pond.
How to visit: Kenrokuen Garden is easily accessible within the Kanazawa public transport system. By bus, you can ride the Kanazawa Loop Bus which departs from the main station's east exit. This takes about 20 minutes and costs 200 yen. Alternatively, you can take one of the regular Hokutetsu buses, also departing from Kanazawa Station.
When to visit: Knowing when to visit Kenrokuen Garden can be difficult, simply because each season of the year provides its own fantastic sights! For example, in the spring, you can witness cherry blossoms in full bloom, in the fall there are lush green maple trees, and in winter the snow provides a whole new visual dimension.
22. Hoshitoge Rice Terrace
Across many prefectures of Japan, rice fields are an essential part of daily life, providing sustenance for local people as well as a vital way of work. It just so happens that these rice paddies are also beautiful when layered together across the hillsides of rural Japan.
And when it comes to beautiful rice fields, there aren't many more enchanting than Hoshitoge Rice Terrace. Found in Niigata Prefecture, it consists of over 200 rice fields sloping down a hill, offering amazing views over the whole year. On early mornings, clouds often obscure the bottom of the valley, creating a wonderfully ethereal effect.
How to visit: If you are travelling from Tokyo, you can take the shinkansen from Tokyo Station to Echigo-Yuzawa Station. Then, ride the Hokuhoku Line for Saigata and alight at Matsudai. From here, Hoshitoge can be reached in 20 minutes by taxi or rented car.
When to visit: This rice terrace is most popular with photographers and tourists alike between June and November, with the colors of the paddies reflecting the sky. For the best experience possible, arrive at sunrise and watch the first rays of the Sun spread across the countryside.
23. Nikko
At the entrance to Nikko National park is the town of Nikko, which is one of the centers of worship for Buddhism and Shinto. Nikko's most famous temple is the Toshogu Shrine, which is one of Japan's most luxurious and boasts exquisite decorations.
However, besides this, Nikko is also surrounded by stunning scenery such as mountains, waterfalls, and lake, meaning a trip there will offer you plenty of variety.
How to visit: Usually, the best way of getting from Tokyo to Nikko is by train. Take the Shinkansen from Tokyo Station and transfer at Utsunomiya Station for the JR Nikko Line to Nikko. The shinkansen also connects Tokyo Station to Nasu-Shiobara Station, which takes around 1 hour 15 minutes.
When to visit: Nikko is a fantastic place to visit at any time of year, however, if you prefer mild climates, you may choose to go from May until October. Or, if soaking in the colors of fall is more your scene, take your trip at the beginning of October.
24. Matsue
A visit to Japan is always enhanced by a visit to Japan's 'water city', Matsue. It is so-named because of its location between Lake Shinji, Lake Nakaumi and the Sea of Japan. It is the capital of Shimane Prefecture, and was founded as a city in 1889.
Attractions in Matsue include the centuries-old Matsue Castle, which features one of Japan's oldest original towers, Adachi Museum of Art and the Samurai District. Since 2018, Matsue has been one of the core cities of Japan.
How to visit: One of the easiest ways to get to Matsue is by train. To get there, take the Shinkansen from Tokyo to Okayama, then transfer to a JR Yakumo limited express train to Matsue. This usually takes around 2.5 hours.
When to visit: The best time to visit Matsue really depends on which season you like best! For warmer weather, visit in May, June, July or August, which is also when there are most often fireworks displays and other cultural events to soak in and enjoy.
25. Tsutenkaku Tower, Osaka
If the hustle and bustle of the big city is more your speed, the Shinsekai district in Osaka will be what you're after. Designed to be a combination of Paris and New York in feel, Shinsekai translates to 'New World', and its street pattern was developed following the success of the 1903 National Industrial Exposition.
Among the biggest attractions in Shinsekai District is the 103-meter-high Tsutenkaku Tower – a giant steel sculpture that was built as tribute to Paris' Eiffel Tower. Surrounding the tower, the streets of Shinsekai District are full-to-the-brim with amazing restaurants, spas and much else besides.
How to visit: Tsutenkaku Tower is situated near the heart of Osaka, which is Japan's second largest city. That means getting there is easy and usually pretty affordable. It is only a short walk from Shin-Imamiya Station on the Osaka Loop Line, or, it is close to many stations on the subway, including Ebisucho Station and Dobutsuen-mae Station.
When to visit: There's no bad time to visit Tsutenkaku Tower, although seeing it all lit up at night can be a great experience. Then again, visiting the observatory at the top of the tower will offer amazing views both at daytime and at night.
26. Nara Park
Established in 1880, Nara Park is a large public park located to the East of the city of Nara. It is well-known for its massive population of deer – over 1200 of the animals, in fact. They have become so synonymous not only with the park but of the city itself, that they have been designated a national treasure!
As well as being home to these magnificent creatures, Nara Park is also home to other attractions, such as the Nara National Museum and Kasuga-taisha, which is an ancient shrine dating back 1300 years.
How to visit: From the center of Nara, getting to Nara Park is not difficult. It is a five minute walk from Kintetsu Nara Station or about a 20 minute walk from JR Nara Station. Or, you can either take the bus or drive to the park, with plenty of parking spots available.
When to visit: The best time to visit Nara is likely to be in the Spring or fall, as this is the time when there are fewer people walking the paths and the leaves are falling, making for an enchanting sea of green littered across the park. However, don't let that put you off going at other times of the year – Nara Park is beautiful all year round!
The last word on the most beautiful places in Japan
We hope you have enjoyed our comprehensive list of 26 of the most beautiful places in Japan, and, we hope you agree that they are worth taking a trip to Japan for!
Indeed, perhaps the most beautiful thing of all is that this list only touches the surface of amazing sights and sounds in Japan. There are plenty more wonderful things to discover when you touch down, from food, to entertainment, to public transportation, which in itself is a memorable experience.
Get in touch with us today for more help on Japanese social customs, careers and more.