Top 5 Cat Cafés in Japan
Ever wanted to visit a cat café, but wasn't sure which one to choose? We've worked out the top 5 cat cafés in Japan, so you can visit them all and find your favourite!
Cat cafés are popular in Japan, mainly Tokyo, as residents often live in small space apartments. This often means having a cat or dog in their living space is unfair on both parties. Cat cafés have gained huge popularity because of this reason.
People can visit cats for the day and play with them, without having to dedicate their full time to a cat.
What is a Cat Café?
A cat café (猫カフェ, Neko café) is a unique café that plays host to cats and humans. Customers are invited to come into the café, have a hot beverage or snack and play with the cat café's resident cats!
Often, cat cafés will have 10-20 cats that roam around the establishment. These cats are usually friendly lap cats or playful kittens. Giving patrons the experience of having a cat for an hour or two.
As cat cafés in Japan often have lots of different cats, it's common to see some retreat to an area of rest throughout the day. Returning to the customer for fuss and playtime.
The cats are often fed their own special cat food, so it's not encouraged to feed the cats whilst eating within the café. Cats have a long list of foods that are toxic to them, so it's wise to keep an eye on your food.
Cat Café Rules
Cat cafés in Japan have different rules to those in the UK and USA. However, these are mainly for Japanese customary requirements, such as removing footwear.
Register on arrival, your time will be recorded as this is limited to keep up with reservations

Remove footwear and use slippers provided.



Sanitise hands before touching the cats. You'll usually have a reservation, however if the cat café isn't busy, you're allowed to pick a vacant table and enjoy.
DO NOT pick up the cats as this can distress them and cause both the cat and customer harm.
After you've had your allotted time with the cats and eaten your meal, please leave the cat café and pay for your time and food/beverages at the exit.
Top 5 Cat Cafés in Japan
Temari no Ouchi
The Temari no Ouchi cat café is located in Tokyo and has its own unique twist. Unlike most cat cafés, the Tamri No Ouchi cat café has forest like decor, with built-in trees and huts to give it a fairy garden like theme.
Although the decoration of the cat café is much like Hobbiton, the cats' personalities are not small! You can choose to sit in a small cottage style hut for more privacy in the cat café, or soak in all the decor from the cosy floor tables.
Termai no Ouchi offers hot beverages, cold drinks and a few food dishes. If you'd like to unwind with some alcohol at this Japanese cat café, then a small cocktail menu is available.
Price:
Weekday (1 hour) – ¥1200 (£7.52, $9.92)
Weekends (1 hour) – ¥1600 (£10.03, $13.23)
Opening Hours: 12pm – 8pm
Address: 〒180-0004 Tōkyō, Musashino-shi, 吉祥寺本町Kichijōji Honchō, 2 Chome−13−14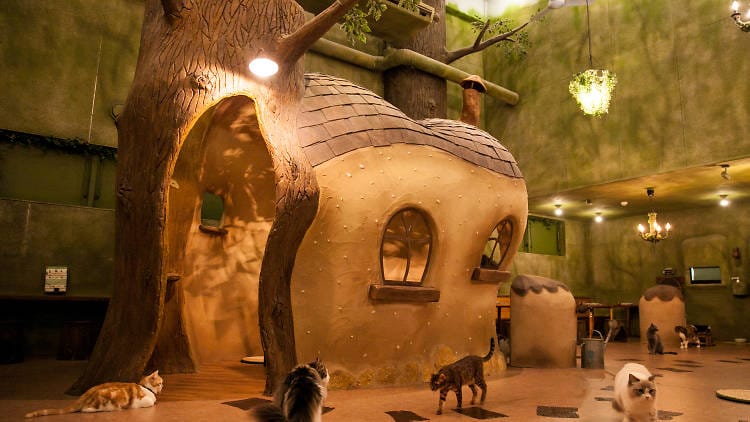 Neko Cafe MoCHA Shibuya
Neko Cafe MoCHA is located in Tokyo, Shibuya City, and is arguably the most aesthetically pleasing cat café in Japan. Covering 2 floors of space, this modern day cat café is a scene of neutral calming colours, with modern decor and comfy spaces. However, there are still plenty of perches and places for the cats to sit and ponder.
This particular Japanese cat café has feeding time twice a day, one in the morning at 10:30am and one in the evening at 7:30pm. The cats are all lined up at this time eating their biscuits, an ideal time for customers to get an Instagram worthy picture.
Alongside your entry fee, you can purchase cat treats to feed your favourite cats. These treats cost around, ¥550 (£3.44, $4.55). Unlimited tea and coffee costing around ¥350 (£2.19, $2.89) is available for customers.
There are lots of the MoCHA cat cafes in Japan, if you're not able to get to one within Toyko, including Kyoto.
Price: ¥200 (£1.25, $1.65) per 10 minutes
Opening Hours: 10am – 8pm
Address: Japan, 〒150-0042 Tokyo, Shibuya City, Udagawacho, 32−12 アソルティ渋谷 8F


Temari no Oshiro Cat Café
Temari no Oshiro Cat Café is the sister café of Temari no Ouchi cat café, however it is just as unique!
Located around the corner, Temrari No Oshiro gives a more fantasy kingdom feel to the cat café in Japan, compared to the Hobbiton vibes of the Termari no Ouchi café.
With two storeys of cat café space, there are around 20 resident cats housed here. The breeds include munchkin cats, Norwegian forest cats and Maine Coons, to really give it that magical feel.
The menu is similar to that of the Temari no Ouchi cat café, as are the prices. However, it does have a few more familiar dishes to make ALTs feel at home such as beef stew, smiley potato faces and French fries.
Price:
Weekday (1 hour) – ¥1200 (£7.52, $9.92)
Weekends (1 hour) – ¥1600 (£10.03, $13.23)
Opening Hours: 10am – 9pm
Address: Japan, 〒180-0004 Tokyo, Musashino, 吉祥寺本町2 Chome−13−14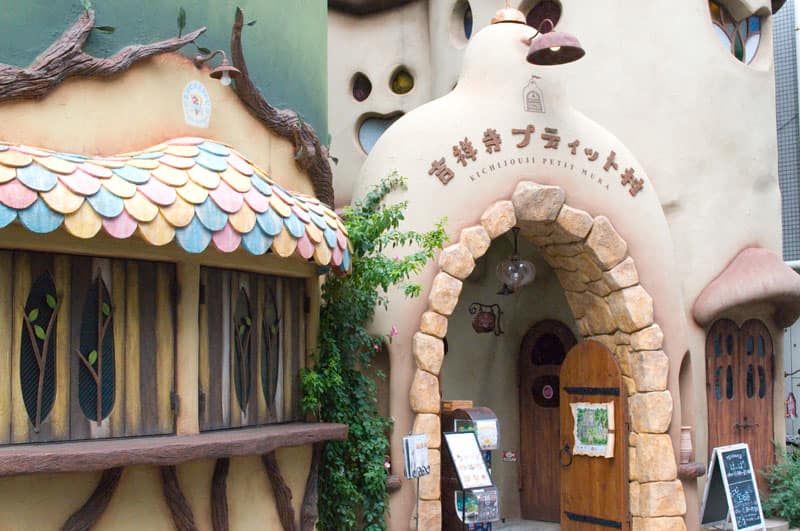 Cat Cafe Nyankoto
Nyankoto Cat Café is one of the more relaxed cat cafés in Japan. With decor much like a typical Japanese home, it's easy to see why this is more of a local cat café than a tourist trap.
As this cat café is on a smaller scale, the host is able to really make sure visitors are having a nice time. It also means the cats are more friendly and hospitable as they're at ease.
The layout of this cat café in Japan is purposely homely. With cosy corners and blankets, so you can sit on the floor and play with the cats, almost like they're your own.
Price:
Weekday & weekends (1 hour) – ¥1200 (£7.52, $9.92), Extra 15 mins after 1 hour – ¥300 (£1.81, $2.22)
Opening Hours:
Weekdays – 12pm – 9pm
Weekends & Holidays – 11am – 9pm
Address: 2 Chome-14-6 Takadanobaba, 新宿区 Shinjuku City, Tokyo 169-0075, Japan
Monta Cat Café
Monta Cat Cafe has a huge range of different cat breeds, so everyone is catered for when interacting with the cats. Bengal cats are present, as are Russian Blues, who are known for their playful natures and are quite large cats. However, if you prefer smaller lap cats, Munchkin cats are active within the café, giving you the option for play time or a snuggle.
There are around 8-10 active cats in the café at any one time, with a medium-sized seating area it means there are enough cats per group of people to get your money's worth.
Monta's decor is relatively casual, with leather armchairs for resting with the cats alongside bean bags and floor seats, so you can be comfy whilst playing with the cats.
Price:
10 mins – ¥200 (£1.20, $1.48)
30 mins – ¥600 ($4.44, £9.03)
1 Hour ¥1000 ($7.40, £6.02)
90 Mins – ¥1500 (£9.03, $11.10)
Opening Hours: 11am – 7pm
Address: 1-2-5 Hanagawa Tokyo 111-0033 Satellite Fuji Bldg 8F
ALT Leisure Time
Make sure you make the most of cat cafés in Japan whilst you're working with Interac. With lots of spare time to visit places in cities with your fellow ALT members from all over the world, sharing memories and exploring the culture. Cat cafés are huge in Japan, which is why there are so many! Why not try to tick them all off your list whilst you're in Japan.
If cat cafés aren't your thing, we have a guide on guilt-free animal cafés in Japan, so you can play with your favourite animals without the guilt! We also have guides on the best museums in Tokyo, to learn more about Tokyo and Japan if you'd rather not visit any animal cafés.