20 Must-Visit Places for Tourists in Japan
Steeped in history, Japan has a rich culture that everyone should experience at least once in their lifetime. With its stunning landscapes and impressive city skylines, there is so much to see and do.
As a tourist, you may only have a short time to pack in as much as possible. To help you make the most of your time and experience the very best Japan has to offer, we break down our 25+ must-visit tourist attractions in Japan.
Discover locations and prices, as well as expert tips such as how to beat the crowds!
1. Mount Fuji
Mount Fuji is one of Japan's most famous tourist attractions and arguably one of the most impressive. The highest peak in Japan, Mount Fuji reaches 3776m above sea level. It is so tall that it can be seen from Tokyo, over 100km away!
With a relatively flat landscape on either side, Mount Fuji's symmetrical cone shape makes it stand out in the landscape for stunning panoramas. Its beauty has inspired art and poetry for centuries, as well as being one of the three holy mountains and a religious pilgrimage for those of the Shinto and Buddhist faiths.
There are 4 trails up Mount Fuji, each with its own trailhead. Trails start at the 5th station, although the mountain is split into 10 stations overall. Open between July and September, the climbing season can be a very busy time, with around 300,000 visitors each year.
To beat the crowds, try to visit Mount Fuji during the first 3 weeks of July, or in September. This is generally the quietest time however, please note it may still be very busy.
Not a climber? Visit Lake Kawaguchiko instead for unrivalled views of the mountain, or take the Tokyo to Kyoto bullet train on a clear day!
Opening Times: Opening times often differ by trial however, the open season for climbing above the 5th station is generally between July and September.
Price:
1,000 yen per person to enter trials during the climbing season
35,000 – 45,000 yen per person to climb Mount Fuji with a guide and overnight stay in a mountain hut
1,000 – 1,500 yen per cylinder for oxygen cylinders
10,000 – 40,000 yen for equipment rental for 2 days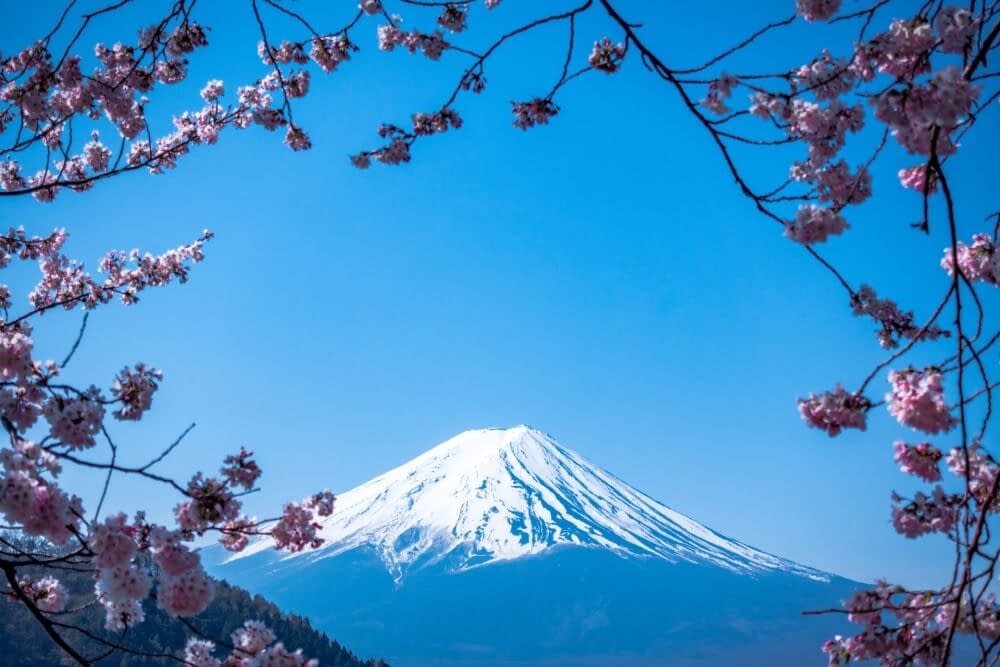 2. Animal Islands
Japan features a number of animal islands; the perfect tourist attraction in Japan for animal lovers. Whilst some islands are inhabited by people, as well as wild animals, others have been completely left to the animals. You can visit cat, rabbit, monkey, sheep, horse, deer and even dolphin islands!
Some of the most famous animal islands include Tashiro, Ōkunoshima and Kou Island. Tashiro Island has around 100 wild cats versus just 60 human inhabitants. Ōkunoshima has around 900 wild rabbits, whilst Kou Island has over 100 wild monkeys.
Reaching the different animal islands can generally be done so via road or ferry. Animal islands are generally enjoyable to visit year-round but for mild, pleasant weather, consider visiting in April. Can't get to an island? Try a Japanese animal cafe!
Opening Times: Year round
Price: Ferry/travel costs vary by island
3. Naoshima (Art Island)
Located in the Seto Inland Sea (near rabbit island), Naoshima, or 'Art Island' as it has come to be known, is a growing tourist destination. Featuring open-air artworks, over 18 galleries and museums, as well as ocean views, Naoshima is the perfect place to spend a day or two.
Whilst art island can be seen in a day, you might find you're a little rushed so staying overnight in one of the many hotels is recommended. The island also features interesting architecture and an abundance of small cafes and eateries.
To reach Art Island, take the ferry from Honshu. Once on the island, you can get around via local buses and electric bicycles. Exhibits are generally closed on a Monday so make sure to plan your visit accordingly.
Famous artworks on the island include the Red and Yellow Pumpkins by Yayoi Kusama. The Benesse Art site also features works from world-renowned artists including Warhol, Hockney and Basquiat.
Opening Times: Exhibits generally open from Tuesday – Sunday
Price: Fees vary by gallery
E.g.
Art House Project – 1,030 yen (opening hours: 10:00 – 16:30)
The Benesse House – 1,030 yen (opening hours: 8:00 – last entry 20:00)
The Lee Ufan Museum – 1,030 yen (opening hours: 10:00 – last entry 17:30)
The Chichu Art Museum – 2,060 yen (opening hours: 10:00 – last entry 17:00)
I Luv Yu – 510 yen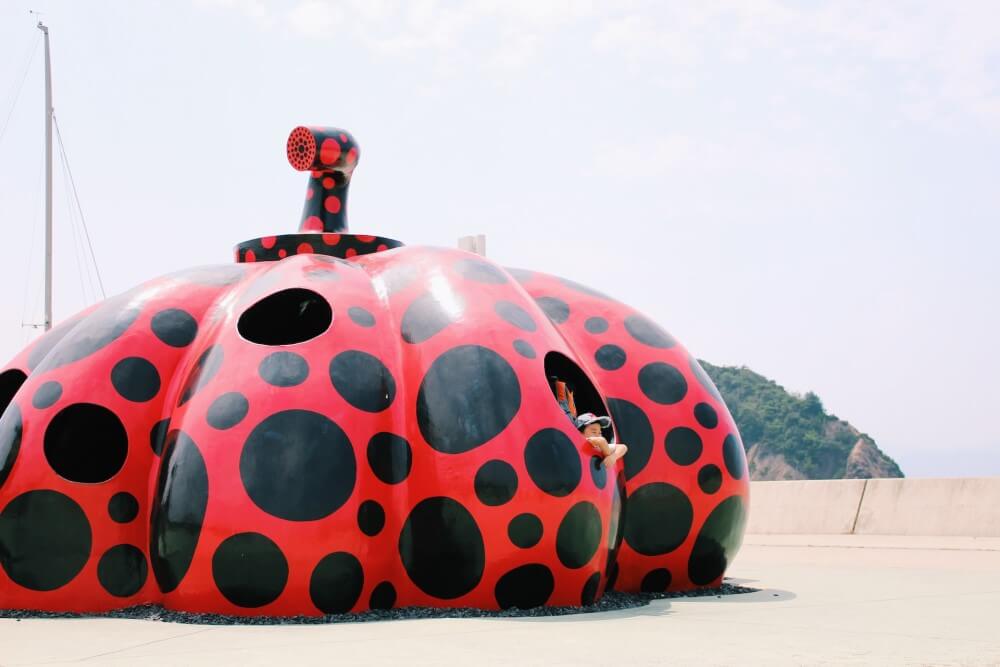 4. Osaka Castle
Built in 1586 by famous warrior and politician, Toyotomi Hideyoshi, Osaka Castle was once the largest fortress in the country. Destroyed in 1615, the castle was rebuilt in 1620 but subsequently burnt down in 1665 after being struck by lightning.
It was then not rebuilt until 1931, after which it miraculously survived city-wide air raids during the war. The current structure remains true to that rebuilt in 1931, although it was refurbished inside in 1997 and now exhibits displays relating to the history of the castle and surrounding area.
It features an impressive five-story main tower, surrounded by secondary citadels, turrets, gatehouses, castle walls and a moat. Make sure to visit the top floor for spectacular views over Osaka!
The castle is also set on beautiful grounds with many Cherry Blossom trees. Access to Nishinomaru Garden does require an admission fee, however. Osaka has a pleasant climate all year round, but we recommend visiting in the spring to witness the Cherry Blossoms in full bloom!
Opening Times: Open Tuesday – Sunday, 9:00 to 17:00 (last entry 16:30)
Price:
Castle Tower – 600 yen
Nishinomaru Garden – 200 yen
5. Jigokudani Yahen-Koen (Snow Monkey Park)
Sitting at an altitude of 850 meters, the Jigokudani Yahen-Koen, or simply the Snow Monkey Park, is located in the Valley of Yokoyu River. The river is sourced from Shiga-Kogen, in the northern part of the Joshinetsu-Kogen National Park.
For a third of the year, the area is covered in deep snow, with steam billowing up from natural springs dotted around the steep cliffs. It's the bubbling steaming springs that gave the area its name, Jigokudani, meaning "Hell's Valley". This hostile, yet picturesque, environment of lush forest provides a haven for the Japanese macaque – one of Japan's coolest animals!
In the daytime, hundreds of macaques descend the steep cliffs to relax, warm up, and socialise in the hot springs, and it's this natural wonder that attracts many human visitors every year.
The park is open all year round, but, if you'd like to catch the Snow Monkeys in the snow for an Instagram picture worthy of a place in National Geographic, the best months to go are between December and March.
To access Snow Monkey Park, visitors must trek up a 2km (1.2 miles) footpath through the dense forest. Although the walk may be enough to put some people off, the experience of observing this natural wonder, up close, far outweighs the effort it takes to get there.
If you, or one of your companions, have difficulty walking, there are also bus services to Kanabayashi Onsen, just 15 minutes away from the Monkey Park.
You can catch them from:
Yukanaka Station (310 yen, 2 buses every hour)
Shibu Onsen (190 yen, 2 buses every hour)
Nagano Station (1500 yen, 4-10 buses per day)
Opening times: Monday-Friday: 8:30am-5pm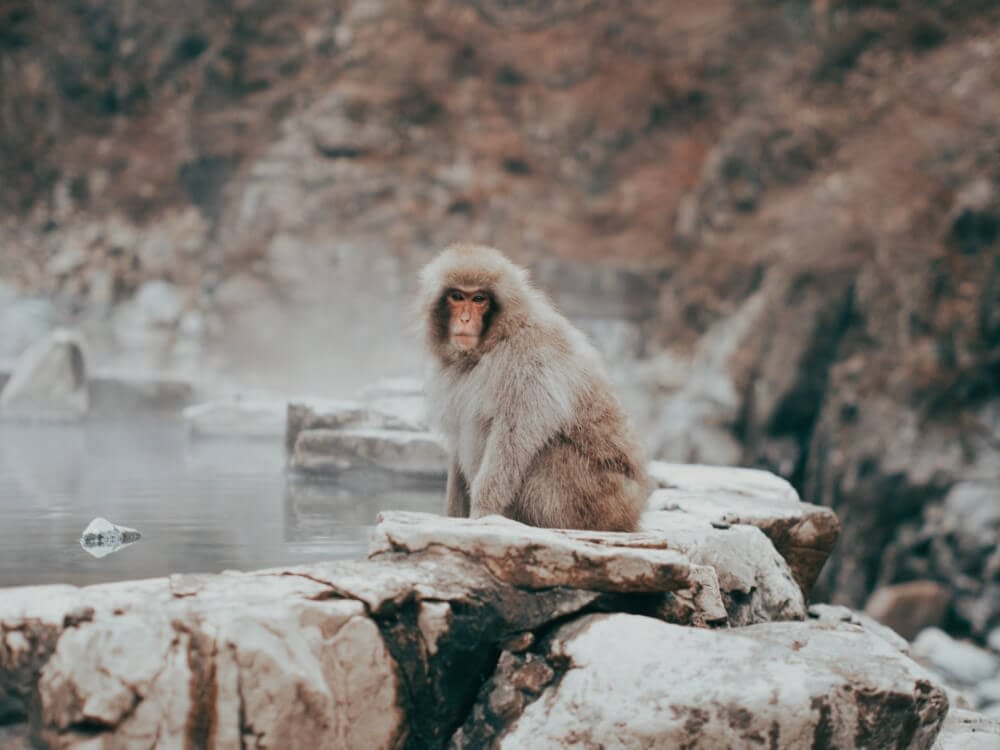 6. Okinawa Churami Aquarium
Considered one of the largest and most spectacular aquariums in the world, Okinawa Churami Aquarium, part of the Ocean Expo Park, is located on the coast of Motobu Peninsula.
Opened in 1975 and rebuilt in 2002, the four-floor aquarium is home to around 680 species of marine life. It hosts tanks so big that they can display the whale shark, which can measure up to almost 9 meters in length, amongst other large and rare species.
If you want to get up close and personal with the many interesting species of sea creatures that the aquarium has to offer, make sure you're around for feeding time. Feeding takes place three times a day, 9:30am, 3pm and 5pm, at the Kuroshio Sea tank.
Considering the size of the aquarium, you might be wondering whereabouts the Kuroshio Sea tank is, so you don't miss out on the spectacular spectacle. The tank is the biggest in the aquarium, and the main attraction for thousands of visitors a year, home to the beautiful whale sharks. So, you can either use or map or simply follow the crowds.
Opening times: The aquarium, and surrounding park, is open Monday-Friday, 8:30am to 6pm.
Admission fees before 4pm:
Adults – 2,180 yen
High School Students – 1,440 yen
Elementary/Junior School Students – 710 yen
Children Under 6 – Free
Admission fees after 4pm:
Adults – 1,510 yen
High School Students – 1,000 yen
Elementary/Junior School Students – 490 yen
Children Under 6 – Free
7. Hiroshima Peace Memorial Park
Hiroshima Peach Memorial Park is one of the most prominent and sombre features of the Japanese city. It's dedicated to the city of Hiroshima, the first city to suffer the consequences of nuclear weapons, at the hands of the Americans, at the end of the Second World War.
The picturesque park is built on top of the site where the bomb fell and detonated, wiping out 67% of the city's structures, and killing 70,000 to 135,000 people. Where there was once nothing but a crater of rubble and radioactive debris, there now stands clusters of trees, lawns of kept grass, and long walking paths.
At the head of the park is the main facility, the Peace Memorial Museum. The Museum focuses on the events that unfolded as a result of the bomb, and its result on the surviving citizens of Hiroshima.
Standing to the side of the museum is what's left of the Prefectural Industrial Promotion Hall. Now known as the A-Bomb Dome, it's one of the few structures to withstand the blast, although a skeleton of what it once was. What's left of the structure stands as a tangible, historical link to Japan's difficult history with nuclear attack.
Although a sombre and, at times, distressing experience, it's a poignant feature of Hiroshima's history and culture that draws over a million visitors every year.
How to get there:
The best way to get to the Peace Memorial Park and museum is by tram. Take tram line 2 or 6 from Hiroshima Station to the Genbaku-Domu Mae stop. 220 yen.
Opening hours:
The park itself is open to the public 24 hours a day, 365 days a year.
The Peace Memorial Museum is open from 8:30am to 6pm, with some exceptions. Until August, the closing time is 7pm, and, from December, the closing time is 5pm.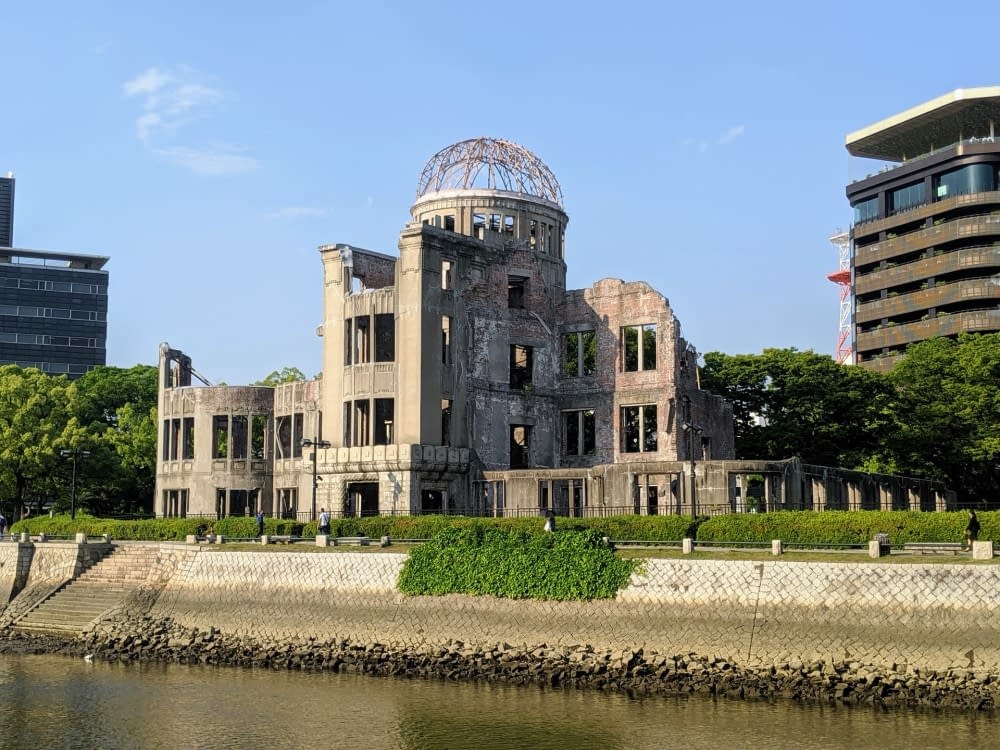 8. Tokyo Imperial Palace
Tokyo Imperial Palace (or, Koyo, meaning 'Imperial Residence') is the residence of Japan's Imperial Family, located in a large park, formerly the site of Edo Castle, surrounded by large moats, stone walls and beautiful gardens.
In 1868, the imperial residence was moved from Kyoto to the current site in Tokyo, after the Tokugawa shogun was overthrown, and Edo Castle was torn down in its wake. Construction of the new Imperial Palace was completed in 1888. Although, it was completely destroyed by the Americans in World War II, and rebuilt in the same style after the war was over.
The palace was opened to the public in 1968, and, for the last 50+ years, visitors have been able to walk through the palace grounds, and absorb the history that lies there.
A particularly popular feature of the grounds is the Nijubashi, two grand stone bridges that provide entrance to the inner private palace grounds. Visible from the large plaza in front of the palace, Kokyo Gaien, the first bridge in view is called Meganebashi, meaning 'Eyeglass Bridge', named after its beautiful architecture and picturesque surroundings. The second bridge, Nijubashi, was formerly wooden with two levels, which gave it its name meaning 'Double Bridge'.
75-minute guided tours of the Imperial Palace are available all year round, held in English and Japanese, at 10AM and 1:30PM.
Rare access to the private inner palace grounds on 2nd January, for New Year's Greeting, and 23rd February for the Emperor's Birthday. On these Japanese holiday dates, Naruhito (the current Emperor at the time of writing) and his family make exclusive public appearances on a balcony overlooking the inner grounds to greet visitors.
How to get there:
The Imperial Palace is a short walk – around 10 minutes – from Tokyo Station.
Opening hours:
The palace grounds are open, with free admission, Tuesday-Friday in two daily time slots.
9-11:15AM, 1:30-2:45PM.
9. Tsukiji Jōgai Shijō (Tsukiji Outer Market)
Nestled just a short way from Tokyo Imperial Palace lies the bustling district of Tsukiji Outer Market. It's made up of a few blocks, home to a range of wholesale, retail shops, restaurants and more.
The narrow lanes make for an immersive cultural experience, putting you right at the heart of everyday life in Japan. You can find fresh produce, used to make the fresh sushi found at a number of restaurants in the vicinity, and a range of professional Japanese kitchen knives amongst other products.
Most restaurants in the market open at 5am and close in the early afternoon, so it's a great spot to find breakfast and lunch.
How to get there:
From Tokyo station, jump on the Marunouchi Subway Line to Ginza, and then transfer to the Hibiya Subway Line, and get off at Tsukihi Station. The fare totals around 170 yen.
From Shinjuku Station, take the Oedo Subway Line directly to Tsukiji Shijo Station. This trip costs around 280 yen.
Opening times: Typically 5am to 2pm.
10. Fushimi Inari-taisha
Located in Fushimi-ku, Kyoto, Fushimi Inari-taisha is a Shinto shrine, important to the people of southern Kyoto and famous around the world for its visually breathtaking features.
The head shrine sits at the base of a mountain, also named Inari, which has multiple trails up its 233-meter incline leading to a series of smaller sub-shrines, taking approximately 3 hours to ascend, and descend. It's one of the best things to do in Kyoto.
Even if you don't know of the ancient Shinto shrine by name, you will most likely have seen pictures of it. It's famous for its stunning vermilion torii gates, thousands of which straddle the weave of trails behind the main building, turning the stone paths into bright orange tunnels.
Dotted around the grounds, you'll see many iconic fox statues with a key in their mouths. Foxes are regarded as the messengers of Inari, and the key is a symbol of the keys to the door of the bountiful rice granary.
Fushimi Inari-taisha, one of the thousands of shrines in honour of Inari, the Shinto god of rice and agriculture, is by far the most important, and, quite possibly, the longest surviving. The origins of the shrine stretch back to 711, long before the capital's relocation to Kyoto in 794, but was moved to its current location in 816 and the main structure was finished in 1499.
How to get there:
Fushimi Inari-taisha is located just 5 minute's train ride away from Kyoto Station.
Take the JR Nara Line, and get off at the second stop, JR Inari Station (150 yen, one way).
Opening times: The shrine is open to the public every day, at all hours, free of charge.
11. Dotonbori
The Dotonbori district is a dazzling trip for the senses. Built around the Dotonbori Canal, the area is home to a tantalising variety of restaurants and bars, eccentric neon lights and signs (synonymous with Japan's cities), a bustling social scene and evening entertainment.
The district is one of the principal tourist destinations in Osaka and has been a hit with the locals since its development in the 1600s. The beginnings of the area go back to 1612 when a merchant, Yasui Doton, invested heavily in a local development project to expand the Umezu Rover into a new waterway. The idea was that he wanted to link the local canal network with the Kizugawa River, to create better trading opportunities. However, Doton was killed during the Siege of Osaka in 1615, putting a temporary stop to the project.
When Doton's cousin finished the canal, in his honour, later the same year, the new waterway did exactly as Doton had planned – the area boomed. With the canal acting as a trade route, goods became easily available. And, over the next 50 years, an increasing amount of businesses such as restaurants, tea houses, and theatres lined the banks, and brought crowds of tourists to the streets of Dotonbori for entertainment and socialising.
Now, Dotonbori is considered to be the best place to go in Osaka for food and drink – and the people of Osaka have a deep-rooted passion for food! Here are some of the most popular, and famous, restaurants to try in Dotonbori.
Cui-daoré
Covering eight stories, this restaurant was founded in 1949, and is home to a different kind of Osaka cuisine on each floor.
Hariju
Opened in Dotonbori in 1948, Hariju is one of the most famous beef restaurants in Japan.
Kani Douraku
An incredibly popular crab restaurant. Kani Douraku is difficult to miss – just look for the giant robot crab above the door!
How to get there:
The food and entertainment area of the Dotonbori district lies between the Daikokubashi and Nippombashi bridges, in the South district of Osaka.
Travel to the Namba Subway Station, and your destination is only a four-minute walk away.
Opening times: Most restaurants and entertainment establishments are open from morning until late evening.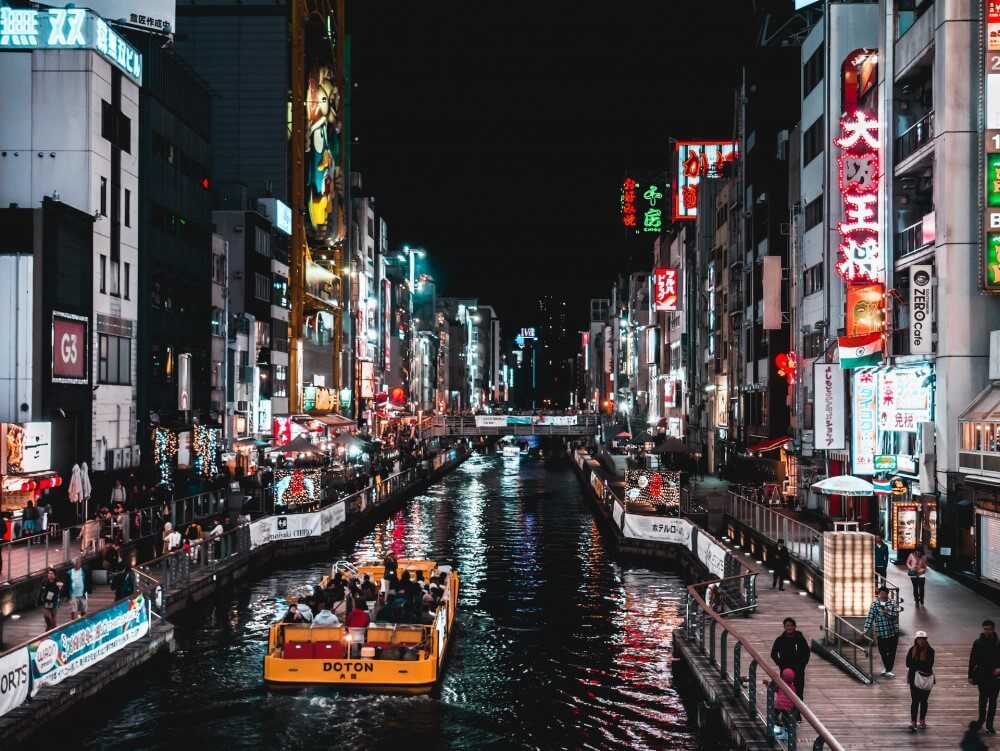 12. Chūbu-Sangaku National Park and the Japanese Alps
Chūbu-Sangaku National Park encompasses some of the most breathtaking sights in Japan. It includes the Northern Japan Alps, a volcanic mountain range of 3000-meter-high peaks, glacial rivers, hot springs and beautiful hiking trails.
The mountain range stretches across Toyama, Nagano and Gifu Prefectures, and popular locations in the Japanese national park include:
Kamikochi
A resort located in the Nagano Prefecture, offering incredible mountain scenery along the 15-kilometer plateau in the Azusa River Valley.
Kamikochi is open from 17th April until 15th November.
Tateyama Kurobe Alpine Route
Completed in 1971, the Tateyama Kurobe Alpine Route connects Toyama City (Toyama Prefecture) with Omachi Town (Nagano Prefecture). The route is travelled by public transport including cablecars, trolley buses and ropeway, and provides a unique, beautiful traverse across the Japanese Alps.
The route is open from 15th April to 30th November but is inaccessible in the winter due to heavy, deep snow.
Hakuba
Hakuba is one of Japan's most popular ski areas. It offers good snow coverage, spectacular views of the Alps, and multiple large ski resorts.
Hakuba hosted a number of competitions during the 1998 Nagan Winter Olympics, gaining worldwide recognition, and enticing tourists to visit its slopes. Some of the facilities built for the 1998 Winter Olympics are still in use, and a museum sits within walking distance from the Hakuba Ski Jumping Stadium.
There are several resorts to choose from, the majority of which are open from November/December until the end of May.
13. Hakone Open-Air Museum
The Hakone Open-Air Museum is a sculpture park that strives to create a balance of nature and art, with abstract works set against a backdrop of valleys, forests and mountains.
Although predominantly an open-air museum, it has various exhibitions and sections located indoors and outdoors. A popular, long-term exhibition is the two-story showcase of the paintings, sculptures and ceramic works of Pablo Picasso, located in the Picasso Exhibition Hall.
The museum offers several more exhibition halls dedicated to various artists, with shops, cafés and kid's play parks integrated into the art installations.
How to get there:
The museum is closest to Chokoku No Mori Station on the Hakone Tozan Railway line. (Included in the Hakone Free Pass for travel and activities.)
Opening times:
9AM-5PM, 7 days a week
Last entry is at 4:30PM, 7 days a week
Admission fees:
1600 yen, standard fee
1400 yen, with the Hakone Free Pass
1500 yen, with an online discount coupon
14. Koyasan Okunoin
Cemeteries aren't usually at the top of a traveller's 'must-see' list, but Koyasan Okunoin should be an exception among the best tourist places in Japan.
Okunion is one of the most sacred sites across the whole of Japan, and is a popular pilgrimage destination. It is the burial site of Kobo Daishi, the founder of Shingon Buddhism, and one of the most important figures in Japan's history.
It's believed that, instead of having died, Daishi rests in an eternal state of meditation. It's said that he waits for Miroku Nyorai, the Buddha of the Future, and blesses visitors with relief, for those who ask.
Some of the most important people in Japan's history are buried in the grounds, with over 20,000 monks laid to rest there. As visitors walk through the 2-kilometre cemetery, they will see a number of graves of Japanese lords, dating back to Japan's feudal era, as well as a modern tombstone erected by a pest control company, in memory of all the termites they have exterminated.
Okunion is tranquil, powerful, beautiful, and well worth a visit.
How to get there:
You can reach Ichinohashi Bridge in a 10-15 minute walk from the Senjuinbashi intersection.
Opening times:
Todoro (the Hall of Lanterns) is free to the public, open 7 days a week, all year round, from 6AM-5:30PM.
Gokusho Offering Hall is free to the public, open 7 days a week, all year round, from 8:30AM-5PM.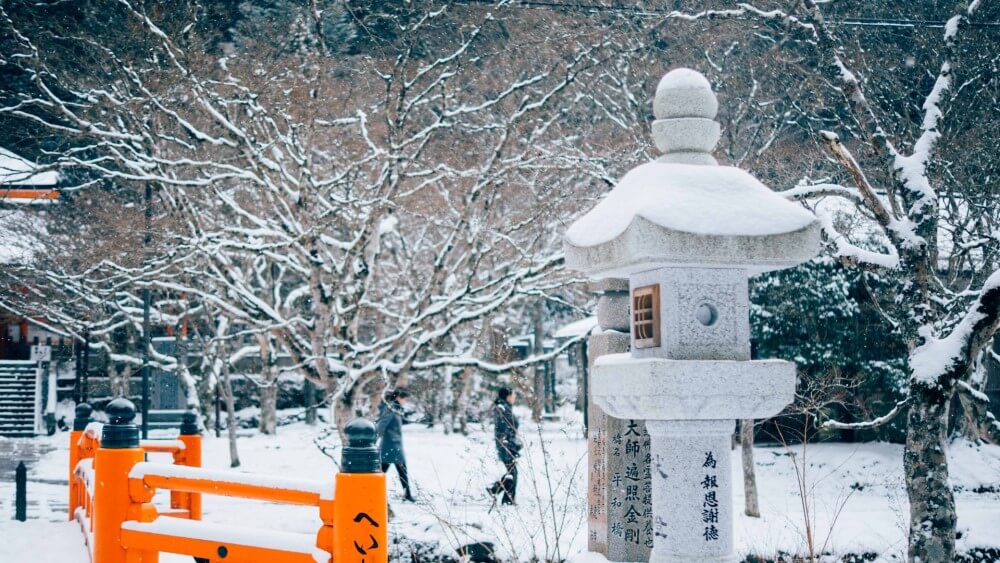 15. Naoshima and Teshima
Offering truly unique cultural experiences, Naoshima and Teshima are Japanese islands located in the Seto Inland Sea, home to a number of contemporary art museums, architectural works and sculptures.
They belong to the Kagawa Prefecture and are part of the Benesse Art Site Naoshima. The collaborative project by Benesse Holdings Inc. and Fukutake Foundations aims to fuse contemporary art and architecture with the natural environment, and the islands' industrial histories.
The islands offer visitors a tourism experience centred around art and community, an experience that benefits both the tourist and the locals by supporting the existing cultural identities and traditions.
How to get there:
Naoshimi has two public ferry ports; Miyanoura on the West side, and Honmura on the East side of the island.
Most tourists enter Naoshima through the Miyanoura port, from Takamatsu, Uno and Inujima. On arrival, there is an information center, lockers, bicycle rental, and other transportation hubs.
16. Matsumoto Castle
Grand in both appearance and rich history, Matsumoto Castle stands in the city of Matsumoto, in Nagano Prefecture. It's one of Japan's original historic castles, along with Himeji and Kumamoto, and was originally known as Fukashi Castle.
It was completed in the late 16th century and is listed as a National Treasure of Japan, with its original wooden interiors and stone exteriors still intact and in excellent condition. Due to its black exterior, it's also known as Crow Castle.
The castle consists of its main keep, and a smaller donjon, the original features of both buildings providing a truly authentic experience of walking the floors of a castle frozen in time.
In April, visitors flock to Matsumoto-jō to enjoy the abundance of cherry blossom trees in bloom. A stroll around the spacious grounds and parks, and the blossom trees overhanging the moat that wraps around the castle, is a perfect way to welcome springtime.
How to get there:
Tourists can take a 5-minute bus ride on the "Town Sneaker" from the JR Matsumoto Station.
Alternatively, the journey from JR Matsumoto Station to Matsumoto Castle can be travelled on foot, taking 15 minutes.
Opening times:
8:30AM to 5PM, last entry at 4:30PM.
Closed from 29th to 31st December.
Admission: 700 yen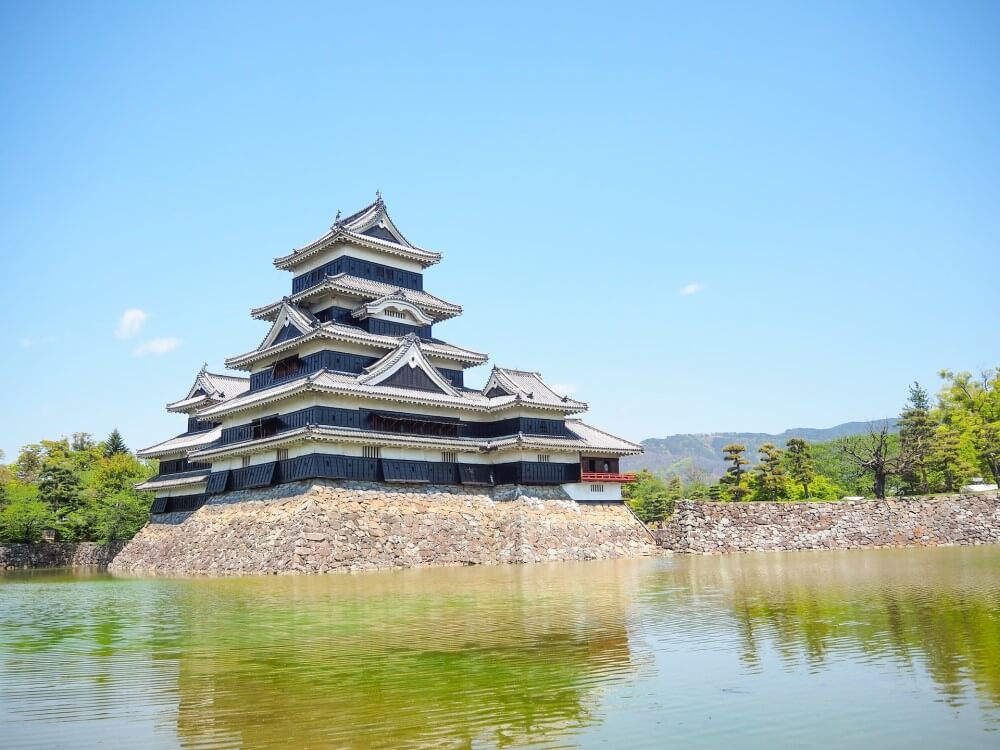 17. Kinkaku-ji, Temple of the Golden Pavillion
A spectacular feat of architecture and landscaping, the Kinkaku-ji, commonly known as the Golden Pavillion, is, arguably, the most popular attraction in Tokyo and Kyoto.
The Golden Pavillion is a Zen temple, situated in northern Kyoto. It's named after the stunning wrap of gold leaf covering the top two floors of the structure. It's classified as a National Special Historical Site, as well as a National Special Landscape, and is one of only 17 sites that make up the Historic Monuments of Ancient Kyoto, making it a World Heritage Site.
Originally, it was called Rokuonji, and was used as a retirement villa for Ashikaga Yoshimitsu, but became a temple after his death in 1408. The building overlooks a large, serene pond, and lush gardens that spread out from the temple.
Nestled amongst the trees and paths of the gardens is Sekkatei Teahouse. Visitors can enjoy matcha tea and a selection of sweet treats while they sit and take in the natural surroundings. Sekkatei Teahouse marks the end of the paid temple area. Beyond the border, there are souvenir shops, and Fudo Hall, a small temple which houses the statue of Fudo Myoo, carved by one of the most important figures in Japanese history.
How to get there:
From Kyoto Station, visitors can catch a bus (either 101, or 205) for 230 yen, and arrive at Kinkaku-ji in approximately 40 minutes.
There is also the option of the Karasuma Subway Line, from Kyoto Station to Kitaoji Station, which takes 15 minutes, at 260 yen.
Opening times:
9AM-5PM, Monday-Sunday.
Open all year round.
Admission fees: 400 yen
18. Kenroku-en Garden
There is no finer demonstration of the art of Japanese gardening than the Kenroku-en Garden. Located in Kanazawa, Kenrokuen is a garden designed to make you feel as if you've stepped into a painting. It's classified as one of the three most beautiful gardens in Japan, and has been perfected down to the smallest detail – everything is deliberate.
The garden was developed from the 1620s to some time in the 1840s by the Maeda clan and was opened to the public in 1871. The name 'Kenroku-en' means "garden of the six sublimities", referring to the spaciousness, seclusion, artificiality, antiquity, abundant water, and broad views. These six elements are the core attributes of landscape theory, which become clear as you stroll through the garden.
There are many viewpoints to be enjoyed, including bridges, teahouses, bridges and benches, all providing a unique perspective of the landscape architecture. Thousands of tourists and locals flock to Kenroku-en each year, with one of the most popular times of year being spring, as it's a beautiful place to witness the first cherry blossoms.
How to get there: Visitors can catch the Kanazawa Loop Bus from Kanazawa Station, which takes about 20 minutes, for 200 yen.
Opening hours:
From March to October: 7AM-6PM
From 16th October to February: 8AM-5PM
Open all year round, 7 days a week
Admission: 320 yen, included in the Kenrokuen Plus One Ticket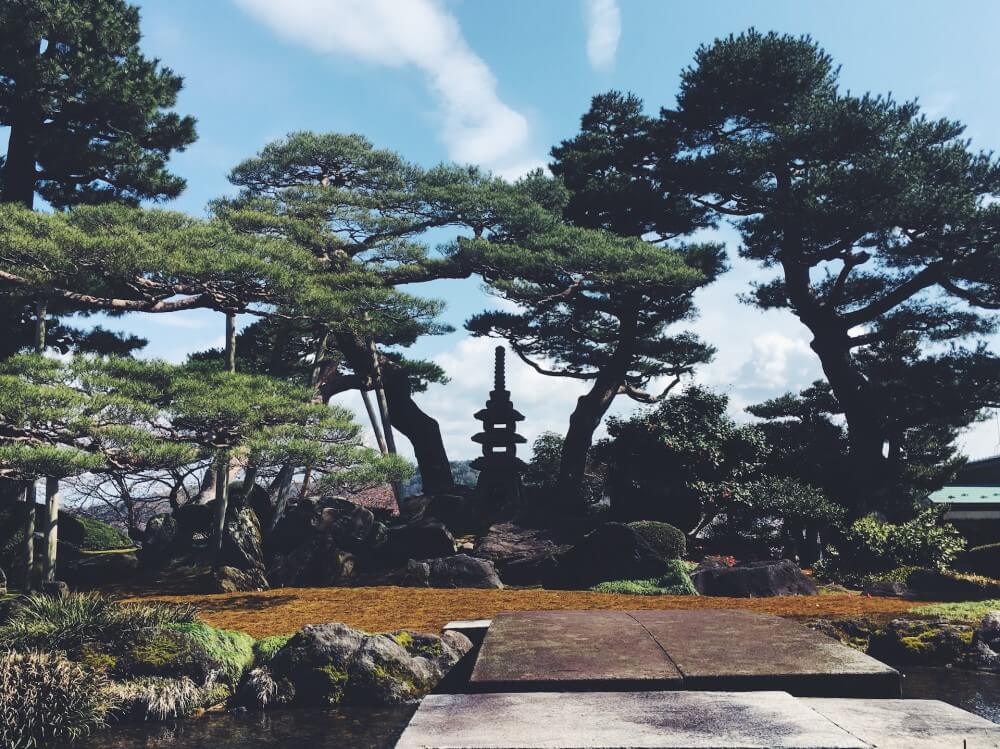 19. Itsukushima Shrine
The Itsukushima Shrine is a centuries-old Shinto shrine off the coast of Itsukushima, famous for its "floating" torii gate. The island is in the western part of the Inland Island Sea of Japan, and is popularly known as Miyajima, meaning "Shrine island".
Itsukushima Shrine is said to have been first erected in 593, during the reign of Empress Suiko. It's dedicated to the three daughters of Susano-o no Mikoto, known collectively as the "three female deities", goddesses of the seas and storms.
The island is a short boat ride away from Hiroshima Bay and is home to a number of temples, and stunning scenery. In the spring, cherry blossoms bloom across its hillsides, and in the autumn, the hills are coloured with burnt orange maple leaves.
Tourists can take a thirty-minute cruise to take in the picturesque Miyajima Island.
The cruise takes passengers around Hiroshima Bay and through the torii gate, when the tide is high enough. In low tide, the base of the shire, and the sand plane it's built into become visible, and visitors have the opportunity to see the gate up close.
How to get there: The shrine is a ten-minute walk from the Miyajima ferry pier.
Hours:
March to October – 6:30AM to 6PM
January through February, and October through November – 6:30AM to 5:30PM
December – 6:30AM to 5PM
Open all year round, 7 days a week
Admission fees: 300 yen
20. Shinjuku Gyoen National Garden
Shinjuku Gyoen National Garden is one of Tokyo's largest and most visited parks. The district itself is a popular hotspot for Tokyo nightlife, restaurants, and shopping, but Shinjuku Gyoen steals the spotlight.
It was landscaped in the Edo Period, between 1603 and 1868, and belonged to a feudal lord who resided in Tokyo. Over the years, it's transformed from private property to a botanical garden, to the private property of the Imperial Family in 1903, and to a public park for all to enjoy its beauty.
Shinjuku Gyoen comprises three different types of gardens.
Japanese Landscape Garden
This garden is the oldest and most traditional to the art of Japanese gardening. It features a pond, with small islands and bridges, traditionally manicured shrubbery, several pavilions and trees.
French Garden
The French garden is traditional in landscape architecture, with great care and precision taken to arrange it into a symmetrical fashion.
English Garden
Characterised by large, open lawns, surrounded by cherry trees and flowers.
Other features include forested areas, winding pathways, a restaurant, and tropical/sub-tropical greenhouse.
How to get there:
There are three gates and provide access to Shinjuku Gyoen.
Shinjuku Gate is a 10-minute walk from JR Shinjuku STation (New South Exit), or 5 minutes from Shinjukugyoenmae Station.
Okido Gate is a 5-minute walk from Shinjukugyoenmae Station.
Sendagaya Gate is a 5-minute walk from JR Sendagaya Station.
Opening hours:
March through June, and August through September – 9AM-6PM
July through August – 9AM-7PM
October through March – 9AM-4:30PM
Admission: 500 yen
So there you have it, 20 of the best destinations in Japan for tourists to visit! If you're interested in seeing some of Japan's top attractions, why not consider working here?