Where can I go out and party in Tokyo?
If you're new to Japan, you might be wondering what nightlife is like in Tokyo. Here are some of the best areas to stay for a great night out, along with some of the best nightclubs to party in.
We'll also cover some must-know info on dress codes, getting a taxi home, and staying safe.
What are the best areas to stay in Tokyo for nightlife?
From Shinjuku to Ginza, here's where to go out and party in Tokyo. Some areas are really expensive to stay in, so a cheaper option could be to stay nearby and get a taxi home.
Nightlife in Shinjuku
Set on its western edge, Shinjuku is the beating heart of Tokyo – a "city within a city", famous for its huge selection of nightclubs, LGTBQ+ bars and dimly-lit drinking dens. This intimate, vibrant district of alleyways and skyscrapers is easily one of the best areas to stay in Tokyo for nightlife.
Some bars stay open until 5am, and (like a lot of Tokyo) the area is rowdy but safe. Shinjuku is also Tokyo's most well-known red light district, so check your map to avoid any surprises!
Nightlife in Shibuya
Pricier to stay in, and revealingly described as 'more sanitised' than Shinjuku, Shibuya is also one of the best areas for a night out. It has some of the most famous clubs in Tokyo for DJs and dance music, and is particularly popular with hip young locals and foreigners out to party.
If you fancy a bar crawl, there are also many character-filled Izakaya (Japan's answer to the pub) in Shibuya too. It's a big city, so how about joining a bar-hopping tour especially for visitors?
Nightlife in Roppongi
Great for foreigners, Roppongi is one of the most ethnically diverse areas in Tokyo for nightlife. You'll find familiar names like BrewDog and Hard Rock Cafe, rubbing shoulders with upscale bars and packed nightclubs. If you fancy something different, head to a jazz bar or a burlesque show.
Watch out for ticket touts and con-men – one of the negatives of Roppongi being such a tourist-friendly area. Don't be put off though, this is a fantastic area for a fun night out.
Nightlife in Ginza
One of Tokyo's most luxurious areas, you have to dress to impress to get into Ginza's most exclusive bars and nightclubs. Ginza can be hard on your wallet and trickier to navigate as a foreigner, but it's ideal for more experienced visitors. Ask a Japanese friend to show you around.
Ginza is known for smaller, premium venues, and it attracts an affluent crowd. But you'll also find plenty of arty cocktail bars, if you want a little taste of Tokyo's most elite nightlife.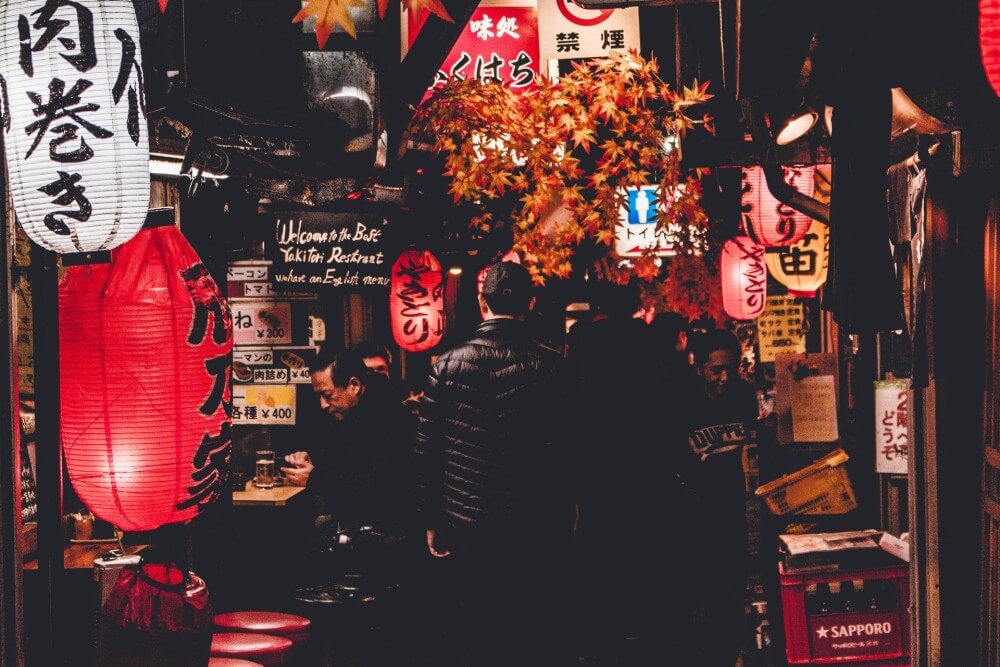 What are the best nightclubs and bars in Tokyo?
From the tiny hole-in-the-wall bars of Shinjuku's Golden Gai, to the mega-clubs of Shibuya, Tokyo's nightlife caters for every taste. Here are ten bars and clubs to get your night out started. In these uncertain times, make sure you check their opening times and entry fees first.
New York Bar, Shinjuku
High on the 52nd floor of Park Hyatt Tokyo, you may recognise this famous bar from Lost In Translation. Drinks are pricey and there's a dress code, but the incredible view is worth it.
Arty Farty, Shinjuku
Are you ready to PARTY? One of the best gay bars in Tokyo, Arty Farty has a lively dance floor, cheap drinks and pop music until 5am. Female visitors need to bring a gay friend at weekends.
Pit Inn, Shinjuku
One of Tokyo's greatest jazz bars, the Pit has bags of atmosphere. If you're all about experiences, this intimate venue has a top line up of up-and-coming musicians. Wonderful whisky too.
Sound Museum Vision, Shibuya
Getting onto the BIG clubs, this subterranean basement has four floors and a capacity of 1500. DJs spin techno, electro and house into the early hours – you're guaranteed a great night out.
Ruby Room, Shibuya
A mainstay of Tokyo nightlife for nearly 20 years, the Ruby Room is a small venue with a huge reputation. Live indie bands, open mic nights, and a variety of club nights pull in the crowds.
Tsubo no Naka, Shibuya
All-you-can-drink sake and beer, and live music events too? This tiny standing bar has over 72 varieties of sake to enjoy – a great choice to experience real Japanese drinking culture.
Odeon, Roppongi
With English-speaking staff, Odeon is an ideal choice for foreigners looking for a night out. This popular club plays everything from house to chart hits, and drinks are reasonably priced.
Agave, Roppongi
If you love your tequila, Agave is styled like a Mexican cantina and stocks over 400 varieties. Pricier than your average Tokyo bar, its smoky ambience makes a memorable night.
Star Bar, Ginza
Cited as one of the world's best bars, this speakeasy-style venue attracts some of Tokyo's most accomplished bartenders. Enjoy the cosy, nostalgic decor and order the cocktail of your life.
Genius, Ginza
A stylish, long-established nightclub set over two floors, Genius is popular with Tokyo locals – especially at weekends. Perfect if you want to party all night with a sophisticated crowd.
If you're still wondering where to go out in Tokyo, have a look on TripAdvisor.


What's the dress code for nightclubs in Tokyo?
Like most places, dress code will vary depending on the type of venue you're visiting. Planning a night out at a rock club? Dress how you would to a rock gig. Trying your luck at an upmarket Ginza lounge? You will need to put in more effort, or you might be laughed away at the door.
If you're going somewhere nice or a mainstream nightclub, it's best to avoid risky items like ripped jeans, sandals and shorts. However, if you're a foreigner, you might be forgiven.
Some, but not all, nightclubs in Tokyo will turn you away if you have visible tattoos.
Check out our blog post on buying clothes in Japan as a foreigner for inspiration.
I heard "dancing is illegal in Japan", what's that all about?
Dancing at nightclubs in Tokyo is definitely not illegal, there are plenty of places to dance!
However, there used to be a Japanese law (brought in after WW2) that prohibited people from dancing after midnight, and even then they could only dance in places with a license.
This law was removed in 2015, so get your dancing shoes on and enjoy Tokyo nightlife.
Can I sing karaoke in a Tokyo bar, how does it work?
Karaoke is huge in Japan, and there are many Tokyo bars entirely dedicated to karaoke. From Shibuya's Karaoke Kan, made famous by Lost in Translation, to karaoke in a hot tub at Roppongi's Lovenet – there's a karaoke bar for everyone. Many offer all-you-can-drink deals too.
Some private booths feature costumes, props and lighting effects to make you feel like a star.
If you're shy about your singing, you can rent out a soundproofed room to yourself. Or look out for a bar that does karaoke on the side, and entertain (or horrify) a room full of strangers.
How do I book a taxi home from a nightclub safely?
Compared to cities outside Japan, Tokyo is relatively safe for a night out, but it's still a good idea to book a taxi home. Apps like JapanTaxi are ideal if you can't speak Japanese – there's even Uber, but it's expensive – or have your address written on paper if you're hailing a cab.
Tokyo has a famously punctual network of trains and buses, but check when they run until.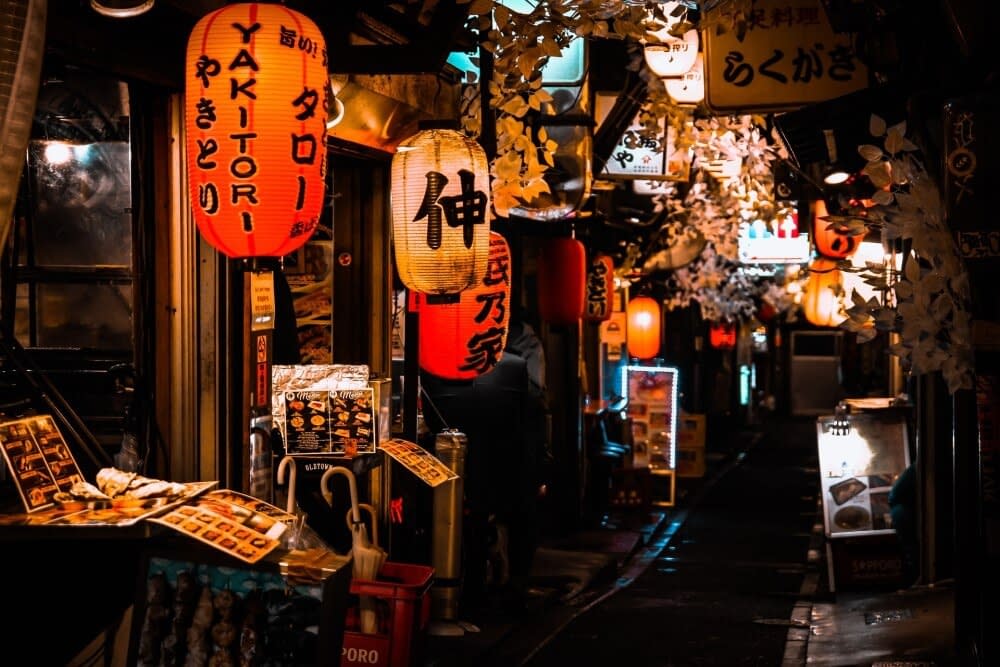 Is Tokyo nightlife different for foreigners?
If you can't speak Japanese, having a night out in Tokyo will obviously be more complicated.
Areas like Roppongi are especially geared towards English-speakers, and many nightclubs are filled with people from all over the globe. Ideal for if you're suffering from culture shock.
However, pay extra attention to con artists trying to sell you overpriced tickets and drinks.
Shinjuku is a must-visit, but can be confusing and maze-like for newcomers. Be prepared to get lost in the winding alleyways, and stash a map and phrasebook in your bag. If you're staying with Japanese friends, ask them to show you a night out – you'll have a much easier time.
Some tiny bars prefer locals and regulars (like some pubs in the UK), and only allow you in on invitation. Don't be offended and move on, there are hundreds of other bars to explore.
Any other tips for surviving a night out in Tokyo?
A great way to explore Tokyo nightlife is to book yourself on a bar crawl tour. These allow you to explore bars and nightclubs in Tokyo in a big group, showing you the best of the city in one night. Bar crawl tours are a good way to make friends, find fellow foreigners, and get cheaper drinks.
If you're staying in a youth hostel, some bar crawl tours start right from your door and you can get to know some of the people you're staying with better. Ideal for if you're feeling a bit shy.
Like a night out in any city, having enough money and an idea of the area will also help.
Check out our relevant blogs on dating in Japan and Japanese drinking culture!